Disaster Recovery Done Right: Trust Atlas for Commercial Water Damage Restoration in Van Alstyne, TX.
When you own a business, property damage is an unfortunate occurrence that happens all too often. Property damage can be caused by any number of disasters, both natural and man-made. Most often, however, property damage happens from an excess of water. From very heavy rainstorms to broken pipes, water damage can be incredibly harmful not just for your storefront but for your customers.
When water spreads through your commercial property, it happens quickly, causing damage as it moves. At the same time, furnishings and porous materials soak up moisture. In just a short amount of time, you could be dealing with warping, rotting, and even mold growth. That's why water damage remediation is so important - to address your current damage and prevent water from making your business unsafe.
At Atlas National Renovations, we know that dealing with water damage seems like a losing effort on your own. But when you trust our water damage restoration team, you don't have to lose hope. We provide comprehensive water remediation services for businesses of all size in Texas. From the first time we lay eyes on your water damage to the time we mitigate your problem, we're here for you. With a team of IICRC certified technicians and innovative restoration tools at our disposal, we specialize in making your business safe again.
Unlike some of our competitors, we are fiercely dedicated to our clients and aim to exceed their expectations with the highest quality water damage restoration services in Van Alstyne, TX. When water damage hits your business, time is of the essence, which is why we get to work quickly and efficiently by assessing the damage to your property. Once we know the extent of your water damage, we'll consult with you about its severity and detail the next steps you should take so you can make an informed purchasing decision.
With decades of combined experience, there is no disaster cleanup project too complex or large for our team to handle. We assist small businesses, large commercial entities, and even multi-family apartment complexes. Our clients trust Atlas National Renovations to keep them dry, safe, and secure, and it would be our pleasure to help do the same for you.
In addition to our reliability and quality of work, our customers choose us over others because we offer:
Fair, Accurate Work Estimates
We drain water from your property, not money from your bank account.
Clear, Constant Communication
When you work with Atlas, you're never left wondering what's happening with your commercial property.
Detailed Deadlines and Schedules
We're meticulous about sticking to schedules and meeting deadlines. You can always expect us to be on time and ready to work.
Experienced Project Managers
We assign seasoned, hardworking project managers for each of our projects. When you work with Atlas, you're working with the best.
Courteous and Knowledgeable Leadership
Excellence starts at the top, and our leadership team is the best in the business.
Atlas National Renovations Multi-Family and Commercial Renovation Experts
Free Consultation
What Clients Say About Us
Apartment Upgrades for Ian Buchanan
★★★★★
Top shelf work done on time and on budget
Apartment Upgrades for ANONYMOUS
★★★★★
We loved our Project Manager, Steve! He communicated with us daily! He was available and willing to help throughout the entire project!
Fire Damage for ANONYMOUS
★★★★★
Our project was completed on time, and our residents were treated with the most care and respect!
What is Water Damage Restoration in in Van Alstyne, TX
If you're currently dealing with serious water damage from a flood, broken pipe, or other cause, you're probably not sure what to do next. While it's understandable to feel panicky, it's important that you have the water removed as quickly as possible. When structural damage and health hazards are at play, time is of the essence. The longer you wait, the worse the damage will get. The damage you see with your eyes is usually the tip of the iceberg - most water damage gets deep in your carpets and walls fast.
Atlas' water damage restoration services are focused on restoring and repairing the damage that water causes to commercial property. The primary purpose of our restoration services is to return your property to the condition it was in prior to the damage. Once your water damage has been mitigated, our team swoops in to begin the restoration process.
Depending on the scope and severity of your water damage, common water damage restoration services can include:
Damaged Flooring and Wall Replacement
Damaged Roof Restoration
Mold Remediation
Humidity and Moisture Testing
While little can be done to predict natural disasters, there are common signs you can keep an eye on to prevent serious water damage from occurring.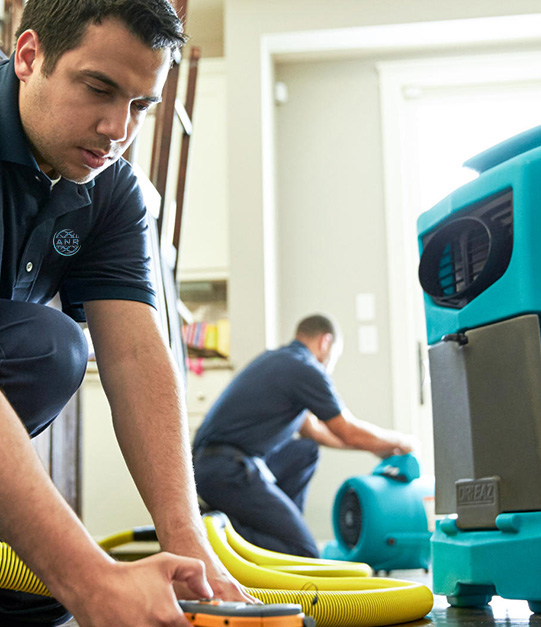 Common Signs of Commercial Water Damage in Van Alstyne, TX
There's no convenient time to be sidelined with water damage when it comes to your commercial property and business. Water damage to your commercial or industrial property is particularly devastating because every hour that your business is closed means lost revenue and productivity. You do not just have to deal with damage to the structural integrity of your building - you have to deal with the disruption of service to your loyal customers.
The good news? Atlas is here when you need us most, with a team of highly-trained technicians and unmatched water damage restoration expertise. We're ready to tackle your problem and solve it in an efficient, effective manner, so you can keep your doors open and your clients happy.
As a business owner, you know that one of the best ways to prevent a disaster is to nip it in the bud before it gets out of hand. For that reason, keep an eye out for the following signs of water damage to your commercial property:
Look for Mold:
Mold can begin to grow just a day or two after water has taken hold of your business. If you see small signs of mold growth in an area where you suspect a leak, contact Atlas National Renovations ASAP to diagnose the problem.

Check Your Pipes:
If it's safe to do so, check out the piping inside and outside your commercial property. You want to keep a keen eye out for oxidation and corrosion around pipe fixtures. While you're at it, check your water heater for rust too. Corrosion or rust is a telltale sign of a water leak.

Check for Rings:
Dark spots on walls and ceilings usually indicate water damage. If you see rings around a stain, the damage is probably older. Several rings with different shades of color mean an intermittent issue, where the area has been soaked and dried several times.

Understand Your Property:
This is more of a suggestion than a sign. As the commercial property owner, you should know your building's pipe system. You should know what is old and new and what areas may be at risk for water damage. Keep an extra-close eye on areas that have a higher potential for leaks, especially during rainstorms.
Benefits of Commercial Water Damage Restoration
in Van Alstyne, TX
When water invades your business or commercial property, you don't have much time to ponder your next course of action. While some business owners opt to try DIY water damage restoration, in most cases, they end up with more damage and expenses than before their leak. For the most effective, comprehensive solution to water damage, it's important that you hire a professional. At Atlas National Renovations, our primary focus is assisting business owners and commercial property managers with water damage restoration. We've been doing it for years, and we can help you too.
Here are just a few of the most common benefits we hear from past customers:
Safe Shopping Experience
If you own a business, the health and safety of your customers is of utmost importance. When water damage occurs inside your storefront, you could be dealing with more than property damage. Depending on the severity of your issue, contaminants and microorganisms may be present, putting your customers' health at risk. When you trust a professional water damage restoration company like Atlas to remediate your water leak, you're not just putting a stop to the leak. Our team will clean and sanitize your business, making it safe for customers to continue shopping at your store.
Quick Response Time
Water damage can create unbearable conditions in your commercial property. As such, your water restoration company must be quick to respond. Professional water damage companies like Atlas respond quickly and can clean up water, dry and disinfect the area, and make necessary repairs. Because we have an entire team of pros and industry-leading equipment, we can be on site in minutes.
Less Damage, Better Costs
Water damage can be very expensive. Sometimes, it only takes a couple of hours to result in heavy losses. How soon you call the experts could mean the difference between painting over a water stain and having to rebuild an entire area of damaged drywall. When you call Atlas immediately, clients often reduce the cost of water damage restoration and overall building damage.
Capital Expenditure Services
In addition to our disaster recovery services, we also offer large-scale upgrades and improvements for your capital expenditures. If you own or manage a large commercial building or a multi-family property, you need to make sure your capital expenditures maintain present operating levels and foster your company's future growth.
At Atlas National Renovations, class A, B, and C properties are our bread and butter. We take the time to understand our customer's needs and expectations from the start so we can deliver outstanding results. If you're looking for a top-tier contractor to do the job right the first time, look no further than Atlas. Our customers love our team because we make large, highly-complicated projects easy to finish.
If you're looking to invest in the future of your business, know that we are here to help with projects like these:
High Volume Unit Upgrades and Improvements
Amenity Upgrades and Conversions
Common Area Improvements
High Volume Carpet, LVT, and Tile Installation
Courtyards and Hardscapes
Package Room and Mail Center Upgrades and Additions
Fitness Center Upgrades and Improvements
Dog Parks and Pet Stations
Signage Improvements and Additions
LED Lighting and Electrical Upgrades
Multi-Family Building Deficiencies and Restoration Services
New multi-family properties are entering the market every day. That means that older communities must be renovated to keep up with modern demands and tenant needs. Upgrades to amenities, aesthetics and even structural changes help assets stay up-to-date. At the same time, damages from leaks and storms must be addressed. If you're a multi-family property manager or owner, and need unmatched restoration capability, Atlas National Renovations is here to serve you.
We specialize in cutting-edge, high-quality ways to achieve your renovation goals - for your tenants but also for your corporate leaders and management team. After all, a successful multi-family renovation benefits all parties.
We currently work with the top multi-family groups across our state. Unlike some multi-family renovation companies in Texas, our team understands the inner workings of the multi-family environment. Our customers appreciate our accommodations to their residents, maintenance team, leasing team, corporate leaders, and beyond. We're proud to say we know multi-family, inside and out, and have the credentials to back up those claims.
When crafting a multi-family restoration plan, we always consider your tenant's demographics, your building's curb appeal, property age, and energy efficiency. Whether you need to have significant updates applied to an older property or need a water damage inspection for a brand-new building, we can help.
Here is a quick glance at some of the multi-family renovations that our team handles:
Leak Detection and Water Intrusion Investigation
Exterior Sealants and Waterproofing
Large Interior and Exterior Paint Projects
Stucco Remediation and Exterior Facade Re-Clads
Full Property Exterior Repaints
Concrete and Flatwork
Corridor and Common Area Painting
Roof Replacement
Discover the
Atlas Difference
Water damage restoration is a crucial, complex process that must be completed properly to save your business from serious damage. Choosing the right professional is equally important, especially when your customers' health is on the line. Whether you need large-scale commercial restoration or quick, effective water damage cleanup for your storefront business, know that we are only a phone call away. Contact our friendly team of experts to learn more about Atlas National Renovations and how we clean up your water damage mess better than the rest.
214-814-4300
Latest News in Van Alstyne, TX
Slinging Pizza at the State Fair of Texas Led This Pitmaster To Open His Latest Joint
Stephan Nedwetzky's circuitous path to becoming a barbecue joint owner in tiny Van Alstyne, about an hour north of Dallas, has been filled with pitfalls and second-guessing. The native of Dallas's Pleasant Grove neighborhood spent his adolescent years in Rochester, New York, but after leaving the Marines in 1999, he came back home to Texas. "Being a Texan, I missed barbecue so much," he said. He starting smoking in his backyard in Plano while running a landscaping company. After entering a barbecue competition in 2010...
Stephan Nedwetzky's circuitous path to becoming a barbecue joint owner in tiny Van Alstyne, about an hour north of Dallas, has been filled with pitfalls and second-guessing. The native of Dallas's Pleasant Grove neighborhood spent his adolescent years in Rochester, New York, but after leaving the Marines in 1999, he came back home to Texas. "Being a Texan, I missed barbecue so much," he said. He starting smoking in his backyard in Plano while running a landscaping company. After entering a barbecue competition in 2010 (even though Nedwetzky describes everything he turned in as "horrible"), he caught the bug. "It started to interfere with my landscaping business," he said. So he shut it down to focus on barbecue.
"Everyone either laughed at me or told me I was stupid," Nedwetzky said of the response to his decision. He wondered if everyone was right until he served what he considered the perfect brisket at a pop-up event. Will Fleischman, then-pitmaster at Lockhart Smokehouse, tried it and was impressed. "That's still the best one that I've ever cooked," Nedwetzky said. When a second Lockhart Smokehouse location opened in Plano in 2014, Fleischman asked him to come aboard. Nedwetzky worked there and at Smoke in Plano in what he calls brief stints before getting his own food truck. He called it Pit Commander Barbecue, his original competition team name. Nedwetzky chose the name because people said his long beard gave him a resemblance to Phil "Duck Commander" Robertson from the Duck Dynasty reality show. The "pit" part refers both to the old brick pit his father, who was a mason, built at his childhood home and to the mosh pit he helped whip into a frenzy while playing guitar for the heavy-metal band Lethargy during his days in Rochester. Either way, he said the name is a heck of a lot easier to pronounce than Nedwetzky Barbecue.
Pit Commander struggled to make a mark in the DFW scene, so in the winter of 2016, Nedwetzky loaded up some Texas post oak and went to Fort Myers, Florida. His sister lived there and selfishly wanted some good Texas barbecue nearby. "That's where it really took off," Nedwetzky said. His month-long visit turned into six months. But the draw of Texas was strong, and he returned in the summer. That's when Yolanda Russotti, a woman he knew from Rochester, came to visit. "The first time I tried his brisket, I was like, 'Will you marry me?' " she said with a laugh. She moved to Texas a month later. They married and now have a young daughter together.
The family alternated between Florida and Texas and rotated between serving barbecue and slinging barbecue pizzas under the name Texapolitan Pizza. In 2019, Nedwetzky and Russotti found what they thought would be their permanent barbecue home in the East Texas town of Murchison, but they closed their restaurant there in March 2020 as the COVID-19 pandemic began. Nedwetzky couldn't find a barbecue joint to hire him, so he worked for Chipotle by day and Pizza Hut by night to make ends meet. The couple headed back to Florida dejected, thinking they'd had enough of trying to succeed in Texas barbecue.
Then, out of nowhere, the State Fair of Texas emerged repeatedly in Nedwetzky's dreams while back in Florida. "I kept waking up in the middle of the night smelling the fair," he said. He checked the fair's website last year and saw that it was accepting applications for new vendors. He submitted Texapolitan, and it was accepted. The couple took it as a sign to come back to Texas. After positive feedback from the fair's organizers, the duo put a deposit down on a $30,000 wood-fired pizza oven from Italy. A month after moving back to Plano, they got word that a barbecue joint in downtown Van Alstyne had closed and the space was available. They took it and opened Pit Commander Barbecue last July.
As the couple started to build the business, they had to close the restaurant so they could serve at the fair in September. They made a daily average of 280 pizzas, topped with freshly smoked pork belly burnt ends, for 24 straight days. They credit the folks at Smokey John's Bar-B-Que, a longtime fair vendor, for acting as their mentors and helping them through the process. Now they can't wait for the fair to fire back up this year, but there's plenty of barbecue to cook in the meantime.
Pit Commander Barbecue is open Thursday through Saturday for lunch. This past weekend was its most successful, with an early sellout on Saturday. I was there on Thursday for a second visit. The first, back in November, was a mixed bag of excellence and disappointment, but the restaurant was navigating a broken water line in the kitchen. This trip was far better, and I finally got to try those pork belly burnt ends from the famous State Fair pizza. They were perfectly cooked and heavily seasoned and glazed. The salt and sugar competed for dominance with the clean smoke flavor. I actually preferred the thick slice of pork belly, which Pit Commander sells as bacon brisket, an apparent homage to Dayne's Craft Barbecue, in Fort Worth. It was more subtle than the burnt ends and seemed to melt on my tongue.
Nedwetzky is trying a few brisket suppliers to find the right quantity and quality of fat. He thought the lean side of what he was smoking this past weekend was on the dry side, and I agreed, though it was plenty tender, with a nice line of rendered fat on top. There will be a new brand of beef on the smoker this week.
Nedwetzky learned to make sausage at an old German butcher shop in Florida, and he uses those skills at the restaurant. I loved the jalapeño-cheese link, which was bursting with juice when I bit into it. Ask for it unsliced to get the most out of the experience. There were plenty of jalapeño chunks, but the spiciness was pretty tame. The bacon-wrapped jalapeños brought a bit more heat, and the bacon was nicely crisp. The tender spareribs got a hefty dose of rub and a splash of sauce, but the flavors dissipated in the foil wrap. I had planned to try the pulled pork, but it was off the menu. "We couldn't sell a butt to save our lives," Russotti said.
She makes all the sides, though most are Nedwetzky's recipes. The potato salad was a bit soupy and spicy, which is how his folks like to make it. I liked the crunchy slaw, and the sweet broccoli salad was a good way to get something healthy. The mac and cheese made with creamy queso was tasty, but it was the pinto beans, in a savory broth spiked with chunks of tomatoes, onions, and brisket, that spoke to me most.
Russotti also makes all the sandwich buns from scratch. She uses a simple, Austrian-style white-bread dough to make knotted rolls. To me, it was reminiscent of a pretzel bun, though paler in color. It was perfect for the daily special of a thick, smoked brisket burger topped with American cheese, barbecue sauce, and pickles. The signature dessert is an Italian love cake, whose recipe is from Russotti's family. To give it a Texas barbecue feel, Nedwetzky added bananas to the mix, creating Banana Love Cake and a potential rift in familial relations for messing with a recipe. I enjoyed it, though it wasn't as sweet as I'd expected.
Van Alstyne is right in the middle of a dead zone for Texas barbecue along U.S. 75, and Pit Commander Barbecue fills the void admirably. When Nedwetzky and Russotti found the location, they hoped their joint could become a community favorite, but they knew it would take time for word to spread. Business is building slowly, but, Russotti said, "we're still gambling on us, and we believe in what we're doing." If the barbecue joint flourishes, the next move will be a brick-and-mortar for Texapolitan Pizza. "Pizza is easier and the profit margins are insanely better," Nedwetzky said, adding that making barbecue is more stressful than making pizza. So why not focus on pizza? "We'd still have to make barbecue for the pizza," he said, so they might as well plan for both. Russotti said it's also about building a solid foundation for their young daughter, who suffers from spina bifida. "We want to leave her something that's going to take care of her for the rest of her life when we're gone." I think the community is up to the task, if only so we can keep a family of barbecue diehards in Texas and out of Florida.
Pit Commander Barbecue224 E. Jefferson, Van AlstynePhone: 972-400-0234Hours: Thursday–Saturday 11–3Pitmaster: Stephan NedwetzkyMethod: Oak in an offset smokerYear opened: 2022
It's time to give Head coach Buzz Williams the credit he deserves
Texas A&M Head coach Buzz Williams has seen it all in his basketball career, growing up in the small town of Van Alstyne, Texas, the journey to becoming one of the premier Division 1 coaches in the country came on the back of hard work, determination, and the willingness to learn and adapt.After successful coaching stints at Marquette and Virginia Tech, Williams compiled 8 NCAA Tournament bids including an Elite 8 and 3 Sweet 16 appearances, and after the conclusion of the 2019 season, the Aggies came calling after Head coach Bill...
Texas A&M Head coach Buzz Williams has seen it all in his basketball career, growing up in the small town of Van Alstyne, Texas, the journey to becoming one of the premier Division 1 coaches in the country came on the back of hard work, determination, and the willingness to learn and adapt.
After successful coaching stints at Marquette and Virginia Tech, Williams compiled 8 NCAA Tournament bids including an Elite 8 and 3 Sweet 16 appearances, and after the conclusion of the 2019 season, the Aggies came calling after Head coach Billy Kennedy's dismissal, hoping to bag the native son for a program deeply in need of Williams' program building prowess.
In his first two seasons with the Aggies, depleted rosters combined with the rise of Covid-19 during the 2020 season provided Buzz with a much-deserved cushion, as his coaching acumen could be fairly judged during the next two seasons. In the midst of the 2021 campaign, the Aggies were struck with fierce adversity after enduring an 8-game losing streak in SEC play, with much of the blame thrown on the shoulders of Williams' whether just or improper. However, after lineup changes and the rise of senior guard Quenton Jackson's play, Texas A&M would go on to win 8 of 9 with a trip to the SEC Title game, all but sealing a spot in the NCAA Tournament, so they thought.
Without an automatic bid, the Aggies were painfully snubbed by the selection committee mainly due to their midseason collapse, and after accepting an invitation to participate in the NIT, William's would go onto passionately defend the roster and the program after the team defeated Alcorn State in the first round of the tournament.
"After studying all this nonstop the last two days and looking at it from every vantage point, it defies logic that we are not in the NCAA tournament. What has transpired is wrong."
However, the team responded to the outcome in the best way possible, as Williams' led the group all the way to the NIT Title game in Madison Square Garden to face Xavier, losing a heartbreaker in the final seconds 73-72. With momentum building into the 2022-2023 season, the program gained five transfers from the portal during the offseason, including Julius Marble and Dexter Dennis, all while Henry Coleman III, Wade Taylor IV, and Tyrece "Boots" Radford would return, as Williams would now possess the deepest and most talented group in his fourth season, which would go on to define his legacy with the Aggies as we sit in late January, 18 games into the regular season.
Texas A&M started off 2-0, before a trip to the Myrtle Beach Invitational, even being ranked for the first under Buzz Williams at #24 in the AP poll, but after losses to Murray State, and Colorado, the preseason shine began to fade, yet the team would bounce back to win three in a row before December. As the schedule provided its toughest tests yet, The Aggies would drop 3 out of their next four games, including a painful home loss to Wofford, leading to a large portion of the fanbase clamoring for Williams to be placed upon the proverbial "hot seat", Buzz's memorable quote after the game would become the change agent for what is one of the greatest turnarounds in college basketball this season.
"We have to fight with more grit and more togetherness, and we need to do it for a longer time, and we need more guys to be able to do it."
Van Alstyne positioning to cash in on chips factories in Sherman
As major manufacturers of semiconductor chips expand with massive projects in Sherman just north of Van Alstyne, officials in the small southeastern Grayson County city are positioning to get in on the action.The efforts underway in the city, whose motto is "Proud Past, Bright Future," highlights how success on the economic development front in one city can provide opportunities that spill into surrounding communities."We see what Sherman is doing, and we're looking to bring in companies and industry tha...
As major manufacturers of semiconductor chips expand with massive projects in Sherman just north of Van Alstyne, officials in the small southeastern Grayson County city are positioning to get in on the action.
The efforts underway in the city, whose motto is "Proud Past, Bright Future," highlights how success on the economic development front in one city can provide opportunities that spill into surrounding communities.
"We see what Sherman is doing, and we're looking to bring in companies and industry that supports the chip manufacturing," said Rodney Williams, executive director of Community & Economic Development for Van Alstyne.
Van Alstyne, with a population of about 6,500, has had a couple of recent wins in the city's Cold Springs Industrial Park, where construction is underway in a second phase. A new street linking the park to County Line Road is slated to open by the end of the month.
Allen Commercial Millwork will build a roughly 44,000-square-foot facility in the industrial park. DreamLine Windows & Doors, a manufacturer of glass doors and windows, is moving its headquarters and a manufacturing facility totaling more than 100,000 square feet to 7.5 acres the company bought in the industrial park.
DreamLine may also build an events center for the city on part of the property.
"They've been proactive with not only wanting to bring their headquarters here, but wanting to engage with the community, which is a nice partnership," said Tiffany Chartier, executive administrator of Van Alstyne Community & Economic Development.
In Sherman, 15 miles north of Van Alstyne, Texas Instruments broke ground in May on what will ultimately be up to four new semiconductor wafer fabrication plants at a cost of roughly $30 billion. The project by Dallas-based TI is expected to create 3,200 jobs.
In addition, GlobiTech in June announced plans to build a $5 billion plant in Sherman that's expected to create 1,500 new jobs and turn out more than 1 million silicon wafers monthly when production begins as early as 2025.
Williams and Chartier expect Van Alstyne's already bustling single-family and multifamily housing market to get busier with the influx of workers at the semiconductor plants going in nearby.
Year-to-date through July, the number of single-family home permits in Van Alstyne is up 24% to 290, compared to 234 issued in the same time period last year.
Van Alstyne ended last year with 399 building permits, which was up sharply from 52 in all of 2018, 109 in 2019, and 156 permits in all of 2020.
In the interview that follows, Williams and Chartier discuss the developments in Van Alstyne.
What differentiates Van Alstyne and what's driving its growth?
Williams:Van Alstyne is in a unique place because we're exactly equidistant from Grayson County and Collin County. We're 15 minutes from the county seat of each.
McKinney has a downtown historic downtown. We have one, and Sherman has one. So it's odd how we kind of mirror. Our downtown is actually laid out like McKinney's. We're not McKinney. Obviously, we're much smaller. But in recent years, we've seen what I call a suburban flight. We've seen quite a few move-ins from as close as Prosper, definitely Dallas, Allen, and California. A lot from California. Our residential numbers are blowing up. We have a lot of ETJ (extra-territorial jurisdiction) land. We have 70 square miles of ETJ.
How is your economic development structured in Van Alstyne?
Williams: We have CDC (Community Development) and EDC (Economic Development). Since we're under 20,000 (population), our CDC is commercial and retail, quality of life projects, all in one. EDC is strictly focused on industrial manufacturing. That's our industrial park. It's an 80-acre park. We just purchased Phase II, which was 40 acres, probably two years ago. We continue to go through the park and link two roads, 3133 and FM 377, which will be a feeder straight to 75. That is just about to open, which is a big deal for us.
How will that work?
Williams: FM 377 becomes County Line Road, and County Line Road goes straight to 75. The city is working with the county to straighten it and widen it. We're hoping to move 90% of our truck traffic, and semi traffic, down that road on the south end of town. That's why this road is really important.
What's the tie-in with Sherman?
Williams: Initially I thought we would have land for companies coming to support the Sherman project. That (industrial park land) sold out so quickly we don't. So we are going to be buying more land. We just took out a $2.4 million bond to buy more land to build more industrial, and we are looking to bring in companies and industry that support chip manufacturing.
We are unique because our south into town has been planned well. The south end of town is zoned industrial. We're trying to keep everything relatively clean. It's not green by any means. but we also are not doing cement batch plants and rubber plants and that sort of thing. So our next phase then, phase three of our expansion, is going to be expanding the industrial park. We're trying to get land around it now. And we're going to start trying to attract those chip manufacturers.
How is your housing market?
Williams: We've got land and we've got builders building homes anywhere from $230,000 to $2 million if you want. So these thousands of employees coming in to Sherman are going to need a place to live. We think we're set up. We've got an apartment complex called The Brooks that's expanding into phase II, adding 100 units. We see ourselves as being in a good spot to help that expansion to Sherman.
Chartier: It's a great place to live, work and play. It caters to the family who wants to get away from the city and have a home on, let's say, three acres. Or if you didn't want that, then you could have a little studio loft apartment in the city. It gives you both of those, depending on what you're looking for.
What's your strategy for bringing in companies to support chip manufacturers?
We've just started the process of figuring out who we're talking to, what their needs are, and what companies will actually support these companies. We're probably the only town between Sherman and McKinney that has industrial land. So our next purchase, which we'd like to be 30 to 40 acres at least, really set that up to benefit what Sherman's doing. They've done such a great job, we just want to kind of play off that.
What type of companies?
We don't know (yet). Companies that provide logistics, for instance. There are raw suppliers to the chip industry that provide the raw plastic and rubber and that sort of thing. Not rubber factories, but just providers. It's hard right now because while this has been announced and talked about for a while, they haven't started building anything yet. So we're still trying to figure out the parameters of what they need, who they need, and how much of it they need.
This interview was edited for clarity and brevity.
Ranked by Population Growth Rate 2016-2020
Rank
City
Population Growth Rate 2016-2020
1
Celina
128.2%
2
Princeton
78.0%
3
Melissa
56.2%
View This List
Ranked by Total local employment
Rank
Company
Total local employment
1
Lockheed Martin
22,000
2
General Motors Arlington Assembly
10,512
3
Raytheon Intelligence & Space
7,476
View This List
Fort Worth area UIL and TAPPS high school girls basketball playoff scores and pairings
BI-DISTRICTRegion ISouthlake Carroll 61, Euless Trinity 48El Paso Eastwood 31, Midland Legacy 20North Crowley 54, Keller Fossil Ridge 46El Paso Pebble Hills 53, San Angelo Central 52 OTSouth Grand Prairie 77, Irving MacArthur 25Little Elm Braswell 51, Flower Mound 46Highland Park 52, Arlington Sam Houston 31Coppell 41, Allen 38 OTWolfforth Frenship 64, El Paso El Dorado 39Trophy Club Nelson 58, FW Boswell 56El Paso Franklin 89, Odessa 44K...
BI-DISTRICT
Region I
Southlake Carroll 61, Euless Trinity 48
El Paso Eastwood 31, Midland Legacy 20
North Crowley 54, Keller Fossil Ridge 46
El Paso Pebble Hills 53, San Angelo Central 52 OT
South Grand Prairie 77, Irving MacArthur 25
Little Elm Braswell 51, Flower Mound 46
Highland Park 52, Arlington Sam Houston 31
Coppell 41, Allen 38 OT
Wolfforth Frenship 64, El Paso El Dorado 39
Trophy Club Nelson 58, FW Boswell 56
El Paso Franklin 89, Odessa 44
Keller 56, Crowley 41
Hebron 57, McKinney 33
Richardson 74, Arlington Martin 38
Little Elm 50, Plano East 44
Dallas Lake Highlands 55, Arlington Bowie 47
Region II
Mansfield Lake Ridge 68, Pflugerville Weiss 44
Mesquite Horn 44, Wylie 39
DeSoto 81, Harker Heights 30
Rockwall 54, Wylie East 50
Cypress Springs 54, Spring Klein Oak 35
Conroe Oak Ridge 52, Houston Nimitz 35
Houston Langham Creek 51, Spring Klein Collins 38
Spring 45, Conroe 43
Royse City 57, Rowlett 33
Cedar Hill 56, Bryan 37
Sachse 37, North Forney 28
Waco Midway 57, Mansfield Legacy 55
Houston Westfield 53, The Woodlands College Park 22
Tomball Memorial 48, Katy Cypress Lakes 45 OT
Spring Grand Oaks 74, Aldine 25
Houston Cypress Ranch 66, Tomball 40
BI-DISTRICT
Region I
Lubbock Monterey 104, Plainview 64
El Paso Burges 59, El Paso Del Valle 16
Amarillo 86, Lubbock 35
El Paso Andress 39, El Paso Hanks 34
Mansfield Timberview 64, Lake Dallas 23
Granbury 66, Fort Worth Wyatt 17
Argyle 63, Midlothian 48
Justin Northwest 50, FW Arlington Heights 34
El Paso Bel Air 47, Canutillo 34
Amarillo Tascosa 51, Lubbock Coronado 39
El Paso Chapin 108, El Paso Ysleta 18
Lubbock-Cooper 90, Amarillo Palo Duro 57
Aledo 55, Everman 40
Colleyville Heritage 62, Mansfield Summit 45
FW Brewer 74, FW North Side 11
Midlothian Heritage 58, Denton Ryan 45
Region II
Mesquite Poteet 77, Dallas Hillcrest 28
Frisco Lebanon Trail 42, Frisco Lone Star 34
Dallas White 56, Dallas Spruce 9
Frisco Liberty 48, Frisco 24
Huntsville 65, Marshall 44
Princeton 47, Terrell 44
Mount Pleasant 82, Nacogdoches 44
Crandall 48, Denison 36
Frisco Memorial 52, Frisco Reedy 37
North Mesquite 51, Dallas South Oak Cliff 50
The Colony 49, Frisco Heritage 38
West Mesquite 51, Dallas Wilson 26
Red Oak 51, Lucas Lovejoy 35
Tyler 52, Lufkin 43
McKinney North 45, Forney 28
Longview 38, Kingwood Park 26
BI-DISTRICT
Region I
Canyon 68, Andrews 17
El Paso Austin (18-14) vs. Clint (19-12), 6 p.m. Tuesday, Austin HS
Seminole 67, Hereford 57
El Paso Mountain View (17-13) vs. El Paso Bowie (7-21), 6 p.m. Tuesday, Mountain View HS
Krum 49, Wichita Falls 17
Lubbock Estacado 56, Brownwood 38
Sanger 81, Springtown 17
Stephenville 66, Snyder 30
El Paso Riverside 77, El Paso YWA 30
Pampa 60, Midland Greenwood 48
El Paso Irvin (18-9) vs. San Elizario (13-20), 8:30 p.m. Tuesday, Irvin HS
Amarillo Randall 81, Monahans 21
Glen Rose 90, Big Spring 4
Decatur 66, Burkburnett 26
Levelland 61, Mineral Wells 16
Bridgeport 66, Wichita Falls Hirschi 27
Region II
Dallas Oak Cliff Faith Family 68, Aubrey 32
Alvarado 58, FW Eastern Hills 21
Frisco Panther Creek 92, Arlington Summit International 19
Kennedale 63, Benbrook 30
Van 71, Sulphur Springs 35
Dallas Pinkston 47, Wills Point 34
Paris North Lamar 50, Mabank 33
Kaufman 50, Dallas Carter 35
Godley 59, Fort Worth YWLA 19
Anna 93, Dallas Hampton Prep 12
Fort Worth Dunbar 50, Ferris 44
Van Alstyne 83, Irving North Hills 21
Sunnyvale 72, Dallas Roosevelt 19
Canton 59, Texarkana Liberty-Eylau 46
Dallas Lincoln 58, Farmersville 30
Brownsboro 55, Paris 41
BI-DISTRICT
Region I
Lamesa 31, Stanton 28
Shallowater 35, Spearman 27
Littlefield 69, Kermit 27
Childress 53, Canadian 48
Peaster 77, Iowa Park 27
Merkel 54, Brady 33
Holliday 78, Millsap 41
Wall 61, Comfort 17
Idalou (22-12) vs. Dalhart (20-12), 3:30 p.m. Wednesday, Amarillo West Plains HS
Muleshoe 68, Alpine 47
Bushland 60, Lubbock Roosevelt 21
Crane 57, Brownfield 49
Tuscola Jim Ned 69, Llano 9
Breckenridge 46, Bowie 39
Ballinger 50, Blanco 29
Wichita Falls City View 48, Brock 39 OT
Region II
Edgewood 38, Howe 21
Ponder 61, Dallas Madison 29
Pottsboro 52, Lone Oak 34
Whitesboro 57, Cedar Hill Newman 42
Tatum 52, New Diana 22
Mount Pleasant Chapel Hill 59, Hooks 27
Gladewater 53, Arp 45
Mount Vernon 65, Atlanta 34
Paradise 74, Dallas Life Oak Cliff 5
Gunter 65, Commerce 33
Cedar Hill Trinity Leadership (23-8) vs. Sadler S&S Consolidated (18-14), 6 p.m. Tuesday, Flower Mound Marcus HS
Emory Rains 48, Bells 47
Mineola 53, New Boston 44
Waskom 42, White Oak 39
Winnsboro 87, Queen City 33
Jefferson 37, Gladewater Sabine 34
Region III
Fairfield 83, Rogers 28
Mildred 48, Grandview 25
Little River Academy 44, Franklin 34
Malakoff 70, Keene 37
Hitchcock 65, Cleveland Tarkington 36
Nacogdoches Central Heights 72, Buna 34
Anderson-Shiro (18-9) vs. Van Vleck (12-18), 7 p.m. Tuesday, Sealy HS
Lufkin Pineywoods Academy 46, Winnie East Chambers 26
Rice 61, West 40
Teague 34, Lorena 28
Scurry-Rosser 48, Maypearl 39
Mexia 60, Troy 36
Kountze (31-2) vs. Pollock Central (14-13), 8 p.m. Tuesday, Zavalla HS
Crockett (18-11) vs. East Bernard (18-14), TBD
Huntington 61, Warren 23
Boling (25-6) vs. New Waverly (18-6), 8 p.m. Tuesday, Navasota HS
BI-DISTRICT
Region II
Hamilton 55, Santo 29
Windthorst 46, Anson 38
Lipan 82, Italy 21
Cisco (25-6) vs. Seymour (23-8), 6 p.m. Tuesday, Mineral Wells HS
Como-Pickton 46, Clarksville 43
Lindsay 47, Honey Grove 26
Cooper 74, Maud 18
Wolfe City 50, Collinsville 38
Stamford 76, Petrolia 39
Frost 48, Tolar 30
Nocona 70, Haskell 25
Valley Mills 42, De Leon 16
Merit Bland (24-4) vs. Era (17-16), 7 p.m. Tuesday, Melissa HS
Detroit 34, Alba-Golden 33
Muenster 53, Whitewright 29
Quinlan Boles 61, Bogata Rivercrest 47
8-6A THIRD-PLACE PLAYOFF
Arlington Martin 42, Arlington Sam Houston 29
2-5A SECOND-PLACE PLAYOFF
El Paso Hanks 39, El Paso Del Valle 30
14-4A FOURTH-PLACE PLAYOFF
Farmersville 35, Nevada Community 24
This story was originally published February 12, 2023, 11:18 AM.
Celina tops Ranchview behind big 2nd half, playoff seed looms
IRVING — After juggling a roller coaster of a first half on Tuesday, all it took for the Celina boys basketball team was to refocus.The Bobcats blitzed Carrollton Ranchview early and often during a first quarter that produced a 12-0 start on the road. But the Wolves chipped away, generating a wealth of turnovers and shrinking that double-digit deficit down to one point by halftime, 23-22.Celina responded as one might expect from a team gearing up for the postseason. The Bobcats spoiled Ranchview's senior night behind a 21...
IRVING — After juggling a roller coaster of a first half on Tuesday, all it took for the Celina boys basketball team was to refocus.
The Bobcats blitzed Carrollton Ranchview early and often during a first quarter that produced a 12-0 start on the road. But the Wolves chipped away, generating a wealth of turnovers and shrinking that double-digit deficit down to one point by halftime, 23-22.
Celina responded as one might expect from a team gearing up for the postseason. The Bobcats spoiled Ranchview's senior night behind a 21-3 run that blew open an eventual 48-39 victory to close out the regular season on a winning note.
"We recommitted to the defensive end," said Landon DeMasters, Celina head coach. "It wasn't really anything I did. We allowed them to talk amongst themselves and refocus, and they responded well."
FINAL: Celina 48, Ranchview 39A choppy 1st half gives way to a resounding 3Q for @Celina_Hoops, stringing together a 21-3 run in the 2nd half to blow it open. Tahlan Jackson and Tyler Cross score 12 pts apiece to send Celina into the postseason on a winning note. pic.twitter.com/abRTt0vQOs

— Matt Welch (@MWelchSLM) February 15, 2023
The Bobcats did so by shoring up the areas that plagued them during the second quarter moments earlier. Celina was outscored by Ranchview 14-6 during that frame, surrendering its early momentum thanks in part to 13 first-half turnovers and a busy second quarter on both ends of the floor from Wolves sophomore Terry Shelton.
But in allowing 14 points in the second quarter, Celina exited halftime and limited Ranchview to just three points over a stretch of 11-and-a-half minutes. By that time, the Bobcats had built a 44-25 lead, shrugging off a tough shooting night from outside the paint by living at the rim through a cadre of fast-break opportunities.
Two of the catalysts for that effort were junior Dean Hamilton and freshman Tahlan Jackson, pushing the pace off missed shots by the Wolves to generate either a fast-break layup or a trip to the free throw line.
"One of the differences in practice this week was to get out in transition and play faster," DeMasters said. "I think we did a good job of securing rebounds and pushing the ball out in transition. Our guards did a really good job with that."
End 3Q: Celina 34, Ranchview 25Bounce-back quarter for the Celina defense, which allows just 3 pts. Tahlan Jackson continues to put in work in transition, finishing this steal to boost his total to 12 pts and 3 stls. @Celina_Hoops pic.twitter.com/kHzAjwBWBV

— Matt Welch (@MWelchSLM) February 15, 2023
Having two floor generals the caliber of Hamilton and Jackson helped plenty in that effort. Jackson recorded 12 points and three steals in the win, while Hamilton chipped in four points, nine rebounds and four assists.
"They're high basketball IQ kids. They run the culture for us and play hard," DeMasters said. "Tahlan is just a freshman, so we're looking forward to having him a few more years. Dean is probably the leader of our team and our heart and soul, so having those two on the floor at the same time and making the decisions makes the game a lot easier for everyone else."
In fact, that one-two punch was instrumental in sparking Celina to a 12-0 start on Tuesday. Jackson got going early with seven first-quarter points, finishing off several assists from Hamilton in transition. Senior Nate Lazo added four of his eight points in the opening frame as well.
The Bobcats held Ranchview off the scoreboard for the first 5:19 of game time, but turnovers stagnated Celina's promising start as the Wolves countered with an 8-5 run to close out the first quarter. Ranchview carried that energy into the second, holding Celina to one make from the field during a six-and-a-half-minute stretch. A 3-pointer from Shelton gave the Wolves a brief lead at 20-19 with 1:45 to go in the half.
Shelton scored all 10 of his points in the first half, converting three shots from the field. The Bobcats, meanwhile, surrendered just four field goals total in the second half.
"It was just effort. Being in the right spots, diving on the floor, blocking out for rebounds, just giving more effort," DeMasters said.
The turnovers that plagued Celina early on fizzled in the third quarter, with the team coughing the ball up just twice during that frame. DeMasters also lauded his group's work from the charity stripe, shooting 19-of-26 on free throws. That included a 10-of-13 clip during the fourth quarter, with junior Tyler Cross earning numerous trips to the line en route to scoring 10 of his 12 points during the final frame.
Improvements in those areas was a welcome sign for DeMasters as Celina shifts its focus to the postseason, finishing its District 11-4A slate tied for third place with Van Alstyne at 5-5. The Bobcats and Panthers split their head-to-head series, and DeMasters said the two teams will settle that tie with a seeding game on Friday at a time and place to be determined.
The winner of that game will secure the No. 3 seed for the postseason while also avoiding a bi-district matchup with defending Class 4A state champion Faith Family.
"I'll feel a lot better when I figure out what place we're in. That's all that matters," DeMasters said. "It's been a long season and a grind, but the kids can now refocus on competing for something big and putting their efforts into that goal the rest of the way."
Disclaimer:
This website publishes news articles that contain copyrighted material whose use has not been specifically authorized by the copyright owner. The non-commercial use of these news articles for the purposes of local news reporting constitutes "Fair Use" of the copyrighted materials as provided for in Section 107 of the US Copyright Law.