Disaster Recovery Done Right: Trust Atlas for Commercial Water Damage Restoration in Lucas, TX.
When you own a business, property damage is an unfortunate occurrence that happens all too often. Property damage can be caused by any number of disasters, both natural and man-made. Most often, however, property damage happens from an excess of water. From very heavy rainstorms to broken pipes, water damage can be incredibly harmful not just for your storefront but for your customers.
When water spreads through your commercial property, it happens quickly, causing damage as it moves. At the same time, furnishings and porous materials soak up moisture. In just a short amount of time, you could be dealing with warping, rotting, and even mold growth. That's why water damage remediation is so important - to address your current damage and prevent water from making your business unsafe.
At Atlas National Renovations, we know that dealing with water damage seems like a losing effort on your own. But when you trust our water damage restoration team, you don't have to lose hope. We provide comprehensive water remediation services for businesses of all size in Texas. From the first time we lay eyes on your water damage to the time we mitigate your problem, we're here for you. With a team of IICRC certified technicians and innovative restoration tools at our disposal, we specialize in making your business safe again.
Unlike some of our competitors, we are fiercely dedicated to our clients and aim to exceed their expectations with the highest quality water damage restoration services in Lucas, TX. When water damage hits your business, time is of the essence, which is why we get to work quickly and efficiently by assessing the damage to your property. Once we know the extent of your water damage, we'll consult with you about its severity and detail the next steps you should take so you can make an informed purchasing decision.
With decades of combined experience, there is no disaster cleanup project too complex or large for our team to handle. We assist small businesses, large commercial entities, and even multi-family apartment complexes. Our clients trust Atlas National Renovations to keep them dry, safe, and secure, and it would be our pleasure to help do the same for you.
In addition to our reliability and quality of work, our customers choose us over others because we offer:
Fair, Accurate Work Estimates
We drain water from your property, not money from your bank account.
Clear, Constant Communication
When you work with Atlas, you're never left wondering what's happening with your commercial property.
Detailed Deadlines and Schedules
We're meticulous about sticking to schedules and meeting deadlines. You can always expect us to be on time and ready to work.
Experienced Project Managers
We assign seasoned, hardworking project managers for each of our projects. When you work with Atlas, you're working with the best.
Courteous and Knowledgeable Leadership
Excellence starts at the top, and our leadership team is the best in the business.
Atlas National Renovations Multi-Family and Commercial Renovation Experts
Free Consultation
What Clients Say About Us
Apartment Upgrades for ANONYMOUS
★★★★★
We loved our Project Manager, Steve! He communicated with us daily! He was available and willing to help throughout the entire project!
Fire Damage for ANONYMOUS
★★★★★
Our project was completed on time, and our residents were treated with the most care and respect!
What is Water Damage Restoration in in Lucas, TX
If you're currently dealing with serious water damage from a flood, broken pipe, or other cause, you're probably not sure what to do next. While it's understandable to feel panicky, it's important that you have the water removed as quickly as possible. When structural damage and health hazards are at play, time is of the essence. The longer you wait, the worse the damage will get. The damage you see with your eyes is usually the tip of the iceberg - most water damage gets deep in your carpets and walls fast.
Atlas' water damage restoration services are focused on restoring and repairing the damage that water causes to commercial property. The primary purpose of our restoration services is to return your property to the condition it was in prior to the damage. Once your water damage has been mitigated, our team swoops in to begin the restoration process.
Depending on the scope and severity of your water damage, common water damage restoration services can include:
Damaged Flooring and Wall Replacement
Damaged Roof Restoration
Mold Remediation
Humidity and Moisture Testing
While little can be done to predict natural disasters, there are common signs you can keep an eye on to prevent serious water damage from occurring.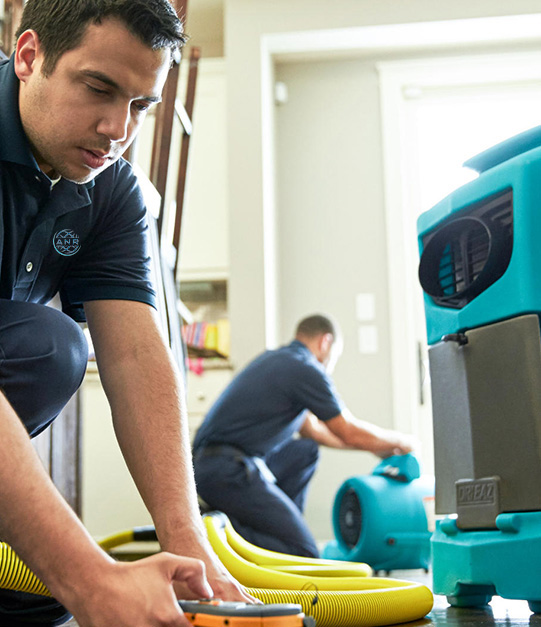 Common Signs of Commercial Water Damage in Lucas, TX
There's no convenient time to be sidelined with water damage when it comes to your commercial property and business. Water damage to your commercial or industrial property is particularly devastating because every hour that your business is closed means lost revenue and productivity. You do not just have to deal with damage to the structural integrity of your building - you have to deal with the disruption of service to your loyal customers.
The good news? Atlas is here when you need us most, with a team of highly-trained technicians and unmatched water damage restoration expertise. We're ready to tackle your problem and solve it in an efficient, effective manner, so you can keep your doors open and your clients happy.
As a business owner, you know that one of the best ways to prevent a disaster is to nip it in the bud before it gets out of hand. For that reason, keep an eye out for the following signs of water damage to your commercial property: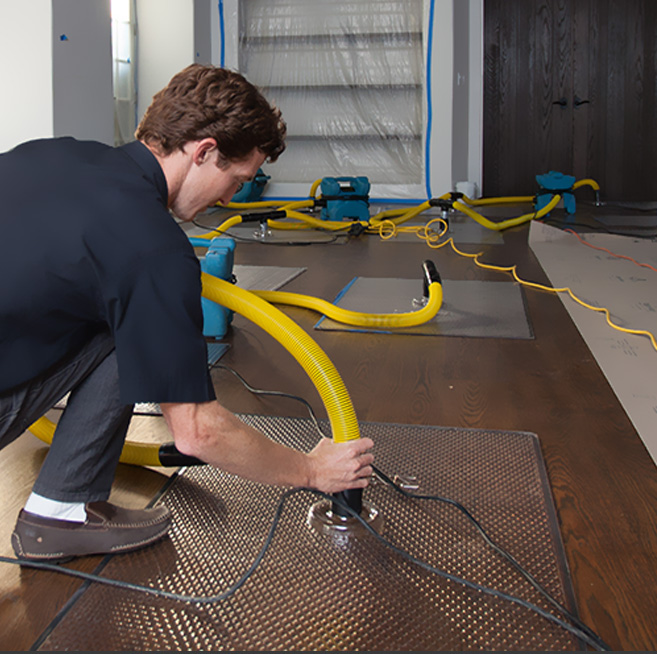 Look for Mold:
Mold can begin to grow just a day or two after water has taken hold of your business. If you see small signs of mold growth in an area where you suspect a leak, contact Atlas National Renovations ASAP to diagnose the problem.

Check Your Pipes:
If it's safe to do so, check out the piping inside and outside your commercial property. You want to keep a keen eye out for oxidation and corrosion around pipe fixtures. While you're at it, check your water heater for rust too. Corrosion or rust is a telltale sign of a water leak.

Check for Rings:
Dark spots on walls and ceilings usually indicate water damage. If you see rings around a stain, the damage is probably older. Several rings with different shades of color mean an intermittent issue, where the area has been soaked and dried several times.

Understand Your Property:
This is more of a suggestion than a sign. As the commercial property owner, you should know your building's pipe system. You should know what is old and new and what areas may be at risk for water damage. Keep an extra-close eye on areas that have a higher potential for leaks, especially during rainstorms.
Benefits of Commercial Water Damage Restoration
in Lucas, TX
When water invades your business or commercial property, you don't have much time to ponder your next course of action. While some business owners opt to try DIY water damage restoration, in most cases, they end up with more damage and expenses than before their leak. For the most effective, comprehensive solution to water damage, it's important that you hire a professional. At Atlas National Renovations, our primary focus is assisting business owners and commercial property managers with water damage restoration. We've been doing it for years, and we can help you too.
Here are just a few of the most common benefits we hear from past customers:
Safe Shopping Experience
If you own a business, the health and safety of your customers is of utmost importance. When water damage occurs inside your storefront, you could be dealing with more than property damage. Depending on the severity of your issue, contaminants and microorganisms may be present, putting your customers' health at risk. When you trust a professional water damage restoration company like Atlas to remediate your water leak, you're not just putting a stop to the leak. Our team will clean and sanitize your business, making it safe for customers to continue shopping at your store.
Quick Response Time
Water damage can create unbearable conditions in your commercial property. As such, your water restoration company must be quick to respond. Professional water damage companies like Atlas respond quickly and can clean up water, dry and disinfect the area, and make necessary repairs. Because we have an entire team of pros and industry-leading equipment, we can be on site in minutes.
Less Damage, Better Costs
Water damage can be very expensive. Sometimes, it only takes a couple of hours to result in heavy losses. How soon you call the experts could mean the difference between painting over a water stain and having to rebuild an entire area of damaged drywall. When you call Atlas immediately, clients often reduce the cost of water damage restoration and overall building damage.
Capital Expenditure Services
In addition to our disaster recovery services, we also offer large-scale upgrades and improvements for your capital expenditures. If you own or manage a large commercial building or a multi-family property, you need to make sure your capital expenditures maintain present operating levels and foster your company's future growth.
At Atlas National Renovations, class A, B, and C properties are our bread and butter. We take the time to understand our customer's needs and expectations from the start so we can deliver outstanding results. If you're looking for a top-tier contractor to do the job right the first time, look no further than Atlas. Our customers love our team because we make large, highly-complicated projects easy to finish.
If you're looking to invest in the future of your business, know that we are here to help with projects like these:
High Volume Unit Upgrades and Improvements
Amenity Upgrades and Conversions
Common Area Improvements
High Volume Carpet, LVT, and Tile Installation
Courtyards and Hardscapes
Package Room and Mail Center Upgrades and Additions
Fitness Center Upgrades and Improvements
Dog Parks and Pet Stations
Signage Improvements and Additions
LED Lighting and Electrical Upgrades
Multi-Family Building Deficiencies and Restoration Services
New multi-family properties are entering the market every day. That means that older communities must be renovated to keep up with modern demands and tenant needs. Upgrades to amenities, aesthetics and even structural changes help assets stay up-to-date. At the same time, damages from leaks and storms must be addressed. If you're a multi-family property manager or owner, and need unmatched restoration capability, Atlas National Renovations is here to serve you.
We specialize in cutting-edge, high-quality ways to achieve your renovation goals - for your tenants but also for your corporate leaders and management team. After all, a successful multi-family renovation benefits all parties.
We currently work with the top multi-family groups across our state. Unlike some multi-family renovation companies in Texas, our team understands the inner workings of the multi-family environment. Our customers appreciate our accommodations to their residents, maintenance team, leasing team, corporate leaders, and beyond. We're proud to say we know multi-family, inside and out, and have the credentials to back up those claims.
When crafting a multi-family restoration plan, we always consider your tenant's demographics, your building's curb appeal, property age, and energy efficiency. Whether you need to have significant updates applied to an older property or need a water damage inspection for a brand-new building, we can help.
Here is a quick glance at some of the multi-family renovations that our team handles:
Leak Detection and Water Intrusion Investigation
Exterior Sealants and Waterproofing
Large Interior and Exterior Paint Projects
Stucco Remediation and Exterior Facade Re-Clads
Full Property Exterior Repaints
Concrete and Flatwork
Corridor and Common Area Painting
Roof Replacement
Discover the
Atlas Difference
Water damage restoration is a crucial, complex process that must be completed properly to save your business from serious damage. Choosing the right professional is equally important, especially when your customers' health is on the line. Whether you need large-scale commercial restoration or quick, effective water damage cleanup for your storefront business, know that we are only a phone call away. Contact our friendly team of experts to learn more about Atlas National Renovations and how we clean up your water damage mess better than the rest.
214-814-4300
Latest News in Lucas, TX
Download Pilot Welcomes 10,000 Fans to First U.K. Festival Since Pandemic
Slowly but surely live shows are coming back as the world starts to open up after year-long pandemic lockdown. In the U.K., the first major festival event is taking place this weekend with the Download Pilot Festival, which allowed 10,000 fans to come camp out in Donington Park as part of a government program to research the return of live music events on a large scale. In the U.K., researchers have been studying how to put on events while negat...
Slowly but surely live shows are coming back as the world starts to open up after year-long pandemic lockdown. In the U.K., the first major festival event is taking place this weekend with the Download Pilot Festival, which allowed 10,000 fans to come camp out in Donington Park as part of a government program to research the return of live music events on a large scale.
In the U.K., researchers have been studying how to put on events while negating the spread of the COVID-19 virus, steadily growing the amount of people allowed to attend these events. While Download Festival is expected to return in full in 2022, this "pilot" version of the festival allowed for one of the biggest music event attendances to date in the U.K. as researchers continued to collect data helping to determine when and how the music industry in the country can return at full capacity.
Last night (June 18) was the opening night with Frank Carter and the Rattlesnakes leading a bill that included Neck Deep, Sleep Token, Boston Manor, Holding Absence, Hot Milk, Malevolence and Death Blooms. Enter Shikari, While She Sleeps, Creeper, Bullet for My Valentine, Frank Turner and the Sleeping Souls, Skindred, The Wildhearts and more will also take the stage this weekend.
For this event, festival goers were required to follow social distancing and facial covering guidelines while traveling to and entering the festival, but were allowed to remove the facial coverings and participate in the concert viewing without social distancing once inside.
The prerequisite for entry into the pilot event was a required lateral flow test taken the morning of arrival with a negative test result needed to enter. They've also been asked to take a PCR test prior to the event and another after to gather further evidence for researchers concerning the guidelines for festival going and camping. Names and contact info were gathered as well in case there is need for follow-up should an outbreak occur.
"The important part of this is to actually do this as realistically as possible," stated Professor Paul Monks, the lead scientist for events research, in a chat with BBC Radio Leicester (as seen below). "Because we couldn't understand that risk and reduce that risk unless we do it by people acting normally."
While a torrential downpour awaited the festival goers, it didn't seem to dampen the spirits. "Despite the weather, it feels joyous," stated organizer Melvin Benn to BBC News. "It's been two years since we stood in this field. We had to cancel Download 2021 [in March]. We didn't think anything could happen. But the government wanted to extend the research program and they wanted a camping festival, so they wanted me to put that together. So here we are, three and a half weeks later, in the rain and happy to be in the rain." Other news reports showed festival goers smiling and posing in ponchos while speaking of the thrill of being able to see live music again.
Holding Absence's Lucas Woodland stated, "We haven't played a show since the 12 December 2019. So yeah, it's been a long time coming." "Live shows are kind of the lifeblood of what we do," added Neck Deep's Ben Barlow. "That's the most sort of alive I've felt in nearly two years. It's just amazing. There's no replacement for it."
See reports from BBC Radio Leicester, BBC News and Leicester Live from Friday's first day below.
Wood named acting Harnett County manager
Harnett County — The Harnett County Board of Commissioners has appointed George Wood as acting county manager. The board has also hired Melissa Capps as the new clerk to the board. Wood's appointment comes after County Manager Paula Stewart submitted a letter to the board of commissioners announcing she would be taking a leave of absence beginning May 14 through the remainder of her tenure and designating Wood as acting county manager, effective May 17, subject to Board approval. The board voted unanimously to name ...
Harnett County — The Harnett County Board of Commissioners has appointed George Wood as acting county manager. The board has also hired Melissa Capps as the new clerk to the board.
Wood's appointment comes after County Manager Paula Stewart submitted a letter to the board of commissioners announcing she would be taking a leave of absence beginning May 14 through the remainder of her tenure and designating Wood as acting county manager, effective May 17, subject to Board approval.
The board voted unanimously to name Wood acting county manager during their May 17 regular meeting, and interim clerk to the board Lindsey Lucas administered the oath of office. Following Stewart's official retirement date on June 30, 2021, Wood will be named interim county manager, upon approval from the Commissioners, and will serve in that capacity until the Board hires a new county manager.
"We are very appreciative that Mr. Wood has agreed to serve as our acting and interim county manager as we transition and search for a permanent Manager," Harnett County Board of Commissioners Chairman Brooks Matthews said. "Mr. Wood brings a wealth of knowledge and experience from his past years of service as both a municipal and county manager. He is already working hard for the staff and citizens of Harnett County."
"I look forward to working with the Board of Commissioners, County staff, and the community in this interim period," Wood said.
Wood has over 40 years of experience in local government administration throughout South Carolina, North Carolina, Tennessee, and Georgia. He is the former County Manager of Wayne County, North Carolina, and former County Manager of Lincoln County, North Carolina. Prior to these leadership positions, he spent 30 years as a City Manager in Statesboro, Ga., Cleveland, Tenn., Kings Mountain, Pinehurst and Kingstree, S.C. Wood held his most recent position in 2018 and 2019 as Interim County Manager of Buncombe County.
Wood is a former member of the State Library Board of North Carolina, North Carolina Association of County Commissioners' Risk Management Board of Directors, and the North Carolina City and County Management Association. He earned a Bachelor of Science degree in Political Science from Georgia Southern University and a Masters in Public Administration degree from the University of Kansas.
Capps will assume her new duties as Clerk to the Board of Commissioners on June 14, following the retirement of former Clerk to the Board Gina Wheeler on April 1.
Capps began her career in municipal government in 2005 with the City of Goldsboro, where she currently serves as city clerk. She graduated in 2007 from the Clerk's Institute at the UNC School of Government and received her designation for certified municipal clerk from the International Institute of Municipal Clerks and UNC School of Government in 2009. Capps also received her North Carolina Certified Municipal Clerk designation from the NC Association of Municipal Clerks in 2012 and the Master Municipal Clerk Certification in 2016.
Capps joined the NC Association of Municipal Clerks in 2005, where she has served as the District IV director and recording secretary for the board of directors. She also been an active member of the association's program & education, membership, finance, We Share Our Services, and executive committees Capps is a graduate of Wayne Community College and holds an Associate in Applied Science degree in Business Administration.
"We are excited to have Ms. Capps join our team as Clerk to the Board of Commissioners," Matthews said. "She also brings a wealth of experience from her time in municipal government to her new role with us in county government. Her experience and continued educational pursuits indicate a desire for professional growth and excellence."
Capps is looking forward to starting her position in Harnett County.
"It is an honor to have been selected to serve as Clerk to the Board for the Harnett County Board of Commissioners," she said. "I look forward to working with everyone and getting to learn more about Harnett County."
— Submitted
Disclaimer:
This website publishes news articles that contain copyrighted material whose use has not been specifically authorized by the copyright owner. The non-commercial use of these news articles for the purposes of local news reporting constitutes "Fair Use" of the copyrighted materials as provided for in Section 107 of the US Copyright Law.