Disaster Recovery Done Right: Trust Atlas for Commercial Water Damage Restoration in Dallas, TX.
When you own a business, property damage is an unfortunate occurrence that happens all too often. Property damage can be caused by any number of disasters, both natural and man-made. Most often, however, property damage happens from an excess of water. From very heavy rainstorms to broken pipes, water damage can be incredibly harmful not just for your storefront but for your customers.
When water spreads through your commercial property, it happens quickly, causing damage as it moves. At the same time, furnishings and porous materials soak up moisture. In just a short amount of time, you could be dealing with warping, rotting, and even mold growth. That's why water damage remediation is so important - to address your current damage and prevent water from making your business unsafe.
At Atlas National Renovations, we know that dealing with water damage seems like a losing effort on your own. But when you trust our water damage restoration team, you don't have to lose hope. We provide comprehensive water remediation services for businesses of all size in Texas. From the first time we lay eyes on your water damage to the time we mitigate your problem, we're here for you. With a team of IICRC certified technicians and innovative restoration tools at our disposal, we specialize in making your business safe again.
Unlike some of our competitors, we are fiercely dedicated to our clients and aim to exceed their expectations with the highest quality water damage restoration services in Dallas, TX. When water damage hits your business, time is of the essence, which is why we get to work quickly and efficiently by assessing the damage to your property. Once we know the extent of your water damage, we'll consult with you about its severity and detail the next steps you should take so you can make an informed purchasing decision.
With decades of combined experience, there is no disaster cleanup project too complex or large for our team to handle. We assist small businesses, large commercial entities, and even multi-family apartment complexes. Our clients trust Atlas National Renovations to keep them dry, safe, and secure, and it would be our pleasure to help do the same for you.
In addition to our reliability and quality of work, our customers choose us over others because we offer:
Fair, Accurate Work Estimates
We drain water from your property, not money from your bank account.
Clear, Constant Communication
When you work with Atlas, you're never left wondering what's happening with your commercial property.
Detailed Deadlines and Schedules
We're meticulous about sticking to schedules and meeting deadlines. You can always expect us to be on time and ready to work.
Experienced Project Managers
We assign seasoned, hardworking project managers for each of our projects. When you work with Atlas, you're working with the best.
Courteous and Knowledgeable Leadership
Excellence starts at the top, and our leadership team is the best in the business.
Atlas National Renovations Multi-Family and Commercial Renovation Experts
Free Consultation
What Clients Say About Us
Apartment Upgrades for Roberto Castillo
★★★★★
It is a very prestigious company with good attention from the staff, they are very polite and friendly people
Fire Damage for Ian Buchanan
★★★★★
Top shelf work done on time and on budget
Apartment Upgrades for ANONYMOUS
★★★★★
We loved our Project Manager, Steve! He communicated with us daily! He was available and willing to help throughout the entire project!
Fire Damage for ANONYMOUS
★★★★★
Our project was completed on time, and our residents were treated with the most care and respect!
What is Water Damage Restoration in in Dallas, TX
If you're currently dealing with serious water damage from a flood, broken pipe, or other cause, you're probably not sure what to do next. While it's understandable to feel panicky, it's important that you have the water removed as quickly as possible. When structural damage and health hazards are at play, time is of the essence. The longer you wait, the worse the damage will get. The damage you see with your eyes is usually the tip of the iceberg - most water damage gets deep in your carpets and walls fast.
Atlas' water damage restoration services are focused on restoring and repairing the damage that water causes to commercial property. The primary purpose of our restoration services is to return your property to the condition it was in prior to the damage. Once your water damage has been mitigated, our team swoops in to begin the restoration process.
Depending on the scope and severity of your water damage, common water damage restoration services can include:
Damaged Flooring and Wall Replacement
Damaged Roof Restoration
Mold Remediation
Humidity and Moisture Testing
While little can be done to predict natural disasters, there are common signs you can keep an eye on to prevent serious water damage from occurring.
Common Signs of Commercial Water Damage in Dallas, TX
There's no convenient time to be sidelined with water damage when it comes to your commercial property and business. Water damage to your commercial or industrial property is particularly devastating because every hour that your business is closed means lost revenue and productivity. You do not just have to deal with damage to the structural integrity of your building - you have to deal with the disruption of service to your loyal customers.
The good news? Atlas is here when you need us most, with a team of highly-trained technicians and unmatched water damage restoration expertise. We're ready to tackle your problem and solve it in an efficient, effective manner, so you can keep your doors open and your clients happy.
As a business owner, you know that one of the best ways to prevent a disaster is to nip it in the bud before it gets out of hand. For that reason, keep an eye out for the following signs of water damage to your commercial property:
Look for Mold:
Mold can begin to grow just a day or two after water has taken hold of your business. If you see small signs of mold growth in an area where you suspect a leak, contact Atlas National Renovations ASAP to diagnose the problem.

Check Your Pipes:
If it's safe to do so, check out the piping inside and outside your commercial property. You want to keep a keen eye out for oxidation and corrosion around pipe fixtures. While you're at it, check your water heater for rust too. Corrosion or rust is a telltale sign of a water leak.

Check for Rings:
Dark spots on walls and ceilings usually indicate water damage. If you see rings around a stain, the damage is probably older. Several rings with different shades of color mean an intermittent issue, where the area has been soaked and dried several times.

Understand Your Property:
This is more of a suggestion than a sign. As the commercial property owner, you should know your building's pipe system. You should know what is old and new and what areas may be at risk for water damage. Keep an extra-close eye on areas that have a higher potential for leaks, especially during rainstorms.
Benefits of Commercial Water Damage Restoration
in Dallas, TX
When water invades your business or commercial property, you don't have much time to ponder your next course of action. While some business owners opt to try DIY water damage restoration, in most cases, they end up with more damage and expenses than before their leak. For the most effective, comprehensive solution to water damage, it's important that you hire a professional. At Atlas National Renovations, our primary focus is assisting business owners and commercial property managers with water damage restoration. We've been doing it for years, and we can help you too.
Here are just a few of the most common benefits we hear from past customers: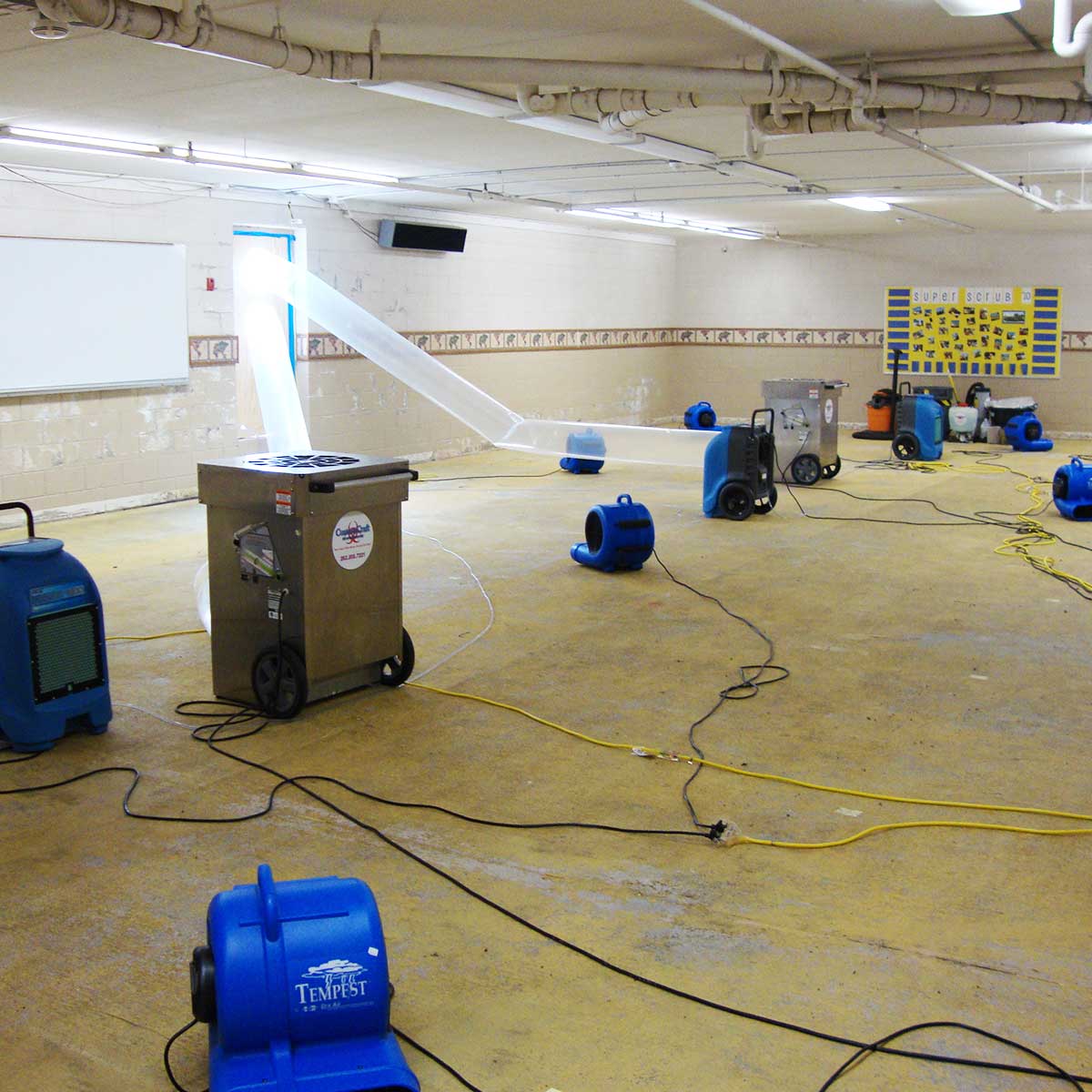 Safe Shopping Experience
If you own a business, the health and safety of your customers is of utmost importance. When water damage occurs inside your storefront, you could be dealing with more than property damage. Depending on the severity of your issue, contaminants and microorganisms may be present, putting your customers' health at risk. When you trust a professional water damage restoration company like Atlas to remediate your water leak, you're not just putting a stop to the leak. Our team will clean and sanitize your business, making it safe for customers to continue shopping at your store.
Quick Response Time
Water damage can create unbearable conditions in your commercial property. As such, your water restoration company must be quick to respond. Professional water damage companies like Atlas respond quickly and can clean up water, dry and disinfect the area, and make necessary repairs. Because we have an entire team of pros and industry-leading equipment, we can be on site in minutes.
Less Damage, Better Costs
Water damage can be very expensive. Sometimes, it only takes a couple of hours to result in heavy losses. How soon you call the experts could mean the difference between painting over a water stain and having to rebuild an entire area of damaged drywall. When you call Atlas immediately, clients often reduce the cost of water damage restoration and overall building damage.
Capital Expenditure Services
In addition to our disaster recovery services, we also offer large-scale upgrades and improvements for your capital expenditures. If you own or manage a large commercial building or a multi-family property, you need to make sure your capital expenditures maintain present operating levels and foster your company's future growth.
At Atlas National Renovations, class A, B, and C properties are our bread and butter. We take the time to understand our customer's needs and expectations from the start so we can deliver outstanding results. If you're looking for a top-tier contractor to do the job right the first time, look no further than Atlas. Our customers love our team because we make large, highly-complicated projects easy to finish.
If you're looking to invest in the future of your business, know that we are here to help with projects like these:
High Volume Unit Upgrades and Improvements
Amenity Upgrades and Conversions
Common Area Improvements
High Volume Carpet, LVT, and Tile Installation
Courtyards and Hardscapes
Package Room and Mail Center Upgrades and Additions
Fitness Center Upgrades and Improvements
Dog Parks and Pet Stations
Signage Improvements and Additions
LED Lighting and Electrical Upgrades
Multi-Family Building Deficiencies and Restoration Services
New multi-family properties are entering the market every day. That means that older communities must be renovated to keep up with modern demands and tenant needs. Upgrades to amenities, aesthetics and even structural changes help assets stay up-to-date. At the same time, damages from leaks and storms must be addressed. If you're a multi-family property manager or owner, and need unmatched restoration capability, Atlas National Renovations is here to serve you.
We specialize in cutting-edge, high-quality ways to achieve your renovation goals - for your tenants but also for your corporate leaders and management team. After all, a successful multi-family renovation benefits all parties.
We currently work with the top multi-family groups across our state. Unlike some multi-family renovation companies in Texas, our team understands the inner workings of the multi-family environment. Our customers appreciate our accommodations to their residents, maintenance team, leasing team, corporate leaders, and beyond. We're proud to say we know multi-family, inside and out, and have the credentials to back up those claims.
When crafting a multi-family restoration plan, we always consider your tenant's demographics, your building's curb appeal, property age, and energy efficiency. Whether you need to have significant updates applied to an older property or need a water damage inspection for a brand-new building, we can help.
Here is a quick glance at some of the multi-family renovations that our team handles:
Leak Detection and Water Intrusion Investigation
Exterior Sealants and Waterproofing
Large Interior and Exterior Paint Projects
Stucco Remediation and Exterior Facade Re-Clads
Full Property Exterior Repaints
Concrete and Flatwork
Corridor and Common Area Painting
Roof Replacement
Discover the
Atlas Difference
Water damage restoration is a crucial, complex process that must be completed properly to save your business from serious damage. Choosing the right professional is equally important, especially when your customers' health is on the line. Whether you need large-scale commercial restoration or quick, effective water damage cleanup for your storefront business, know that we are only a phone call away. Contact our friendly team of experts to learn more about Atlas National Renovations and how we clean up your water damage mess better than the rest.
214-814-4300
Latest News in Dallas, TX
Dak Prescott not expected to play in first preseason game
OXNARD, Calif. — In Saturday's press conference, head coach Mike McCarthy was asked about how the offensive personnel will be distributed during Dallas' first preseason game next Saturday against Jacksonville as the team prepares for its first game with McCarthy as the play-caller.
While any final decision has not yet been made, McCarthy said he is leaning towards not having Dak Prescott suit up for the game's first preseason game.
"We talked about it, but I haven't made a decision," McCarthy said. "I'm leaning towards not. If I had to bet, I'd bet on no. But I don't bet."
As far as who will be in the booth and on the sideline, McCarthy said that the offensive staff will work through a couple of different combinations in the preseason to figure out what is most effective for the regular season.
"We have it all written up," he said. "We have two plans and that's kind of normal. In the first game, we'll look at a certain combination. In the second game, we may flip one or two guys. I feel good about the responsibility and the way we have it outlined. We'll have three games to work it."
The Cowboys only have three quarterbacks on the roster, so if Dak doesn't play, expect a heavy dose of both Cooper Rush and Will Grier to play the preseason games. Rush has been the No. 2 quarterback the last two seasons, with a 5-1 record as a starter. Grier gave Rush a battle last season before suffering a hamstring injury that slowed his progress and allowed Rush to win the backup job.
Even with the new offensive system and him being the new play-caller, McCarthy said that his decisions about personnel and their placements in the preseason go beyond those factors.
"To me, I've always felt that that decision goes deeper than just the quarterback or where you are with the offense," he said. "I think you have to look at it like that."
The Dallas Cowboys will open the preseason next Saturday, August 12 against the Jacksonville Jaguars at AT&T Stadium.
Spagnola: Something Is Brewing On Defense
OXNARD, Calif. – This defense, telling you, something is brewing.
And look, know there has been only three training camp practices in pads, with the fourth of the allotted 10 taking place Saturday out here off the Ventura Highway.
But there are just some telltale signs in this the third season in coordinator Dan Quinn's defense that something special is in the air. You know, like a gurgling geyser before it blows.
"We're just working day in and day out," says veteran safety Jayron Kearse. "I don't know where we are until we go against someone else."
Granted, but after last season when the Cowboys finished 12th in total defense, but fifth in points allowed, giving up 342 in 17 games played (20.1 avg.), thought there must be three necessary additions.
Veteran cornerback. Check.
The Cowboys traded for 12-year veteran Stephon Gilmore. Even at age 33, he's been as advertised, destined to neutralize any offense's notion of staying away from Trevon Diggs, Pro Bowl wideout CeeDee Lamb saying of Gilmore, "He's the smartest defensive back I've faced."
Then big, strong, space-eating defensive tackle. Check.
Cowboys use the 27th pick in the NFL Draft for Michigan DT Mazi Smith, so far with no NFL experience showing signs of clogging up the middle to keep the riffraff off his linebackers, though still needing to refine some techniques to become the much-sought dominate force behind the line of scrimmage.
Finally, shore-up the linebacker corps. Check. Check. Check.
The Cowboys able to re-sign former first-round draft choice Leighton Vander Esch to a reasonable two-year deal. Last year's fifth-rounder Damone Clark – limited to just 10 games (five starts) with no offseason work or training camp after vertebrae neck fusion surgery following discovery at the NFL Scouting Combine – is coming into his own as the starter next to Vander Esch. And they are working hard to develop young 'backers Jabril Cox and third-rounder DeMarvion Overshown. And none of this takes into account Micah Parsons, practicing more and more at defensive end while capable of still playing linebacker too.
To me, there isn't an obvious weakness on this defense. The secondary is solid, and especially once Donovan Wilson returns from his high calf strain. The linebacker corps is more than solid. And, oh, that defensive front, a great mix of veterans like DeMarcus Lawrence, Dorance Armstrong, Dante Fowler and Johnathan Hankins, along with this maturing group of youngsters with Osa Odighizuwa, Neville Gallimore, Chauncey Golston, Sam Williams, "The Maz," Quinton Bohanna, Junior Fehoko and, oh yeah, Parsons too. Plus, Quinn is experimenting rushing Vander Esch from outside at defensive end and flipping Lawrence and Parsons from side to side.
"A position-less defense," says secondary coach Joe Whitt Jr. "We always talk about rush and coverage, it's a marriage."
And this might be the most significant trait of this defense. Take last year. The Cowboys finished with 54 sacks, their most in the past 14 years, having to go back to 2008 to find more in a single season (59). And that was the high going back 23 seasons to 1985 when they had a franchise record 62, the most since sacks became an official NFL statistic in 1982.
But then they also led the NFL with 33 takeaways, one fewer than they recorded while leading the league in 2021, becoming the first team to lead the NFL in takeaways for consecutive seasons since the Steelers did so from 1972-74.
"The best defenses are usually very good tacklers and guys who have a very good ball-hawking awareness," Quinn says. "Because if you get those two parts right, you are going to eliminate explosive plays, and obviously creating takeaways you are taking away opportunities to score or trying to score yourself."
And now enter Parsons, the heartbeat, soul and lead disciple of this defense. Sort of the Waldo of football, since quarterbacks breaking the huddle must immediately ask themselves, "Where's Micah?"
While in real life, pressure makes pipes break, in football pressure creates turnovers. And as Whitt says, one complements the other, meaning pressure up front can create turnovers, or coverage out back can create pressure up front if quarterbacks are forced to hold the football a tick or two longer.
"It's extremely important," Parsons reasons with one or the other, bringing Gilmore into the conversation. "I told 'Gilly,' you better give me three more sacks. I just know the type of player he is and the type of guys these young guys are trying to be like. So I'm super excited.
"Even Gilly told me just in two days of practice, 'Bro, I didn't think the ball could come out this fast. I ain't never had the ball (come out this fast).' And I said, 'Gilly, the ball going to come out hot. I'm telling you, they've got to get that ball out. If they don't, it's over. We're not worrying about it. We off the field.
I'm super excited."
Cornerback coach Al Harris knows exactly what Parsons is talking about, benefiting himself from the fruits of pressure up front.
"Listen man, (pressure up front) makes life so much easier," he says for the secondary. "Cuts down the number of routes on the tree."
Meaning, when guys in coverage can count on the pressure up front, they realize receivers can only run certain routes. That allows them to play more aggressively. Not exactly gambling, mind you, but eliminating what they must guard against. More like playing the percentages.
Reminding me of that time period from 1987 through the first meeting in 1991 when the Eagles beat the Cowboys eight straight times and nine of 10 into the first meeting of 1992. That is when the Eagles had that dominant defensive front with Reggie White, Jerome Brown, Clyde Simmons, Mike Pitts and a blitzing Seth Joyner.
Troy Aikman sure remembers that bunch, suffering 11 sacks in that first meeting of '91, the Eagles tying the Cowboys' single-game opponent high for sacks in a 24-0 whitewashing.
A day or so later in the locker room, veteran cornerback Ike Holt, who came over to the Cowboys in the 1989 Herschel Walker trade, sarcastically demonstrated how well the Eagles corners could cover. Ike got down in his pre-snap stance, as if lining up in man coverage, and out loud, as he took three steps backs, said, "One, two three," then stood up, crossed his arms, and with a big smile on his face goes, 'Yeah, I'm good, I'm good."
Bottom line meaning, with a pass rush like that, playing corner does become as easy as one, two, three seconds.
And conversely, with corners and safeties in tight coverage, and the quarterback with nowhere to go with the ball, there becomes a proliferation of sacks.
Plus, if this defense improves against the run – the Cowboys finished 22nd in 2022 – this might just become some kind of defense for Quinn to brag about.
"We can't just talk about it, we have to do it on the field," Parsons says of entering elite defensive status. "We've got to keep getting better. We've got to clean things up. I don't think we're at the standard we want to be right now yet, but that's what we're working for."
And on paper, after just those three padded camp practices and from what the naked eye is detecting – "It's tough. They make us work," Lamb says of going up against his team's defense in practice – goodness seems to be bubbling up from underground before our very eyes.
Dallas Cowboys Blue and White Practice | 2023
Listen to Hall of Fame inductee and former Dallas Cowboys and Denver Broncos linebacker DeMarcus Ware's full speech at the Pro Football HOF Class of 2023 enshrinement ceremony....
Listen to Hall of Fame inductee and former Dallas Cowboys and Denver Broncos linebacker DeMarcus Ware's full speech at the Pro Football HOF Class of 2023 enshrinement ceremony.
FC Dallas vs. Inter Miami live stream: How to watch Lionel Messi online, Leagues Cup TV channel, time, odds
Getty Images The Leagues Cup round of 16 is kicking off and Inter Miami are still rolling with Lionel Messi taking the league by storm. With another two goals to his name against Orlando City SC, Messi has now scored five goals in three appearances for the Herons, and Nico Estevez will be the latest to try to answer the question of how a team can contain Messi. No one has been able to do that yet but Maarten Paes has been strong in net and Dallas' attack can score on Miami.Jordi Alba could start the match after making his debu...
Getty Images
The Leagues Cup round of 16 is kicking off and Inter Miami are still rolling with Lionel Messi taking the league by storm. With another two goals to his name against Orlando City SC, Messi has now scored five goals in three appearances for the Herons, and Nico Estevez will be the latest to try to answer the question of how a team can contain Messi. No one has been able to do that yet but Maarten Paes has been strong in net and Dallas' attack can score on Miami.
Jordi Alba could start the match after making his debut in Miami's win over Orlando, while Facundo Farias and Tomas Aviles may not have paperwork completed yet to make their debuts but as Miami's depth grows, they'll have plenty of firepower to compete in the match.
Here are our storylines, how you can watch the match and more:
Golazo Starting XI Newsletter
Your ultimate guide to the Beautiful Game as our experts take you beyond the pitch and around the globe with news that matters.
I agree to receive the "Golazo Starting XI Newsletter" and marketing communications, updates, special offers (including partner offers), and other information from CBS Sports and the Paramount family of companies.
By pressing sign up, I confirm that I have read and agree to the Terms of Use and acknowledge Paramount's Privacy Policy.
Please check the opt-in box to acknowledge that you would like to subscribe.
Keep an eye on your inbox.
There was an error processing your subscription.
How to watch and odds
Storylines
FC Dallas: While the focus has been on Messi's first away trip, for Dallas they'd like to focus on the game without Messi-mania taking over. Speaking to the media, defender Nkosi Tafariwith addressed some of this saying, "I'm really only being interviewed for the aspect of who Messi is. I'm not being interviewed because you actually care who I am, and that's fair."
While players understand that most people want their perspective on facing Messi, there's still a game of soccer that needs to be played and Dallas would like nothing more than to book a trip to the final eight of the tournament by being the first team to topple Messi. If they can do that, it'll be easy to refocus back on the matches at hand instead of the spectacle.
Inter Miami: While teams need to stop Messi, they also should be worrying about Robert Taylor who has three goals and two assists since Messi's debut. With the game taking place later at night to avoid the heat, Dallas has likely lost their biggest advantage in the weather but if Miami can continue to rotate players well, this will be a hard squad to stop.
Prediction
Yet again, Miami won't break a sweat as they continue to march through Leagues Cup as Messi nets a goal and a brace of assists to keep the team ticking over. Pick: Dallas 1, Miami 3
Emerging Texas mega-metro booms in this week's 5 most-read Dallas stories
Editor's note: A lot happened this week, so here's your chance to get caught up. Read on for the week's most popular headlines. Looking for the best things to do this weekend? Find that listhere.1. New documentary explores Texas' emergin...
Editor's note: A lot happened this week, so here's your chance to get caught up. Read on for the week's most popular headlines. Looking for the best things to do this weekend? Find that listhere.
1. New documentary explores Texas' emerging mega-metro that could rival Dallas-Fort Worth. It's no secret that Austin and San Antonio are becoming some of the biggest cities in Texas, and that together, they just might rival the likes of Dallas-Fort Worth and Houston one day. A new documentary called San Antonio-Austin: The Emerging Mega-Metro takes a deep dive into the booming 80-mile region between the Central Texas cities.
2. New neighborhood restaurant taking over former Luby's in East Dallas. Dallas restaurateur Jon Alexis continues his spree of restaurant openings with Birdie's Eastside, opening in the famed former Luby's Cafeteria space in East Dallas. According to a release, it'll open in early winter 2023. Winter is coming.
3. Jerry Jones' Legends Hospitality takes over AT&T's downtown Dallas food hall. A downtown Dallas dining destination has a new boss: The AT&T Discovery District, the outdoor oasis with immersive exhibits and entertainment in the center of downtown, has formed a partnership with Legends, a premium experiences company co-founded by YGE Holdings, LLC, an affiliate of the New York Yankees, and Jones Concessions LP, an affiliate of the Dallas Cowboys and majority-owned by Sixth Street.
4. 2 sisters bring buzzy new bagel shop to cute East Dallas center. Dallas' raging affair with bagels continues, with a new shop opening in a high-profile spot in East Dallas: Called Lubbies Bagels, it's an indie concept from sisters Andrea Lubkin and Jennifer Lubkin, which opened softly on August 2 at 1160 Peavy Rd.
5. Massive BBQ festival with top pitmasters to hit Arlington stadium in fall. A massive barbecue festival featuring a mountain of meat is coming to town: The Q BBQ Fest will stop at AT&T Stadium for a weekend from October 6-8, featuring noteworthy BBQ pitmasters hauling 30,000 pounds of brisket, chicken, pulled pork, and ribs.
Disclaimer:
This website publishes news articles that contain copyrighted material whose use has not been specifically authorized by the copyright owner. The non-commercial use of these news articles for the purposes of local news reporting constitutes "Fair Use" of the copyrighted materials as provided for in Section 107 of the US Copyright Law.