Elite Level Fire Damage Restoration in Garland, TX
Fire damage to your home is one of the most traumatizing, frightening tragedies a person can experience. This is especially true in apartment buildings and multifamily homes, where dozens if not hundreds of families are affected by fire and smoke damage. When a fire rips through an apartment building, the property damage can be catastrophic. But the damage caused by fires doesn't end once the flames have been extinguished. Victims are left wondering what happens next now that their belongings are destroyed. When will they have a roof over their again?
In these circumstances, prompt, purpose-driven fire damage restoration is key to reducing victims' financial and emotional strain.
The National Fire Protection Association states that a structure fire is reported every 65 seconds. When the fire alarm sounds, emergency responders answer the call for help with decisive action. But once the smoke clears, Atlas National Renovations' team of fire restoration experts step in to give hope to property managers, apartment tenants, and commercial property owners.
With decades of combined experience in disaster recovery, ANR understands the complexities associated with commercial and apartment building fires. We have helped the top multifamily groups in Texas recover their tenants' homes and belongings with care and compassion. If you're a property manager and you're still reeling from a fire disaster, know that we're here to help you too.
At Atlas National Renovations, our expert project managers and technicians play key roles in complicated fire restoration projects. We specialize in restoring Class A, B, and C properties like apartment complexes, high-rise buildings, multifamily buildings, mixed-use developments, large commercial properties, and more.
If you're looking for a top-tier fire damage restoration company in Garland, look no further than ANR. We're the top pick when it comes to large, detailed fire restoration projects because we:
Are a Trusted Partner in Restoration and Disaster Recovery
Adhere to OSHA Standards and State & Federal Regulations
Use the Latest Equipment & Remediation Techniques
Offer Innovative Solutions to Detailed Problems
Provide Seasoned Project Managers for Each Fire Restoration Project
Give Clients Clear and Consistent Communication
Work with Insurance Companies
Have a Knowledgeable & Courteous Leadership Team
Fire Damage Restoration for Apartment Buildings in Garland, TX
Owners and managers of apartment complexes know that the safety of their tenants is a major responsibility. Unfortunately, nobody can completely control when apartment fires occur. Fires in apartments and multifamily buildings may start small, but they spread quickly, often destroying several living spaces. These frightening fires destroy prized heirlooms, important documents, and can even be fatal. However, the work is only beginning once the fire is put out and lives are saved.
In the aftermath of a disaster, figuring out the next steps is hard. During this difficult time, it's important to be prepared. As a property manager or owner, having a fire damage restoration company on your checklist of resources is crucial.
Unlike residential fires, apartment and multifamily building fires add several more layers of complexity and stress. In these situations, you deserve a restoration partner that you can trust without question, and that company is Atlas National Renovations.
With years of experience guiding our technicians and project managers, the ANS team responds quickly to your fire damage emergency. Using advanced protocols and state-of-the-art restoration equipment, we get to work quickly to repair and restore your commercial property to its pre-loss condition. While restoring your property, we always keep your tenant's care and comfort in mind.
Our fire restoration services in Garland are comprehensive and include the following:
Rapid Mobilization and Response
Overall Catastrophe Management
Emergency Board-Up Services
Debris Removal and Disposal
Apartment Content Inventory and Cleaning
Soot and Smoke Removal Services
Water Extraction
Deodorization
HVAC Cleaning and Decontamination
Shoring Installment to Secure Buildings
Interior & Exterior Renovations
Our Fire Damage Restoration Process
It's imperative to have someone with knowledge and experience on your side during a fire crisis.
When you call ANS, our fire restoration experts can help walk you through the steps you need to take once a fire occurs. This allows us to quickly gain control of the restoration project on your behalf. Once we have inspected your property, we'll provide a detailed report and scope of work for your fire damage restoration project.
ANS repairs all property damage caused by soot, smoke, and fire. Our IICRC-certified fire restoration teams construct the best plan to quickly get your building back to its pre-loss condition.
Because every property is different, each fire restoration project for apartment buildings is too. However, every fire disaster will have a similar process and will often include:
Contact ANS
Your fire restoration process begins when you call our headquarters. Our specialist will ask you a series of questions about the fire event that occurred. That way, we can arrive on-site with the proper resources and equipment.
Fire Damage Assessment
and Inspection
Our fire damage restoration team will carefully inspect the entirety of your apartment complex, from building to building and room to room. We do so to determine the extent of your apartment's fire, smoke, and soot damage. This step is crucial to developing a comprehensive restoration plan.
Board-Up Services
First responders like firefighters must break windows and cut holes in roofs to slow fire growth and save lives. Once the fire is out, our team can get to work, boarding up holes and constructing temporary fencing around the property.
Water Removal
If there is water damage associated with your apartment fire, we'll remove most of the water immediately. From there, we use air movers and dehumidifiers to help complete the drying process.
Smoke and Soot Removal
Within minutes of a fire, walls, electronics, and other surfaces are covered in soot. Smoke and ash continue to cause damage to every inch of your apartment building. That's why ANS uses specialized equipment to remediate smoke damage and remove odors. This process is often labor-intensive and can take time, especially for large fire damage restoration needs.
Cleaning and Sanitizing
Using a variety of restoration and cleaning techniques, our team will help clean restorable items and sanitize units for safety.
Restoration
Getting your apartment buildings to their pre-fire conditions is our ultimate goal. Depending on the size and scope of the fire restoration job, minor repairs like painting, drywall replacement, and new carpet installation might be needed. You might also need major structural renovations like re-siding, re-roofing, new window installation, floor replacement, and more.
Tips for Preventing Apartment Fires
If you're a property manager or own multifamily residential buildings, the thought of an apartment fire is terrifying. What starts as a small fire can quickly turn into a catastrophic event, with your entire complex up in flames. However, one of the best ways of preventing these fires is to know more about them.
Share these tips with tenants to help prevent deadly apartment fires:
Turn Off Heat Sources

Data shows that a large number of apartment fires begin with cooking. Often, these fires are caused by the ignition of common items like rags, curtains, wallpapers, and bags. Encourage tenants to keep their kitchens and cooking areas clear of combustibles. Never leave a stove unattended for long, and don't leave burners on by themselves. Unintentional mishaps like leaving heat sources on are common causes of fires that can be prevented with a little forethought.
Electrical Safety

Like heat sources, electrical malfunctions are also common causes of fires in apartment complexes. It's hard to prevent all electrical malfunctions, but you can tell tenants to avoid bad habits. Tips include never using extension cords as permanent solutions and never using a cable if the third prong is missing.
Appliance Safety
Appliances are a part of everyone's lives. They're also standard equipment in most apartment units. But if tenants don't take proper precautions, these useful tools can spark deadly fires.
Tips for Preventing Apartment Fires
No matter how large or small, fires are nightmare scenarios for entrepreneurs with commercial properties. Fire damage can completely ruin storefronts and offices, leaving charred remains and burned-up files before firefighters arrive. To make matters worse, soot and smoke damage ruin your businesses' furniture, HVAC system, carpet, walls, and windows.
To eliminate health hazards and restore your business to its pre-fire condition, you need to bring in a team of professionals with years of experience in fire damage remediation. At ANR, we use commercial-grade equipment and cutting-edge tools to clean up the aftermath of your fire and rebuild your property. That way, you can get back to running your business and providing for your family.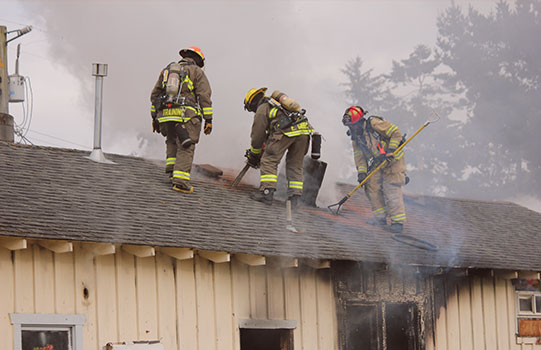 Share these tips with tenants to help prevent deadly apartment fires:
Remove Smoke and Fire Damage
One of the most common causes of large commercial loss stems from smoke and fire damage. Of course, these disasters cause injuries and fatalities. But they also generate tremendous amounts of damage, rot, mold, and harm to structures. Not to mention the devastation that fire damage has to the appearance and livability of the facility. Fire damage restoration companies restore - and also prevent - the root cause of the fire. Electrical outlets, wires, and other fire-prone items will all be addressed to prevent a subsequent disaster.
Highly Skilled

The best fire damage restoration professionals are highly-trained, exceptionally skilled, and properly equipped to deal with every aspect of a commercial fire. From handling major renovations to taking care of the lingering effects of smoke damage, pro fire restoration companies take care of it for you. Hiring ANR means you'll be working with technicians who have the knowledge, tools, and materials to get the job done right the first time.
Insurance Claims
When you start the claim process with your businesses' insurance company, they'll ask whether you've hired a fire damage restoration company. That's because companies like Atlas prevent further damage from occurring and calculate an estimate of your total loss. You can submit this estimate to your insurance company, which may then provide you with resources to complete your company's disaster recovery mt-md-1
Discover the
Atlas Difference
Fire damage restoration is a crucial, complex process that professionals must perform. With decades of expertise, unmatched restoration quality, and the scalability for any job, Atlas National Renovations is well-equipped to be your single source for commercial fire damage restoration in Garland, TX. We are specially equipped to make difficult restoration projects easy for owners.
When a fire disaster strikes, you need a timely response from a trustworthy team of experts. Don't settle for a mediocre fire restoration partner. Choose ANR to get the job done right the first time. Contact our office today to learn more about our fire restoration services in the Dallas-Fort Worth metroplex.
214-814-4300
Latest News in Garland, TX
Wish LBI: 'Trend-Forward and Affordable'
Wish LBI carries the same enchanting name as the other "Wish" stores in a family enterprise, and brings a unique gathering of jewelry, clothing and accessories to Long Beach Island, where co-owner Louisa Befumo grew up. At 412 North Bay Ave. in Beach Haven, the boutique skillfully shows off much to answer shoppers' wishes, plus some surprises. Befumo graduated from Philadelphia University with a degree in textile design and worked in the textile industry there for six years. As a sales rep for an acclaimed pri...
Wish LBI carries the same enchanting name as the other "Wish" stores in a family enterprise, and brings a unique gathering of jewelry, clothing and accessories to Long Beach Island, where co-owner Louisa Befumo grew up.
At 412 North Bay Ave. in Beach Haven, the boutique skillfully shows off much to answer shoppers' wishes, plus some surprises.
Befumo graduated from Philadelphia University with a degree in textile design and worked in the textile industry there for six years. As a sales rep for an acclaimed print studio, she paired name brand designers with talented artists who provided fresh, original artwork.
That "dream job" fell victim to the pandemic, but circumstances and her savings fund gave her the chance to partner with her aunt in a new "Wish" location on her home LBI.
Her aunt, Theresa Pennisi, opened the first location of Wish in Denville and cultivated a strong brand presence, then expanded to Manasquan in partnership with her twin sister, Virginia Falkinburg. This past winter the twins, along with Arielle Falkinburg, Virginia's daughter, added a Wish to the Jersey Shore Premium Outlets in Tinton Falls. Two more Wish locations are new for Spring Lake and Madison, N.J.
"My aunt started this brand about 15 years ago and is doing incredible with it, and I thought it would be a really great fit for here, too," Befumo said, "so I found this place and made it happen."
The shop supports local artists and artisans, whose brands the 2010 Southern Regional High School graduate pointed out during a tour of the store. Handmade and recycled creations blend irresistibly with glittering costume jewelry and gilded sea turtles on leather tote bags, among many other articles. Comfort and style, beachy and wedding-worthy co-exist in one array of choices that spell "LBI."
"We definitely support local artists and makers, and at the same time our main mission is to have trend-forward and affordable jewelry; that's our first and foremost product," Befumo said. "Besides that, we just see what's fun and what people are wanting to buy.
"For down here, we want to have things that people can buy and use right away," the store co-owner said. "There are a lot of kimonos and a lot of throw-overs, and scarving – then, of course, a lot of comfortable clothes that people like to wear after being in the sun all day, joggers and sweats."
What items exemplify trend-forward? "We focus a lot on the New York City-Los Angeles trends as far as accessories and size-inclusive clothing go. We carry a lot of one-size-fits-all, a lot of items that women can accessorize with, wearing their basics and sort of dressing it up with a scarf or kimono."
Dressy costume jewelry has also caught the eye of girls coming in for their prom, and brides looking locally for their wedding parties.
Treating themselves goes with supporting creative artists when buying a purse of recycled denim from Feelin Blue, or earrings of recycled metal from Beaucycled. And nature did the work in the ample display of rock crystals for sale next to journals for logging in the first thoughts of the morning or the ones to sleep on.
Photographic coasters in the shop can be gifts to a friend, mementos of a favorite summer place or conversation pieces on the table.
"We have these great coaster sets from Coaster Life," Befumo pointed out. "She makes these all up and down the Jersey coast for all the different towns, so she made these specific to LBI, all the hotspots, for people to have memorabilia."
From Day 1, which was the Saturday of Memorial Day weekend, Befumo opened with an involvement in the community in mind. She decorated the entrance with cheery balloon garland, hosted entertainment, participated in the town's Art Walk by offering kids' photos with the Disney character Ariel, held a paint and sip event that also showcased local artists' works, and has ongoing plans.
"I think we have such a great community, and I want to give back in different ways by using my space to create fun experiences," she said, "in addition to bringing the trend-forward products that everyone may not be able to find everywhere down here, and make them available and affordable as well."
Wish LBI is open daily from 11 a.m. The shop has a Facebook page.
— Maria Scandale
Disclaimer:
This website publishes news articles that contain copyrighted material whose use has not been specifically authorized by the copyright owner. The non-commercial use of these news articles for the purposes of local news reporting constitutes "Fair Use" of the copyrighted materials as provided for in Section 107 of the US Copyright Law.