Disaster Recovery Done Right: Trust Atlas for Commercial Water Damage Restoration in Nevada, TX.
When you own a business, property damage is an unfortunate occurrence that happens all too often. Property damage can be caused by any number of disasters, both natural and man-made. Most often, however, property damage happens from an excess of water. From very heavy rainstorms to broken pipes, water damage can be incredibly harmful not just for your storefront but for your customers.
When water spreads through your commercial property, it happens quickly, causing damage as it moves. At the same time, furnishings and porous materials soak up moisture. In just a short amount of time, you could be dealing with warping, rotting, and even mold growth. That's why water damage remediation is so important - to address your current damage and prevent water from making your business unsafe.
At Atlas National Renovations, we know that dealing with water damage seems like a losing effort on your own. But when you trust our water damage restoration team, you don't have to lose hope. We provide comprehensive water remediation services for businesses of all size in Texas. From the first time we lay eyes on your water damage to the time we mitigate your problem, we're here for you. With a team of IICRC certified technicians and innovative restoration tools at our disposal, we specialize in making your business safe again.
Unlike some of our competitors, we are fiercely dedicated to our clients and aim to exceed their expectations with the highest quality water damage restoration services in Nevada, TX. When water damage hits your business, time is of the essence, which is why we get to work quickly and efficiently by assessing the damage to your property. Once we know the extent of your water damage, we'll consult with you about its severity and detail the next steps you should take so you can make an informed purchasing decision.
With decades of combined experience, there is no disaster cleanup project too complex or large for our team to handle. We assist small businesses, large commercial entities, and even multi-family apartment complexes. Our clients trust Atlas National Renovations to keep them dry, safe, and secure, and it would be our pleasure to help do the same for you.
In addition to our reliability and quality of work, our customers choose us over others because we offer:
Fair, Accurate Work Estimates
We drain water from your property, not money from your bank account.
Clear, Constant Communication
When you work with Atlas, you're never left wondering what's happening with your commercial property.
Detailed Deadlines and Schedules
We're meticulous about sticking to schedules and meeting deadlines. You can always expect us to be on time and ready to work.
Experienced Project Managers
We assign seasoned, hardworking project managers for each of our projects. When you work with Atlas, you're working with the best.
Courteous and Knowledgeable Leadership
Excellence starts at the top, and our leadership team is the best in the business.
Atlas National Renovations Multi-Family and Commercial Renovation Experts
Free Consultation
What Clients Say About Us
Apartment Upgrades for Roberto Castillo
★★★★★
It is a very prestigious company with good attention from the staff, they are very polite and friendly people
Fire Damage for Ian Buchanan
★★★★★
Top shelf work done on time and on budget
Apartment Upgrades for ANONYMOUS
★★★★★
We loved our Project Manager, Steve! He communicated with us daily! He was available and willing to help throughout the entire project!
Fire Damage for ANONYMOUS
★★★★★
Our project was completed on time, and our residents were treated with the most care and respect!
What is Water Damage Restoration in in Nevada, TX
If you're currently dealing with serious water damage from a flood, broken pipe, or other cause, you're probably not sure what to do next. While it's understandable to feel panicky, it's important that you have the water removed as quickly as possible. When structural damage and health hazards are at play, time is of the essence. The longer you wait, the worse the damage will get. The damage you see with your eyes is usually the tip of the iceberg - most water damage gets deep in your carpets and walls fast.
Atlas' water damage restoration services are focused on restoring and repairing the damage that water causes to commercial property. The primary purpose of our restoration services is to return your property to the condition it was in prior to the damage. Once your water damage has been mitigated, our team swoops in to begin the restoration process.
Depending on the scope and severity of your water damage, common water damage restoration services can include:
Damaged Flooring and Wall Replacement
Damaged Roof Restoration
Mold Remediation
Humidity and Moisture Testing
While little can be done to predict natural disasters, there are common signs you can keep an eye on to prevent serious water damage from occurring.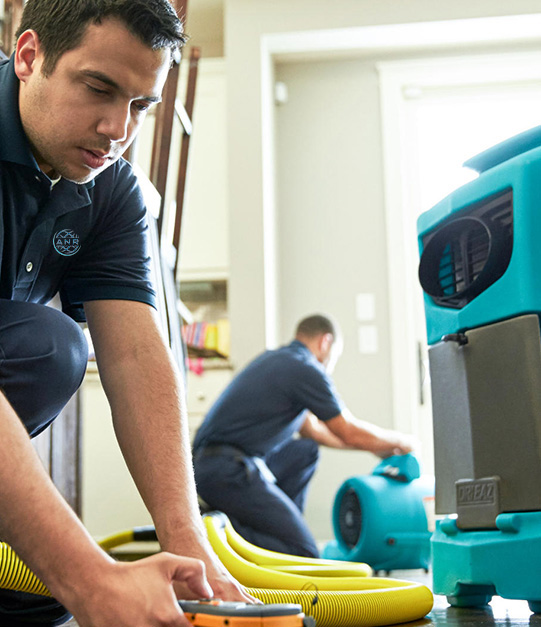 Common Signs of Commercial Water Damage in Nevada, TX
There's no convenient time to be sidelined with water damage when it comes to your commercial property and business. Water damage to your commercial or industrial property is particularly devastating because every hour that your business is closed means lost revenue and productivity. You do not just have to deal with damage to the structural integrity of your building - you have to deal with the disruption of service to your loyal customers.
The good news? Atlas is here when you need us most, with a team of highly-trained technicians and unmatched water damage restoration expertise. We're ready to tackle your problem and solve it in an efficient, effective manner, so you can keep your doors open and your clients happy.
As a business owner, you know that one of the best ways to prevent a disaster is to nip it in the bud before it gets out of hand. For that reason, keep an eye out for the following signs of water damage to your commercial property:
Look for Mold:
Mold can begin to grow just a day or two after water has taken hold of your business. If you see small signs of mold growth in an area where you suspect a leak, contact Atlas National Renovations ASAP to diagnose the problem.

Check Your Pipes:
If it's safe to do so, check out the piping inside and outside your commercial property. You want to keep a keen eye out for oxidation and corrosion around pipe fixtures. While you're at it, check your water heater for rust too. Corrosion or rust is a telltale sign of a water leak.

Check for Rings:
Dark spots on walls and ceilings usually indicate water damage. If you see rings around a stain, the damage is probably older. Several rings with different shades of color mean an intermittent issue, where the area has been soaked and dried several times.

Understand Your Property:
This is more of a suggestion than a sign. As the commercial property owner, you should know your building's pipe system. You should know what is old and new and what areas may be at risk for water damage. Keep an extra-close eye on areas that have a higher potential for leaks, especially during rainstorms.
Benefits of Commercial Water Damage Restoration
in Nevada, TX
When water invades your business or commercial property, you don't have much time to ponder your next course of action. While some business owners opt to try DIY water damage restoration, in most cases, they end up with more damage and expenses than before their leak. For the most effective, comprehensive solution to water damage, it's important that you hire a professional. At Atlas National Renovations, our primary focus is assisting business owners and commercial property managers with water damage restoration. We've been doing it for years, and we can help you too.
Here are just a few of the most common benefits we hear from past customers:
Safe Shopping Experience
If you own a business, the health and safety of your customers is of utmost importance. When water damage occurs inside your storefront, you could be dealing with more than property damage. Depending on the severity of your issue, contaminants and microorganisms may be present, putting your customers' health at risk. When you trust a professional water damage restoration company like Atlas to remediate your water leak, you're not just putting a stop to the leak. Our team will clean and sanitize your business, making it safe for customers to continue shopping at your store.
Quick Response Time
Water damage can create unbearable conditions in your commercial property. As such, your water restoration company must be quick to respond. Professional water damage companies like Atlas respond quickly and can clean up water, dry and disinfect the area, and make necessary repairs. Because we have an entire team of pros and industry-leading equipment, we can be on site in minutes.
Less Damage, Better Costs
Water damage can be very expensive. Sometimes, it only takes a couple of hours to result in heavy losses. How soon you call the experts could mean the difference between painting over a water stain and having to rebuild an entire area of damaged drywall. When you call Atlas immediately, clients often reduce the cost of water damage restoration and overall building damage.
Capital Expenditure Services
In addition to our disaster recovery services, we also offer large-scale upgrades and improvements for your capital expenditures. If you own or manage a large commercial building or a multi-family property, you need to make sure your capital expenditures maintain present operating levels and foster your company's future growth.
At Atlas National Renovations, class A, B, and C properties are our bread and butter. We take the time to understand our customer's needs and expectations from the start so we can deliver outstanding results. If you're looking for a top-tier contractor to do the job right the first time, look no further than Atlas. Our customers love our team because we make large, highly-complicated projects easy to finish.
If you're looking to invest in the future of your business, know that we are here to help with projects like these:
High Volume Unit Upgrades and Improvements
Amenity Upgrades and Conversions
Common Area Improvements
High Volume Carpet, LVT, and Tile Installation
Courtyards and Hardscapes
Package Room and Mail Center Upgrades and Additions
Fitness Center Upgrades and Improvements
Dog Parks and Pet Stations
Signage Improvements and Additions
LED Lighting and Electrical Upgrades
Multi-Family Building Deficiencies and Restoration Services
New multi-family properties are entering the market every day. That means that older communities must be renovated to keep up with modern demands and tenant needs. Upgrades to amenities, aesthetics and even structural changes help assets stay up-to-date. At the same time, damages from leaks and storms must be addressed. If you're a multi-family property manager or owner, and need unmatched restoration capability, Atlas National Renovations is here to serve you.
We specialize in cutting-edge, high-quality ways to achieve your renovation goals - for your tenants but also for your corporate leaders and management team. After all, a successful multi-family renovation benefits all parties.
We currently work with the top multi-family groups across our state. Unlike some multi-family renovation companies in Texas, our team understands the inner workings of the multi-family environment. Our customers appreciate our accommodations to their residents, maintenance team, leasing team, corporate leaders, and beyond. We're proud to say we know multi-family, inside and out, and have the credentials to back up those claims.
When crafting a multi-family restoration plan, we always consider your tenant's demographics, your building's curb appeal, property age, and energy efficiency. Whether you need to have significant updates applied to an older property or need a water damage inspection for a brand-new building, we can help.
Here is a quick glance at some of the multi-family renovations that our team handles:
Leak Detection and Water Intrusion Investigation
Exterior Sealants and Waterproofing
Large Interior and Exterior Paint Projects
Stucco Remediation and Exterior Facade Re-Clads
Full Property Exterior Repaints
Concrete and Flatwork
Corridor and Common Area Painting
Roof Replacement
Discover the
Atlas Difference
Water damage restoration is a crucial, complex process that must be completed properly to save your business from serious damage. Choosing the right professional is equally important, especially when your customers' health is on the line. Whether you need large-scale commercial restoration or quick, effective water damage cleanup for your storefront business, know that we are only a phone call away. Contact our friendly team of experts to learn more about Atlas National Renovations and how we clean up your water damage mess better than the rest.
214-814-4300
Latest News in Nevada, TX
After transferring in from Texas, Will Baker finds his niche at Nevada
Austin, Texas native Will Baker grew up going to San Antonio Spurs, his favorite player being David Robinson. His first memory of playing basketball dates back to when he was 4 years old. Little did he know at the time he'd grow up to be a 7-footer just like Robinson, the Pro Basketball Hall of Famer."I was always shooting," Baker said. "I remember every day for an hour, an hour-and-a-half, just being out there and shooting. David Robinson is my favorite Spurs player of all-time. When Manu Ginobili, Tony Parker, Tim Dun...
Austin, Texas native Will Baker grew up going to San Antonio Spurs, his favorite player being David Robinson. His first memory of playing basketball dates back to when he was 4 years old. Little did he know at the time he'd grow up to be a 7-footer just like Robinson, the Pro Basketball Hall of Famer.
"I was always shooting," Baker said. "I remember every day for an hour, an hour-and-a-half, just being out there and shooting. David Robinson is my favorite Spurs player of all-time. When Manu Ginobili, Tony Parker, Tim Duncan were all there, that was great. So that was when I was a fan, just watching them growing up."
Baker's talents grew on the court as he averaged 24.7 points and 12.8 rebounds as a senior at Westlake High School while being named a two-time Central Texas Player of the Year by the Austin American-Statesman. He was a five-star recruit, the No. 28 prospect in his recruiting class by Rivals, No. 26 by 247Sports and No. 37 by ESPN. Baker was recruited by head coach Steve Alford at UCLA, narrowing his decision between the Bruins and his hometown Texas Longhorns. He followed in his parents footsteps and chose Texas, but after one season realized it wasn't the ideal fit.
"College basketball is like a whole other beast compared to high school," Baker said. "You learn a lot and you grow a lot, especially when it doesn't turn out the way you thought it would and you face a lot of adversity. You really grow through that."
Baker quickly found a new home at Nevada, rekindling his relationship with Alford, which dated to his junior year of high school. Along with meeting Alford that summer, he also met current Wolf Pack teammate Grant Sherfield at an Adidas camp, who also grew up nearby in Texas in Fort Worth. Baker and Sherfield later attended the National Basketball Players Association Top 100 camp together and would reunite again when the big man visited Reno in December 2020, weeks before committing to Nevada.
"When I think of Nevada, I think of Las Vegas," Baker laughed. "I didn't really know about Reno if I'm being honest. It was a definitely a pleasant surprise coming out here. I really enjoy just being out in nature to kind of unwind and be by myself a little bit."
Along with being out in nature and visiting Lake Tahoe, Baker enjoys videography and music. He grew up playing the piano.
"I've been playing piano for a while," Baker said. "I took lessons probably when I was like 8 or 9 years old. My mom played, so she wanted me to play. She signed me up for the lessons, and I liked it for a while. Then I kind of felt like every time I sat down, it felt like a chore, like something I had to do, and I wasn't really enjoying it as much so I took a break. Probably in middle school, I started by just learning by myself. Watching people play on YouTube, and I can read music a little bit, but how I learned the most was just by watching other people play."
Starting in 26 of 28 games this season, Baker is averaging 11.7 points and 5.2 rebounds per game, ranking third in scoring and second in rebounding for the Wolf Pack. He's made 54.5 percent of his shots, which ranks second on the team, while making a Nevada-best 38.3 percent from three. It's his most productive college season after sparingly playing as a freshman at Texas (49 points in 194 minutes over 23 games).
Despite leaving his hometown of Austin, Baker has found a new home in Reno, a move his parents have supported.
"I'm just really thankful to have them in my life and for support," Baker said of his family. "It's part of the reason why I play. I just want to make them proud."
You can watch the full feature from Wolf Pack All Access below.
Nevada Community High announces Dustin Blann as new head coach
Evidently, the Texas high school football coaching carousel does not take holidays off as Nevada Community High School announced Dustin Blann as the new head coach of their football program on Monday.Blann comes over from Terrell High School, where he served as the assistant head coach the past season. He will replace Jeremy Turner at Community, a 4A, Division II school, as Turner will now serve in an AD only role at the school. Turner led the Braves to a 5-6 record last year and a playoff berth where they were defeated by eventual st...
Evidently, the Texas high school football coaching carousel does not take holidays off as Nevada Community High School announced Dustin Blann as the new head coach of their football program on Monday.
Blann comes over from Terrell High School, where he served as the assistant head coach the past season. He will replace Jeremy Turner at Community, a 4A, Division II school, as Turner will now serve in an AD only role at the school. Turner led the Braves to a 5-6 record last year and a playoff berth where they were defeated by eventual state champs Texarkana Pleasant Grove in the first round.
"Not only did he impress us with his knowledge of the game but he is a man [that] exhibited the Traits of a Brave which are generous, humble, passionate, and wise," Community ISD superintendent Dr. Roosevelt Nivens said. "These are the traits we expect all employees and students to exemplify and he clearly stood out amongst every other candidate."
Blann has worked all across the state of Texas. He was the receivers coach at Lake Highlands before taking the offensive coordinator job at Fort Worth Polytechnic in 2007 when fellow Lake Highlands coach Marvin Sedberry, Jr. was hired there as the head coach. Blann has served as Sedberry's right hand man since, following him to Baytown Lee (2009-2014), Garland Naaman Forest (2014-2018), and the past season at Terrell.
"Coach Blann has been the most loyal and dedicated assistant I have ever worked with," Sedberry said. "We have coached all across Texas and he's been a key piece in all of our programs. Players love to work hard for him and trust him."
Community has made the playoffs each of the past two years under Turner but has not won a playoff game since 2008.
This season Blann will look to build on their offense which averaged 33.5 points per game last year.
"He has a great offensive mind and [is] one of the best game planners in the state," Sedberry said. "He has a knack for attention to detail and is always well prepared. [He] has made every program better."
Although Community starting quarterback last year Parker Simpson has graduated, the Braves still return plenty of talent for Blann to work with. Starting running back Tyson Neighbors, who is also a Kansas State baseball commit, is back after putting up 1,522 yards and 25 touchdowns on the ground last season. First team all-district tight end Sean Outlaw returns as does impact wide receiver Ty Simpkins, giving their new quarterback plenty of talent to throw to.
On the other side of the ball, Outlaw is a threat at defensive end and earned a first team all-district mention at that position as well last season. Linebacker Paul Testa, who could be an option at quarterback for the Braves, and rising sophomore safety Quinton Hall also both return after being named first team selections last year.
"I am excited to see how he molds our young men to be productive positive influencers and change agents as they become fathers, husbands, and the next leaders of our world," Nivens said.
Blann will get an early idea of what he has at his disposal when last year's state runner-up Pottsboro comes to Community to open the season on August 28th. Blann will aim to take the team to the playoffs for the third year running as the team looks to break their 12-year playoff victory drought.
Home sale profits dip in close to half of big cities nationwide, including LV
Americans who sold their homes in the first quarter of 2022 are still reaping record returns on their investment, but the margin of profit is slipping in almost half of the major metropolitan areas surveyed by ...
Americans who sold their homes in the first quarter of 2022 are still reaping record returns on their investment, but the margin of profit is slipping in almost half of the major metropolitan areas surveyed by ATTOM, a real estate data firm.
In Las Vegas, the profit margin dropped 10% from the fourth quarter of 2021, with first-quarter sellers gaining an average of $89,999 compared with $100,000 in the last quarter of 2021.
In Reno, the profit margin was up 4.4% for the quarter, from $206,261 to $215,299.
Profit margins declined quarterly in more than 40% of metro areas around the U.S., led by Santa Barbara, CA (down from 72.9% in the fourth quarter of 2021 to 45.8% in the first quarter of 2022); Boise, ID (down from 110.4% to 88.8%); Brownsville, TX (down from 54.3% to 38.1%); St. Louis, MO (down from 37.6% to 23.9%) and Des Moines, IA (down from 48.1% to 35.2%).
Return on investment for first-quarter sellers nationwide dipped to 47.2% from a record high 51.6% the previous year. It's the first quarterly decline since 2019, the largest in a decade, and "a sign that the nationwide housing-market boom may be slowing," according to a new report from ATTOM.
Gross profits on a "typical single family home sale across the country" slipped from $107,187 in the fourth quarter of last year to $103,000 in the first quarter of 2022, still well above the $75,001 realized a year ago.
Home sales, buoyed by historically low interest rates and buyers searching for larger homes and yards during the pandemic, have surged along with prices, which are grossly disconnected from market basics such as income growth, according to experts.
Quarterly prices increased 6.4% in Las Vegas. The median price of a single family home was $460,000 in March, according to Las Vegas Realtors.
Home prices nationwide increased 1.7% in the first quarter, from a median of $315,000 in the fourth quarter of 2021 to $320,500. Prices were up 16.5% from a year ago.
Prices increased quarter-to-quarter in half of the nation, according to the report.
The biggest increases in median home prices were in Honolulu, HI (up 7.9%); Port St. Lucie, FL (up 7.7%); Lakeland, FL (up 7.6%); Austin, TX (up 7.6%) and Cape Coral-Fort Myers, FL (up 7.5%).
First quarter prices beat or tied record highs in 47% of the metro areas surveyed, including New York, NY; Los Angeles, CA; Dallas, TX; Houston, TX, and Miami, FL.
"Home prices simply can't continue to go up as rapidly as they have for the past few years," said Rick Sharga, executive vice president of market intelligence for ATTOM. "The combination of higher prices, rising mortgage rates, and the highest rates of inflation in 40 years may be pricing some prospective buyers out of the market, which means we may begin to see lower sales numbers. Ultimately, as affordability worsens, price appreciation should slow down, and we may even see modest price corrections in some markets."
In Nevada, institutional investors are buying 8.4% of homes sold, twice the national average. That's down from 14.3% in the fourth quarter of 2021.
Institutional investment nationwide is down by more than half this year, accounting for 4.1% of single-family home purchases compared with 9% in the fourth quarter of 2021.
"For those people who still believe the theory that institutional investors are buying up all the available inventory, the numbers in our Q1 2022 report offer a pretty strong rebuttal," Sharga added. "It's also interesting that cash sales – often attributed to institutional investors – continued to increase even as investor activity diminished."
Arizona leads the nation in sales to institutional investors at 10.7%, followed by Georgia (9.3%), North Carolina (8.7%), Nevada (8.4%) and Texas (6.1%).
Homeowners are holding on to their properties for a shorter duration than any time in the past decade. Those who sold in the first quarter owned their homes an average of 5.72 years, down by more than a year from the first quarter of 2021 when the average was 6.82 years.
In Las Vegas, homeowners are holding on to their properties for 5.46 years, down 29% from the fourth quarter of 2021 (7.65 years) and down 45% from a year ago (9.97 years).
"Existing home sales typically account for 80-90 percent of all home sales, and increased homeownership tenure over the past decade has had an impact on the inventory of homes available for sale," Sharga noted. "If we continue to see a reversal of that trend, it could bring desperately needed supply back to the market, which would help stabilize prices."
The report says homeowners in Honolulu held on to their properties the longest – 8.5 years, followed by Bellingham, WA (8.31 years); Manchester, NH (7.79 years); Hilo, HI (7.65 years) and New Haven, CT (7.6 years).
Cash purchases accounted for 34.2% of single-family home sales nationwide in the first quarter of 2022, the highest level since the first quarter of 2015.
In March, just under 32% of Southern Nevada homes sold were purchased with cash, according to the Las Vegas Realtors.
Nevada-Based Demilitarization Company is Relocating to Texarkana
The TexAmerica's Center has a new tenant moving. Enirosafe Demil will be bringing $363 million in total contract values and a lot of work with them to TexAmericas Center and the State of Texas.Press Release: TexAmericas Center (TAC), which owns and operates one of the largest mixed-use ind...
The TexAmerica's Center has a new tenant moving. Enirosafe Demil will be bringing $363 million in total contract values and a lot of work with them to TexAmericas Center and the State of Texas.
Press Release:
TexAmericas Center (TAC), which owns and operates one of the largest mixed-use industrial parks in the United States, has announced EnviroSafe Demil LLC (ESD) as the newest Corporate Citizen moving on to its property. As part of this relocation, ESD will bring ~$363 million in total contract values with them to TexAmericas Center and the State of Texas.

ESD is a clean technology, ammunition demilitarization company that was formerly based in the state of Nevada. However, ESD is relocating its headquarters, corporate staff, and company operations to Texarkana in a move that will represent $20-25 million in investments at TexAmericas Center. Along with moving its corporate staff, the company is also expected to add new, high technology careers in the region to handle the demilitarization of military munitions to include 20MM, artillery fuses, aircraft countermeasure flares, as well as rocket motors.

Demilitarization is the process by which munitions are deactivated, disabled, and rendered safe for final disposition. ESD's innovative demilitarization technologies are some of the most environmentally-friendly and cost-effective ammunition demilitarization methods in the industry. ESD's technologies and processes maximize materials recovered from munitions for clean recycling of metals and alloys.

"EnviroSafe Demil is a perfect fit at TexAmericas Center. They are innovative and strategic and represent the forward-thinking we strive for at TAC," said Scott Norton, Executive Director and CEO of TexAmericas Center. "We're thrilled to say, 'Welcome to Texas.' We're even more excited to watch this partnership grow for the people at EnviroSafe Demil and Texarkana."

"TexAmericas Center recognized that ESD required a specific type of property, specific safety and security protocols, as well as a certain infrastructural footprint for implementing our technologies. TAC and the State of Texas has been an absolute pleasure to work with and we look forward to maintaining a long and fruitful relationship," said TJ Ogden, CEO and founder of EnviroSafe Demil.

"While relocating a company is always a tough decision, this is the best move for our company because TAC is a perfect fit for our company mission. We look forward to our next chapter in Texas and being a big part of the community in the region."

The announcement to move its headquarters to Texas is the second time this year a company has done so on TexAmericas Center's footprint. Earlier this year, Expal USA moved its headquarters from the Dallas area to Texarkana.

"We have the space, facilities, and resources that companies need to grow. We also match that with how we treat people and help them grow their business," Norton said.

"ESD looks forward to establishing the future of the demilitarization industry, right here in the Texarkana MSA," said President Mike Wentz. "With the commissioning of our revolutionary Energetic Activation Unit (EAU) only a few months away, and the construction of our Hybrid Burn Chamber (HBC) occurring in early 2023, ESD is solidifying itself as a clear leader in the future of the demilitarization industry."

EnviroSafe Demil joins a cluster of energetics companies in the larger Texarkana region, including Expansion Ammunition; Day & Zimmerman; Expal USA; Gumflats Custom Imaging; and Chip McCormick Custom/Shooting Star Industries, which was acquired by Wilson Combat. Operations include weapons systems, munitions and ordinance, ammunition, and arms and related manufacturing.

In 2021, nine new businesses relocated to TexAmericas Center, showing a 17 percent increase compared to the previous year. Those new businesses brought 60 new jobs to the region. With occupancy rates over 90 percent for its move-in ready buildings, TexAmericas Center now offers build-to-suit offerings.

About EnviroSafe Demil LLC (ESD)

Based in Hooks, TX, EnviroSafe Demil LLC prides itself on striving to become "America's Clean Alternative to Open Burning and Open Detonation". ESD uses its combination of innovative and environmentally friendly demilitarization, decontamination, and materials recovery systems to provide services to the government and commercial markets.

For more information visit www.envirosafedemil.com/news

About TexAmericas Center

Located on the Texas side of the Texarkana metropolitan area, TexAmericas Center owns and operates one of the largest mixed-use industrial parks in the United States. With roughly 12,000 development-ready acres of land and approximately 3.5 million square feet of commercial and industrial product, TexAmericas Center services four states (Arkansas, Louisiana, Oklahoma, and Texas).

For three consecutive years, Business Facilities magazine has ranked TexAmericas Center among the top 10 industrial parks in the country, most recently ranked No. 5 in 2022. (#5 for 2022). Tenants appreciate an impressive transportation corridor that uses multiple state highways, interstates, air freight, and rail lines to disperse from a central U.S. location. In fact, seven rail lines converge on the Texarkana region TexAmericas Center is host to an on-site rail yard and has over 30 miles of rail running through its properties. TAC Rail services include transload as well as rail car storage and movement.

TexAmericas Center also offers third-party logistics (3PL) services to assist companies with inventory management, warehousing, and fulfillment needs. The organization recently completed construction on a 150,000-square-foot, state-of the-art speculative building and has the capability to lease, build-to-suit, or facilitate greenfield owner-constructed projects in a timely efficient manner.

It is a designated US Opportunity Zone, HUBZone, New Market Tax Credit Census Tract, Foreign Trade Zone #258, and a Texas Enterprise Zone. TexAmericas Center has the operating capabilities of a municipality but functions like a traditional real estate development company, offering customized real estate solutions. For more information about TexAmericas Center, visit texamericascenter.com.
Dallas Startup Von Perry Is Building a 3D-Printed Home in Collin County
Home construction is one of the oldest industries on earth. Now two of the sector's youngest co-founders plan to write a new chapter—by building a concrete 3D-printed home northeast of Dallas, the first to be built in North Texas.Treyvon Perry, the 21-year-old co-founder, CEO, and lead designer of Von Perry LLC, and Sebin Joseph, his 27-year-old co-founder and CTO, are pioneering a process that's only begun to emerge in the U...
Home construction is one of the oldest industries on earth. Now two of the sector's youngest co-founders plan to write a new chapter—by building a concrete 3D-printed home northeast of Dallas, the first to be built in North Texas.
Treyvon Perry, the 21-year-old co-founder, CEO, and lead designer of Von Perry LLC, and Sebin Joseph, his 27-year-old co-founder and CTO, are pioneering a process that's only begun to emerge in the U.S.
Methods and standards are evolving with every project. Until now, homes built with concrete 3D printing have required highly engineered concrete that can cost as much as four times the price of the regular kind.
But Von Perry plans to build what it says will be the first such home in the U.S. using something you walk on every day—regular, locally sourced concrete.
To print its "v-Home," the startup will use a huge, foldable gantry system trucked down from Minnesota-based Total Kustom, featuring the company's Stroybot concrete printer.
Perry believes the cost savings of regular concrete will help his startup build the home for around $120 per square foot. The 1,700-square-foot, three-bedroom, two-bath home will be built near the small town of Nevada, east of Lake Lavon in southeastern Collin County, at a projected cost of $200,000 to $220,000.
Von Perry is one of the few early-stage startups taking this tech directly to home buyers.
Nevada is a small town—population 822 in the 2010 census—which is helping Von Perry pull this off. They haven't had to deal with standard city building codes, as they would in a big city like Dallas. Instead, they obtained permission from the Collin County engineer.
Why Nevada? One of Von Perry's team members had a relative who owned a lot there and wanted to build a home.
"They were looking for an affordable option," CTO Sebin Joseph told Dallas Innovates. "The idea came up, we pitched it to them, and they liked it."
The house is slated to be finished in early 2022. The founders say they already have nine clients lined up after it's completed. "So even before the house is built, we're getting a lot of interest from just this one project," Joseph said.
CEO Treyvon Perry may only be 21, but he's spent nearly four years working toward this date with construction history. He founded Von Perry as a 17-year-old while attending a 3D technology center in Garland. His goal: create a company that could deliver "nice architectural impact, but also bring a lot more affordability."
He went on to attend UT Arlington, where he's currently a third-year architecture student. While at UTA, he's been an event coordinator for the architect student institute AIAS and a social media coordinator for the U.S. Green Building Council.
He also discovered the concept of 3D-printed homes.
"I felt like this was something that could be huge," Perry told Dallas Innovates. "The market's brand new, and it's something I believe we could bring instantly to DFW."
In 2020, Perry gave a TED talk at TEDxUTA on 3D-printed homes. Then he put out a LinkedIn call-up for a CTO to help launch Von Perry formally.
"Literally within the first hour or so I had 50 submissions," Perry said. "And Sebin popped up as somebody who was very passionate in the belief and the goal of the company. Ever since then, we've just been clicking and hitting our goals non-stop."
The co-founders incorporated Von Perry last April. They've since built their team to seven people, with plans to hire four more by the beginning of 2022.
Von Perry won a recent MAVPitch competition at UT Arlington. Shown are CEO Treyvon Perry, left, with Von Perry designers Gerardo Alvarez and Dal Thibian. [Photo: LinkedIn]
In another recent boost, Perry and his team won first place at a MAVPitch competition from the Maverick Entrepreneurship Program at UT Arlington.
The win came with the $15,000 prize seen above.
Perry likes to pitch the benefits of concrete 3D printing. The strong, heavy walls it creates hold up much better against storms, fire, and water damage. They also provide a lot more design freedom. Curved walls and straight walls can be created for the same price, allowing the architect's fluid vision to be realized without a leap in costs.
The home in Nevada will begin with a standard slab foundation. After that, the usual stick-and-brick framing process is replaced with concrete 3D-printed "contour crafting." The huge gantry system from Total Kustom will robotically pour an inside and outside layer of concrete for each wall, 12 to 16 inches high at a time. After one layer dries, the next vertical layer is added until the walls reach 10 feet high.
The cavity between the two concrete wall layers leaves space for insulation, plumbing, and electrical lines—as well as concrete beams which will be poured later to support the roof framing.
Only three people are needed to run the 3D printing system—saving the startup a lot of money in labor costs. Joseph says the printing process will take about a week.
Many home construction costs happen in the finishing—adding the drywall, taping and bedding, texturing and painting, etc. But Joseph says that's not even required for 3D-printed concrete walls.
"You don't even have to paint it. It can still look very aesthetically pleasing," Joseph said. "And you have the option of smoothing out the lines in the wall to make it look like sheetrock. Some people don't care about the lines."
The client in Nevada northeast of Dallas has requested the wall smoothing option, along with a surface layer of stucco.
Rendering of another Von Perry-designed concrete 3D printed home. [Image: Von Perry]
When finished in early 2022, the Collin County house will serve as a "livable, real house" test case for the 3D printing process.
"It will be a lot easier to build a home like this across the country if we have proof of concept with this Nevada project," Perry told us.
"There are only a dozen or buildings [like this] in the entire world," Joseph added. "Everyone is using their own methods of construction, according to the local laws and their structural engineers' recommendations. We're doing the same thing. Every time you do a new building, you will learn a lot of stuff."
That's one reason it could be more difficult to build a 3D-concrete-printed house in a city like Dallas
"Construction is a very old industry, perhaps the oldest industry in the world," Joseph said. "So when you introduce a new technique into that already existing norm, there'll be huge resistance. We're also facing that."
The founders hope their Nevada project will prove the quality and benefits concrete 3D printing can deliver.
"This approach is pioneering because it leads the way for a lot of other products in the Dallas area," Perry said. "As far as building codes, it's going to be hard to fight. The whole industry is fighting through that as well. But I wouldn't say it's impossible."
Von Perry thinks big with this rendering of the possibilities of concrete 3D printing. [Image: Von Perry]
Von Perry's founders believe cities like Dallas should be open to the promise of concrete 3D printing as one way to address the growing labor crisis.
"Nobody wants to work with their hands anymore," Joseph said. "They're not interested in blue-collar labor. They want to work in the IT sector or some office job. Construction is a very hard, labor-intensive process and we have a labor shortage in the industry."
Perry sees the appeal as generational.
"I've talked with a lot of young people who are about to buy homes and build homes," Perry said. "One thing I've heard a lot is they want a home that looks like it was built in 2022. They want a fresh design, an open design. You really can't get that from a lot of conventional construction methods."
The founders say their clients—young or otherwise—can get it all in one place from Von Perry: an innovative architectural home design, a revolutionary 3D printing process, and the structural and construction work needed to finish the home.
Get on the list. Dallas Innovates, every day.
Sign up to keep your eye on what's new and next in Dallas-Fort Worth, every day.
One quick signup, and you're done. View previous emails.
Disclaimer:
This website publishes news articles that contain copyrighted material whose use has not been specifically authorized by the copyright owner. The non-commercial use of these news articles for the purposes of local news reporting constitutes "Fair Use" of the copyrighted materials as provided for in Section 107 of the US Copyright Law.