Disaster Recovery Done Right: Trust Atlas for Commercial Water Damage Restoration in Lewisville, TX.
When you own a business, property damage is an unfortunate occurrence that happens all too often. Property damage can be caused by any number of disasters, both natural and man-made. Most often, however, property damage happens from an excess of water. From very heavy rainstorms to broken pipes, water damage can be incredibly harmful not just for your storefront but for your customers.
When water spreads through your commercial property, it happens quickly, causing damage as it moves. At the same time, furnishings and porous materials soak up moisture. In just a short amount of time, you could be dealing with warping, rotting, and even mold growth. That's why water damage remediation is so important - to address your current damage and prevent water from making your business unsafe.
At Atlas National Renovations, we know that dealing with water damage seems like a losing effort on your own. But when you trust our water damage restoration team, you don't have to lose hope. We provide comprehensive water remediation services for businesses of all size in Texas. From the first time we lay eyes on your water damage to the time we mitigate your problem, we're here for you. With a team of IICRC certified technicians and innovative restoration tools at our disposal, we specialize in making your business safe again.
Unlike some of our competitors, we are fiercely dedicated to our clients and aim to exceed their expectations with the highest quality water damage restoration services in Lewisville, TX. When water damage hits your business, time is of the essence, which is why we get to work quickly and efficiently by assessing the damage to your property. Once we know the extent of your water damage, we'll consult with you about its severity and detail the next steps you should take so you can make an informed purchasing decision.
With decades of combined experience, there is no disaster cleanup project too complex or large for our team to handle. We assist small businesses, large commercial entities, and even multi-family apartment complexes. Our clients trust Atlas National Renovations to keep them dry, safe, and secure, and it would be our pleasure to help do the same for you.
In addition to our reliability and quality of work, our customers choose us over others because we offer:
Fair, Accurate Work Estimates
We drain water from your property, not money from your bank account.
Clear, Constant Communication
When you work with Atlas, you're never left wondering what's happening with your commercial property.
Detailed Deadlines and Schedules
We're meticulous about sticking to schedules and meeting deadlines. You can always expect us to be on time and ready to work.
Experienced Project Managers
We assign seasoned, hardworking project managers for each of our projects. When you work with Atlas, you're working with the best.
Courteous and Knowledgeable Leadership
Excellence starts at the top, and our leadership team is the best in the business.
Atlas National Renovations Multi-Family and Commercial Renovation Experts
Free Consultation
What Clients Say About Us
Apartment Upgrades for ANONYMOUS
★★★★★
We loved our Project Manager, Steve! He communicated with us daily! He was available and willing to help throughout the entire project!
Fire Damage for ANONYMOUS
★★★★★
Our project was completed on time, and our residents were treated with the most care and respect!
What is Water Damage Restoration in in Lewisville, TX
If you're currently dealing with serious water damage from a flood, broken pipe, or other cause, you're probably not sure what to do next. While it's understandable to feel panicky, it's important that you have the water removed as quickly as possible. When structural damage and health hazards are at play, time is of the essence. The longer you wait, the worse the damage will get. The damage you see with your eyes is usually the tip of the iceberg - most water damage gets deep in your carpets and walls fast.
Atlas' water damage restoration services are focused on restoring and repairing the damage that water causes to commercial property. The primary purpose of our restoration services is to return your property to the condition it was in prior to the damage. Once your water damage has been mitigated, our team swoops in to begin the restoration process.
Depending on the scope and severity of your water damage, common water damage restoration services can include:
Damaged Flooring and Wall Replacement
Damaged Roof Restoration
Mold Remediation
Humidity and Moisture Testing
While little can be done to predict natural disasters, there are common signs you can keep an eye on to prevent serious water damage from occurring.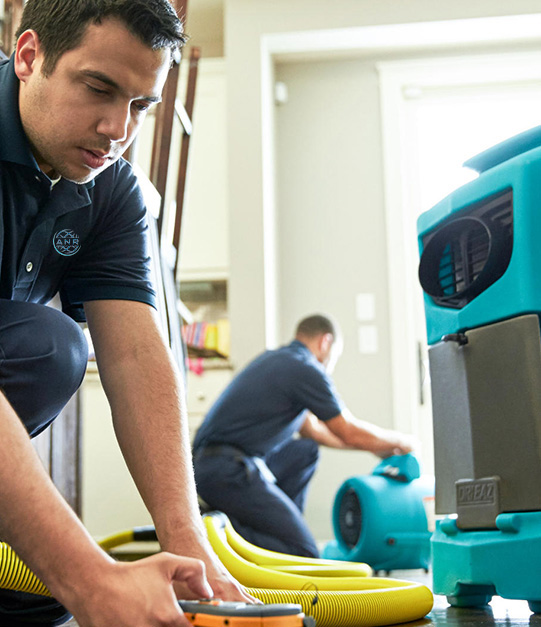 Common Signs of Commercial Water Damage in Lewisville, TX
There's no convenient time to be sidelined with water damage when it comes to your commercial property and business. Water damage to your commercial or industrial property is particularly devastating because every hour that your business is closed means lost revenue and productivity. You do not just have to deal with damage to the structural integrity of your building - you have to deal with the disruption of service to your loyal customers.
The good news? Atlas is here when you need us most, with a team of highly-trained technicians and unmatched water damage restoration expertise. We're ready to tackle your problem and solve it in an efficient, effective manner, so you can keep your doors open and your clients happy.
As a business owner, you know that one of the best ways to prevent a disaster is to nip it in the bud before it gets out of hand. For that reason, keep an eye out for the following signs of water damage to your commercial property: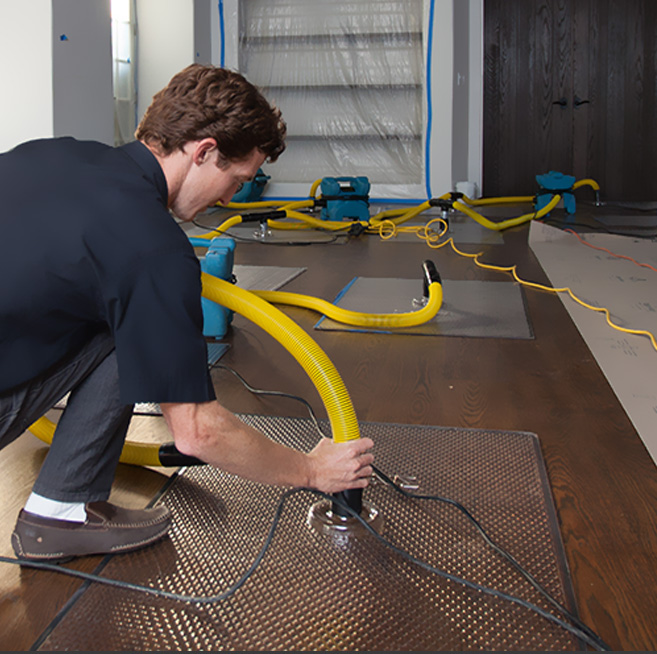 Look for Mold:
Mold can begin to grow just a day or two after water has taken hold of your business. If you see small signs of mold growth in an area where you suspect a leak, contact Atlas National Renovations ASAP to diagnose the problem.

Check Your Pipes:
If it's safe to do so, check out the piping inside and outside your commercial property. You want to keep a keen eye out for oxidation and corrosion around pipe fixtures. While you're at it, check your water heater for rust too. Corrosion or rust is a telltale sign of a water leak.

Check for Rings:
Dark spots on walls and ceilings usually indicate water damage. If you see rings around a stain, the damage is probably older. Several rings with different shades of color mean an intermittent issue, where the area has been soaked and dried several times.

Understand Your Property:
This is more of a suggestion than a sign. As the commercial property owner, you should know your building's pipe system. You should know what is old and new and what areas may be at risk for water damage. Keep an extra-close eye on areas that have a higher potential for leaks, especially during rainstorms.
Benefits of Commercial Water Damage Restoration
in Lewisville, TX
When water invades your business or commercial property, you don't have much time to ponder your next course of action. While some business owners opt to try DIY water damage restoration, in most cases, they end up with more damage and expenses than before their leak. For the most effective, comprehensive solution to water damage, it's important that you hire a professional. At Atlas National Renovations, our primary focus is assisting business owners and commercial property managers with water damage restoration. We've been doing it for years, and we can help you too.
Here are just a few of the most common benefits we hear from past customers: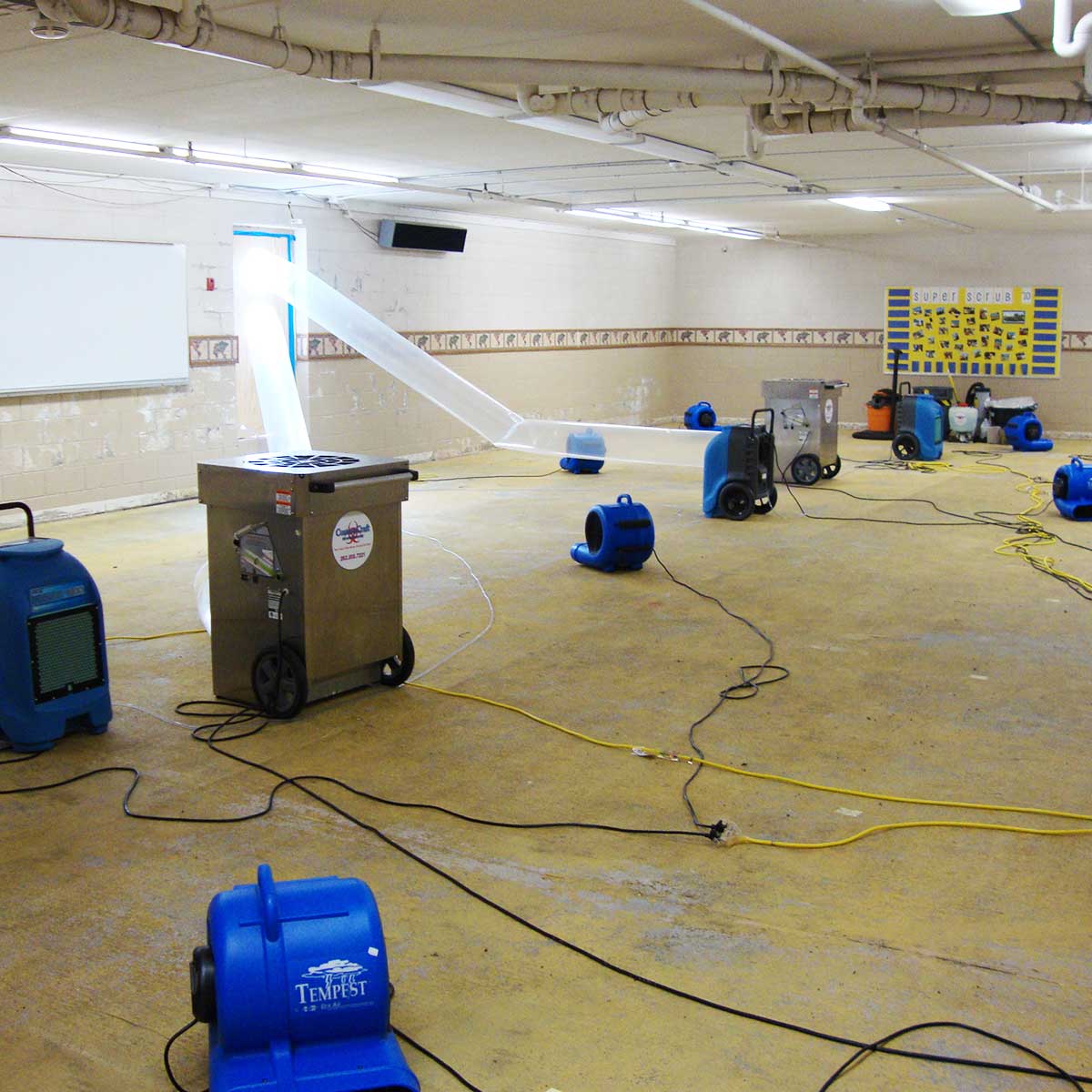 Safe Shopping Experience
If you own a business, the health and safety of your customers is of utmost importance. When water damage occurs inside your storefront, you could be dealing with more than property damage. Depending on the severity of your issue, contaminants and microorganisms may be present, putting your customers' health at risk. When you trust a professional water damage restoration company like Atlas to remediate your water leak, you're not just putting a stop to the leak. Our team will clean and sanitize your business, making it safe for customers to continue shopping at your store.
Quick Response Time
Water damage can create unbearable conditions in your commercial property. As such, your water restoration company must be quick to respond. Professional water damage companies like Atlas respond quickly and can clean up water, dry and disinfect the area, and make necessary repairs. Because we have an entire team of pros and industry-leading equipment, we can be on site in minutes.
Less Damage, Better Costs
Water damage can be very expensive. Sometimes, it only takes a couple of hours to result in heavy losses. How soon you call the experts could mean the difference between painting over a water stain and having to rebuild an entire area of damaged drywall. When you call Atlas immediately, clients often reduce the cost of water damage restoration and overall building damage.
Capital Expenditure Services
In addition to our disaster recovery services, we also offer large-scale upgrades and improvements for your capital expenditures. If you own or manage a large commercial building or a multi-family property, you need to make sure your capital expenditures maintain present operating levels and foster your company's future growth.
At Atlas National Renovations, class A, B, and C properties are our bread and butter. We take the time to understand our customer's needs and expectations from the start so we can deliver outstanding results. If you're looking for a top-tier contractor to do the job right the first time, look no further than Atlas. Our customers love our team because we make large, highly-complicated projects easy to finish.
If you're looking to invest in the future of your business, know that we are here to help with projects like these:
High Volume Unit Upgrades and Improvements
Amenity Upgrades and Conversions
Common Area Improvements
High Volume Carpet, LVT, and Tile Installation
Courtyards and Hardscapes
Package Room and Mail Center Upgrades and Additions
Fitness Center Upgrades and Improvements
Dog Parks and Pet Stations
Signage Improvements and Additions
LED Lighting and Electrical Upgrades
Multi-Family Building Deficiencies and Restoration Services
New multi-family properties are entering the market every day. That means that older communities must be renovated to keep up with modern demands and tenant needs. Upgrades to amenities, aesthetics and even structural changes help assets stay up-to-date. At the same time, damages from leaks and storms must be addressed. If you're a multi-family property manager or owner, and need unmatched restoration capability, Atlas National Renovations is here to serve you.
We specialize in cutting-edge, high-quality ways to achieve your renovation goals - for your tenants but also for your corporate leaders and management team. After all, a successful multi-family renovation benefits all parties.
We currently work with the top multi-family groups across our state. Unlike some multi-family renovation companies in Texas, our team understands the inner workings of the multi-family environment. Our customers appreciate our accommodations to their residents, maintenance team, leasing team, corporate leaders, and beyond. We're proud to say we know multi-family, inside and out, and have the credentials to back up those claims.
When crafting a multi-family restoration plan, we always consider your tenant's demographics, your building's curb appeal, property age, and energy efficiency. Whether you need to have significant updates applied to an older property or need a water damage inspection for a brand-new building, we can help.
Here is a quick glance at some of the multi-family renovations that our team handles:
Leak Detection and Water Intrusion Investigation
Exterior Sealants and Waterproofing
Large Interior and Exterior Paint Projects
Stucco Remediation and Exterior Facade Re-Clads
Full Property Exterior Repaints
Concrete and Flatwork
Corridor and Common Area Painting
Roof Replacement
Discover the
Atlas Difference
Water damage restoration is a crucial, complex process that must be completed properly to save your business from serious damage. Choosing the right professional is equally important, especially when your customers' health is on the line. Whether you need large-scale commercial restoration or quick, effective water damage cleanup for your storefront business, know that we are only a phone call away. Contact our friendly team of experts to learn more about Atlas National Renovations and how we clean up your water damage mess better than the rest.
214-814-4300
Latest News in Lewisville, TX
Football: Oregon State Beavers poised for big recruiting weekend, highlighted by 3 4-star visitors
As soon as the NCAA announced June 1 would be the end of the 15-month-long emergency dead period, Oregon State Beavers football recruiting targets made it clear they were planning to visit in the month of June. Within days, it became obvious Oregon State's plan was to host visitors every single weekend of the summer month, hoping to make an early impression on key targets. For the third consecutive weekend, the Beavers are slated to host a deep collection of talented prospects. Here's a look at who is expecte...
As soon as the NCAA announced June 1 would be the end of the 15-month-long emergency dead period, Oregon State Beavers football recruiting targets made it clear they were planning to visit in the month of June.
Within days, it became obvious Oregon State's plan was to host visitors every single weekend of the summer month, hoping to make an early impression on key targets.
For the third consecutive weekend, the Beavers are slated to host a deep collection of talented prospects.
Here's a look at who is expected on campus:
Commits
3-star RB Damien Martinez (Lewisville, Texas; Lewisville High School) - Back in April, Oregon State secured the commitment of Texas 2,000-yard rusher Damien Martinez.
The 5-foot-10, 220-pound ball-carrier chose the Beavers over offers from Georgia Tech, Kansas, San Diego State and others.
Visitors
4-star cornerback Zeke Berry (Concord, CA; De La Salle High School) - Hosting a four-star prospect is a big deal, but hosting a four-star prospect from one of the nation's most storied high school programs is even more significant.
Why?
It can help build in-roads to an eventual pipeline.
On his own, De La Salle four-star cornerback Zeke Berry is a special talent.
The 6-foot, 185-pound defensive back is rated the nation's No. 20 cornerback and he holds double-digit offers - Arizona, Arizona State, California, Colorado, Oregon, Oregon State, UCLA, Utah, Tennessee and more.
Berry's June official visit schedule includes stops at Arizona, Oregon, Oregon State and Pittsburgh.
4-star tight end Colston Loveland (Gooding, ID; Gooding High School) - Rated the nation's No. 13 tight end, Loveland wasn't always a celebrated recruit.
In fact, Oregon State was an early offer that helped put him on the map.
The 6-foot-5, 230-pound pass-catcher has since exploded on the recruiting scene, gaining offers from Alabama, Michigan, LSU and others.
Still, the Beavers' early faith in his ability has them firmly in the mix.
It will be tough, but earning Loveland's commitment would give Oregon State a class headliner.
4-star DE/OLB Mathias Malaki-Donaldson (Westlake Village, CA; Oaks Christian High School) - Rated the nation's No. 14 edge-rusher, Malaki-Donaldson holds double-digit offers, including Arizona, Arizona State, Florida State, LSU, Oregon State, Tennessee and others.
Regardless of the position, it seems Oregon State is elevating the quality of the official visitors arriving on campus across the board compared to years past.
Malaki-Donaldson is yet another example of that improvement.
3-star OL Keith Olson (Napavine, WA; Napavine High School) - Looking for a possible "on-the-spot" commitment?
Three-star offensive lineman Keith Olson fits the bill as one to watch.
The 6-foot-6, 285-pound offensive lineman holds offers from Boise State, Cal, USC, Utah and others, but is quite high on the Beavers.
A home-run visit could be enough to earn his commitment.
3-star DE/OLB Lance Holtzclaw (Mesa, AZ; Desert Ridge High School) - Oregon State's positions of need appear to be at edge-rusher, linebacker, offensive line and defensive back in the 2022 recruiting class, and Holtzclaw would be a welcomed addition.
The 6-foot-4, 200-pound versatile front-seven piece holds offers from Arizona, Boise State, Boston College, Colorado, Kansas State, Michigan, Oregon State and others.
Further, the state of Arizona has produced major talent in recent years and the Beavers would like to strengthen their roots in the state (see: Hamilcar Rashed Jr.).
3-star cornerback Lorenzell Dubose (Monroe, LA; Neville HS) - A speedy 6-foot, 170-pound cornerback from the South, Dubose holds double-digit offers, including Arkansas, Mississippi State, Oklahoma, Ole Miss, Oregon State and others.
He's raw, but the size/speed combination is intriguing.
Dubose will need seasoning, but could develop into a high-caliber cornerback if his technique matches his potential upon development.
2021 JC safety Ian Massey (Texas; Trinity Valley C.C.) - An unrated safety with four years to play three, Ian Massey is a class of 2021 recruit who will be eligible this fall.
The 6-foot-1, 205-pound free safety had a strong spring season in the junior college ranks and could be an immediate depth piece in the secondary should Oregon State feel the need to add talent to the group.
-- Andrew Nemec | anemec@oregonian.com | @AndrewNemec
Note to readers: if you purchase something through one of our affiliate links we may earn a commission.
Longhorns add kicker to 2022 class with local prospect Will Stone
Texas secured another member of the 2022 class today and its second specialist in Will Stone. The kicker prospect from Austin (Texas) Regents decided to stay home after picking up an offer from the Longhorns. Stone also held an offer from Michigan State before making his choice. Stone joins Gilbert (Az.) Williams Field long snapper Lance ...
Texas secured another member of the 2022 class today and its second specialist in Will Stone. The kicker prospect from Austin (Texas) Regents decided to stay home after picking up an offer from the Longhorns.
Stone also held an offer from Michigan State before making his choice. Stone joins Gilbert (Az.) Williams Field long snapper Lance St. Louis as the second specialist take in the class. When reached for comment by Horns247, Stone said this opportunity was a lifelong dream.
"It's such an honor," he said. "I've been a Longhorn since I was a kid and I'm blessed to stay one."
Stone is ranked by Kohl's Professional Camps as a five-star kicker and a 4.5 star punter. Kohl's scouts went on to say the following about Stone's ability.
"Stone recently attended a May 2021 Kohl's Showcase. The prospect showed well on kickoffs and field goals, as well as punting in the pocket. Stone has a bright future in both kicking and punting. Stone is a talented lefty with an athletic frame. He will have the opportunity to compete at the next level early in his college career. In 2020 at the National Scholarship Camp, Stone scored 23 points on field goals and had an impressive score of 104.18 on kickoffs. Stone has made nice gains as a punter and that should help him with schools looking for a kicker that can punt well."
Another source within the specialist world told Horns247 that Stone is one of the best in the nation who "shows phenomenal ball height and great power. He has the ability to bomb kickoffs, but he's extremely accurate too."
Stone is the first scholarship kicker the Longhorns took since Cameron Dicker came along in the 2018 class. He's also the first scholarship kicker under Steve Sarkisian and special teams coordinator Jeff Banks.
At 6-feet, 175 pounds, Stone is not currently ranked.
What's next for the Longhorns? Make sure you stay in the loop and sign up for Horns247 today! New members get 30% OFF your first year of Texas scoop OR one month of Horns247 VIP access for ONLY $1!
In the 2022 Texas class, Stone joins Klein (Texas) Cain five-star running back Jaydon Blue, Gardena (Calif.) Junipero Serra four-star quarterback Maalik Murphy, Aledo (Texas) four-star safety Bryan Allen Jr., Lewisville (Texas) four-star wide receiver Armani Winfield, Port Arthur (Texas) Memorial four-star cornerback Jaylon Guilbeau, Galena Park (Texas) North Shore four-star defensive tackle Kristopher Ross, Phoenix (Ariz.) Brophy College Prep four-star defensive end Zac Swanson, Las Vegas (Nev.) Liberty three-star athlete Anthony Jones, Arlington (Texas) Martin three-star linebacker Trevell Johnson and Gilbert (Ariz.) Williams Field long snapper Lance St. Louis.
Disclaimer:
This website publishes news articles that contain copyrighted material whose use has not been specifically authorized by the copyright owner. The non-commercial use of these news articles for the purposes of local news reporting constitutes "Fair Use" of the copyrighted materials as provided for in Section 107 of the US Copyright Law.