Disaster Recovery Done Right: Trust Atlas for Commercial Water Damage Restoration in Garland, TX.
When you own a business, property damage is an unfortunate occurrence that happens all too often. Property damage can be caused by any number of disasters, both natural and man-made. Most often, however, property damage happens from an excess of water. From very heavy rainstorms to broken pipes, water damage can be incredibly harmful not just for your storefront but for your customers.
When water spreads through your commercial property, it happens quickly, causing damage as it moves. At the same time, furnishings and porous materials soak up moisture. In just a short amount of time, you could be dealing with warping, rotting, and even mold growth. That's why water damage remediation is so important - to address your current damage and prevent water from making your business unsafe.
At Atlas National Renovations, we know that dealing with water damage seems like a losing effort on your own. But when you trust our water damage restoration team, you don't have to lose hope. We provide comprehensive water remediation services for businesses of all size in Texas. From the first time we lay eyes on your water damage to the time we mitigate your problem, we're here for you. With a team of IICRC certified technicians and innovative restoration tools at our disposal, we specialize in making your business safe again.
Unlike some of our competitors, we are fiercely dedicated to our clients and aim to exceed their expectations with the highest quality water damage restoration services in Garland, TX. When water damage hits your business, time is of the essence, which is why we get to work quickly and efficiently by assessing the damage to your property. Once we know the extent of your water damage, we'll consult with you about its severity and detail the next steps you should take so you can make an informed purchasing decision.
With decades of combined experience, there is no disaster cleanup project too complex or large for our team to handle. We assist small businesses, large commercial entities, and even multi-family apartment complexes. Our clients trust Atlas National Renovations to keep them dry, safe, and secure, and it would be our pleasure to help do the same for you.
In addition to our reliability and quality of work, our customers choose us over others because we offer:
Fair, Accurate Work Estimates
We drain water from your property, not money from your bank account.
Clear, Constant Communication
When you work with Atlas, you're never left wondering what's happening with your commercial property.
Detailed Deadlines and Schedules
We're meticulous about sticking to schedules and meeting deadlines. You can always expect us to be on time and ready to work.
Experienced Project Managers
We assign seasoned, hardworking project managers for each of our projects. When you work with Atlas, you're working with the best.
Courteous and Knowledgeable Leadership
Excellence starts at the top, and our leadership team is the best in the business.
Atlas National Renovations Multi-Family and Commercial Renovation Experts
Free Consultation
What Clients Say About Us
Apartment Upgrades for ANONYMOUS
★★★★★
We loved our Project Manager, Steve! He communicated with us daily! He was available and willing to help throughout the entire project!
Fire Damage for ANONYMOUS
★★★★★
Our project was completed on time, and our residents were treated with the most care and respect!
What is Water Damage Restoration in in Garland, TX
If you're currently dealing with serious water damage from a flood, broken pipe, or other cause, you're probably not sure what to do next. While it's understandable to feel panicky, it's important that you have the water removed as quickly as possible. When structural damage and health hazards are at play, time is of the essence. The longer you wait, the worse the damage will get. The damage you see with your eyes is usually the tip of the iceberg - most water damage gets deep in your carpets and walls fast.
Atlas' water damage restoration services are focused on restoring and repairing the damage that water causes to commercial property. The primary purpose of our restoration services is to return your property to the condition it was in prior to the damage. Once your water damage has been mitigated, our team swoops in to begin the restoration process.
Depending on the scope and severity of your water damage, common water damage restoration services can include:
Damaged Flooring and Wall Replacement
Damaged Roof Restoration
Mold Remediation
Humidity and Moisture Testing
While little can be done to predict natural disasters, there are common signs you can keep an eye on to prevent serious water damage from occurring.
Common Signs of Commercial Water Damage in Garland, TX
There's no convenient time to be sidelined with water damage when it comes to your commercial property and business. Water damage to your commercial or industrial property is particularly devastating because every hour that your business is closed means lost revenue and productivity. You do not just have to deal with damage to the structural integrity of your building - you have to deal with the disruption of service to your loyal customers.
The good news? Atlas is here when you need us most, with a team of highly-trained technicians and unmatched water damage restoration expertise. We're ready to tackle your problem and solve it in an efficient, effective manner, so you can keep your doors open and your clients happy.
As a business owner, you know that one of the best ways to prevent a disaster is to nip it in the bud before it gets out of hand. For that reason, keep an eye out for the following signs of water damage to your commercial property:
Look for Mold:
Mold can begin to grow just a day or two after water has taken hold of your business. If you see small signs of mold growth in an area where you suspect a leak, contact Atlas National Renovations ASAP to diagnose the problem.

Check Your Pipes:
If it's safe to do so, check out the piping inside and outside your commercial property. You want to keep a keen eye out for oxidation and corrosion around pipe fixtures. While you're at it, check your water heater for rust too. Corrosion or rust is a telltale sign of a water leak.

Check for Rings:
Dark spots on walls and ceilings usually indicate water damage. If you see rings around a stain, the damage is probably older. Several rings with different shades of color mean an intermittent issue, where the area has been soaked and dried several times.

Understand Your Property:
This is more of a suggestion than a sign. As the commercial property owner, you should know your building's pipe system. You should know what is old and new and what areas may be at risk for water damage. Keep an extra-close eye on areas that have a higher potential for leaks, especially during rainstorms.
Benefits of Commercial Water Damage Restoration
in Garland, TX
When water invades your business or commercial property, you don't have much time to ponder your next course of action. While some business owners opt to try DIY water damage restoration, in most cases, they end up with more damage and expenses than before their leak. For the most effective, comprehensive solution to water damage, it's important that you hire a professional. At Atlas National Renovations, our primary focus is assisting business owners and commercial property managers with water damage restoration. We've been doing it for years, and we can help you too.
Here are just a few of the most common benefits we hear from past customers: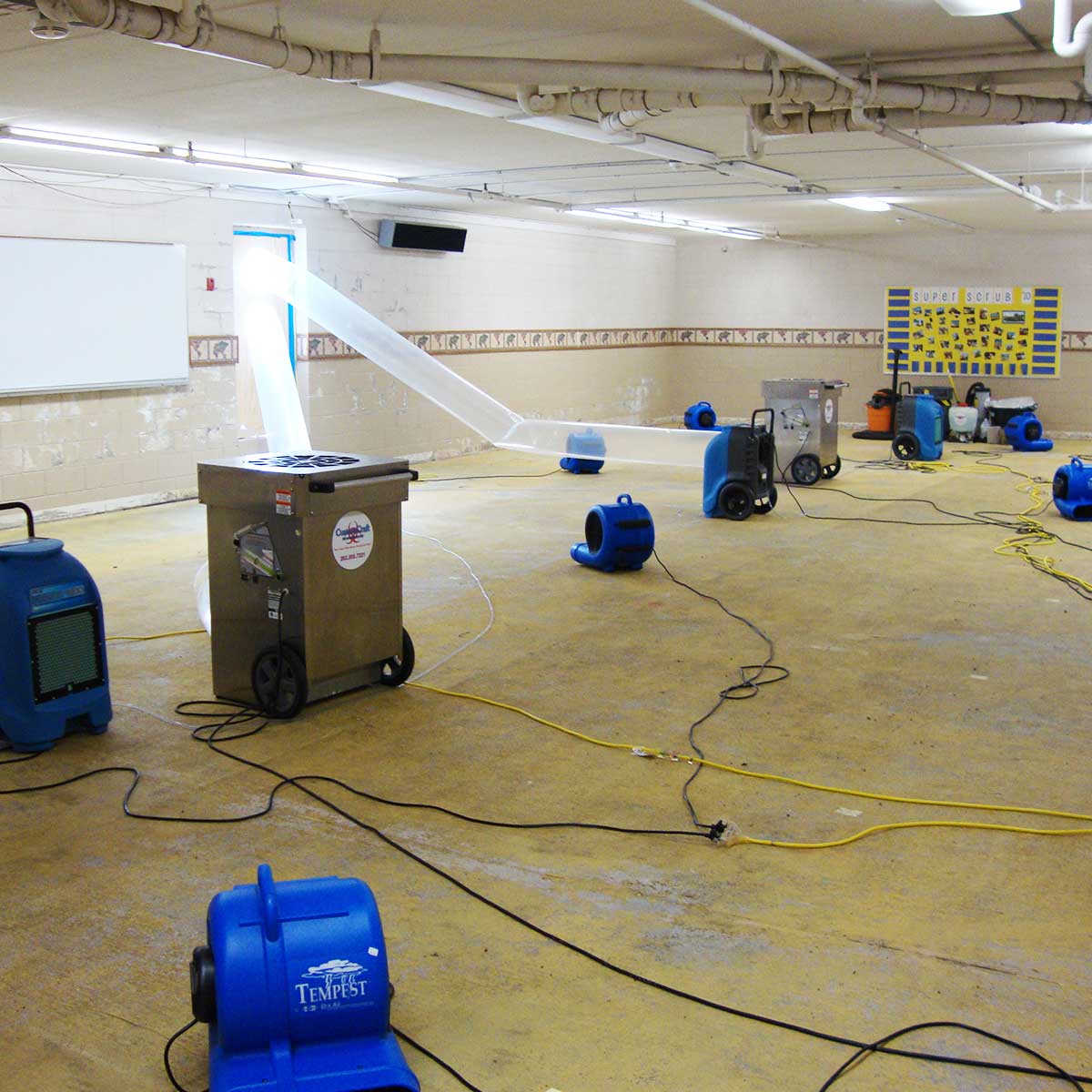 Safe Shopping Experience
If you own a business, the health and safety of your customers is of utmost importance. When water damage occurs inside your storefront, you could be dealing with more than property damage. Depending on the severity of your issue, contaminants and microorganisms may be present, putting your customers' health at risk. When you trust a professional water damage restoration company like Atlas to remediate your water leak, you're not just putting a stop to the leak. Our team will clean and sanitize your business, making it safe for customers to continue shopping at your store.
Quick Response Time
Water damage can create unbearable conditions in your commercial property. As such, your water restoration company must be quick to respond. Professional water damage companies like Atlas respond quickly and can clean up water, dry and disinfect the area, and make necessary repairs. Because we have an entire team of pros and industry-leading equipment, we can be on site in minutes.
Less Damage, Better Costs
Water damage can be very expensive. Sometimes, it only takes a couple of hours to result in heavy losses. How soon you call the experts could mean the difference between painting over a water stain and having to rebuild an entire area of damaged drywall. When you call Atlas immediately, clients often reduce the cost of water damage restoration and overall building damage.
Capital Expenditure Services
In addition to our disaster recovery services, we also offer large-scale upgrades and improvements for your capital expenditures. If you own or manage a large commercial building or a multi-family property, you need to make sure your capital expenditures maintain present operating levels and foster your company's future growth.
At Atlas National Renovations, class A, B, and C properties are our bread and butter. We take the time to understand our customer's needs and expectations from the start so we can deliver outstanding results. If you're looking for a top-tier contractor to do the job right the first time, look no further than Atlas. Our customers love our team because we make large, highly-complicated projects easy to finish.
If you're looking to invest in the future of your business, know that we are here to help with projects like these:
High Volume Unit Upgrades and Improvements
Amenity Upgrades and Conversions
Common Area Improvements
High Volume Carpet, LVT, and Tile Installation
Courtyards and Hardscapes
Package Room and Mail Center Upgrades and Additions
Fitness Center Upgrades and Improvements
Dog Parks and Pet Stations
Signage Improvements and Additions
LED Lighting and Electrical Upgrades
Multi-Family Building Deficiencies and Restoration Services
New multi-family properties are entering the market every day. That means that older communities must be renovated to keep up with modern demands and tenant needs. Upgrades to amenities, aesthetics and even structural changes help assets stay up-to-date. At the same time, damages from leaks and storms must be addressed. If you're a multi-family property manager or owner, and need unmatched restoration capability, Atlas National Renovations is here to serve you.
We specialize in cutting-edge, high-quality ways to achieve your renovation goals - for your tenants but also for your corporate leaders and management team. After all, a successful multi-family renovation benefits all parties.
We currently work with the top multi-family groups across our state. Unlike some multi-family renovation companies in Texas, our team understands the inner workings of the multi-family environment. Our customers appreciate our accommodations to their residents, maintenance team, leasing team, corporate leaders, and beyond. We're proud to say we know multi-family, inside and out, and have the credentials to back up those claims.
When crafting a multi-family restoration plan, we always consider your tenant's demographics, your building's curb appeal, property age, and energy efficiency. Whether you need to have significant updates applied to an older property or need a water damage inspection for a brand-new building, we can help.
Here is a quick glance at some of the multi-family renovations that our team handles:
Leak Detection and Water Intrusion Investigation
Exterior Sealants and Waterproofing
Large Interior and Exterior Paint Projects
Stucco Remediation and Exterior Facade Re-Clads
Full Property Exterior Repaints
Concrete and Flatwork
Corridor and Common Area Painting
Roof Replacement
Discover the
Atlas Difference
Water damage restoration is a crucial, complex process that must be completed properly to save your business from serious damage. Choosing the right professional is equally important, especially when your customers' health is on the line. Whether you need large-scale commercial restoration or quick, effective water damage cleanup for your storefront business, know that we are only a phone call away. Contact our friendly team of experts to learn more about Atlas National Renovations and how we clean up your water damage mess better than the rest.
214-814-4300
Latest News in Garland, TX
Wish LBI: 'Trend-Forward and Affordable'
Wish LBI carries the same enchanting name as the other "Wish" stores in a family enterprise, and brings a unique gathering of jewelry, clothing and accessories to Long Beach Island, where co-owner Louisa Befumo grew up. At 412 North Bay Ave. in Beach Haven, the boutique skillfully shows off much to answer shoppers' wishes, plus some surprises. Befumo graduated from Philadelphia University with a degree in textile design and worked in the textile industry there for six years. As a sales rep for an acclaimed pri...
Wish LBI carries the same enchanting name as the other "Wish" stores in a family enterprise, and brings a unique gathering of jewelry, clothing and accessories to Long Beach Island, where co-owner Louisa Befumo grew up.
At 412 North Bay Ave. in Beach Haven, the boutique skillfully shows off much to answer shoppers' wishes, plus some surprises.
Befumo graduated from Philadelphia University with a degree in textile design and worked in the textile industry there for six years. As a sales rep for an acclaimed print studio, she paired name brand designers with talented artists who provided fresh, original artwork.
That "dream job" fell victim to the pandemic, but circumstances and her savings fund gave her the chance to partner with her aunt in a new "Wish" location on her home LBI.
Her aunt, Theresa Pennisi, opened the first location of Wish in Denville and cultivated a strong brand presence, then expanded to Manasquan in partnership with her twin sister, Virginia Falkinburg. This past winter the twins, along with Arielle Falkinburg, Virginia's daughter, added a Wish to the Jersey Shore Premium Outlets in Tinton Falls. Two more Wish locations are new for Spring Lake and Madison, N.J.
"My aunt started this brand about 15 years ago and is doing incredible with it, and I thought it would be a really great fit for here, too," Befumo said, "so I found this place and made it happen."
The shop supports local artists and artisans, whose brands the 2010 Southern Regional High School graduate pointed out during a tour of the store. Handmade and recycled creations blend irresistibly with glittering costume jewelry and gilded sea turtles on leather tote bags, among many other articles. Comfort and style, beachy and wedding-worthy co-exist in one array of choices that spell "LBI."
"We definitely support local artists and makers, and at the same time our main mission is to have trend-forward and affordable jewelry; that's our first and foremost product," Befumo said. "Besides that, we just see what's fun and what people are wanting to buy.
"For down here, we want to have things that people can buy and use right away," the store co-owner said. "There are a lot of kimonos and a lot of throw-overs, and scarving – then, of course, a lot of comfortable clothes that people like to wear after being in the sun all day, joggers and sweats."
What items exemplify trend-forward? "We focus a lot on the New York City-Los Angeles trends as far as accessories and size-inclusive clothing go. We carry a lot of one-size-fits-all, a lot of items that women can accessorize with, wearing their basics and sort of dressing it up with a scarf or kimono."
Dressy costume jewelry has also caught the eye of girls coming in for their prom, and brides looking locally for their wedding parties.
Treating themselves goes with supporting creative artists when buying a purse of recycled denim from Feelin Blue, or earrings of recycled metal from Beaucycled. And nature did the work in the ample display of rock crystals for sale next to journals for logging in the first thoughts of the morning or the ones to sleep on.
Photographic coasters in the shop can be gifts to a friend, mementos of a favorite summer place or conversation pieces on the table.
"We have these great coaster sets from Coaster Life," Befumo pointed out. "She makes these all up and down the Jersey coast for all the different towns, so she made these specific to LBI, all the hotspots, for people to have memorabilia."
From Day 1, which was the Saturday of Memorial Day weekend, Befumo opened with an involvement in the community in mind. She decorated the entrance with cheery balloon garland, hosted entertainment, participated in the town's Art Walk by offering kids' photos with the Disney character Ariel, held a paint and sip event that also showcased local artists' works, and has ongoing plans.
"I think we have such a great community, and I want to give back in different ways by using my space to create fun experiences," she said, "in addition to bringing the trend-forward products that everyone may not be able to find everywhere down here, and make them available and affordable as well."
Wish LBI is open daily from 11 a.m. The shop has a Facebook page.
— Maria Scandale
Disclaimer:
This website publishes news articles that contain copyrighted material whose use has not been specifically authorized by the copyright owner. The non-commercial use of these news articles for the purposes of local news reporting constitutes "Fair Use" of the copyrighted materials as provided for in Section 107 of the US Copyright Law.