Elite Level Fire Damage Restoration in Hurst, TX
Fire damage to your home is one of the most traumatizing, frightening tragedies a person can experience. This is especially true in apartment buildings and multifamily homes, where dozens if not hundreds of families are affected by fire and smoke damage. When a fire rips through an apartment building, the property damage can be catastrophic. But the damage caused by fires doesn't end once the flames have been extinguished. Victims are left wondering what happens next now that their belongings are destroyed. When will they have a roof over their again?
In these circumstances, prompt, purpose-driven fire damage restoration is key to reducing victims' financial and emotional strain.
The National Fire Protection Association states that a structure fire is reported every 65 seconds. When the fire alarm sounds, emergency responders answer the call for help with decisive action. But once the smoke clears, Atlas National Renovations' team of fire restoration experts step in to give hope to property managers, apartment tenants, and commercial property owners.
With decades of combined experience in disaster recovery, ANR understands the complexities associated with commercial and apartment building fires. We have helped the top multifamily groups in Texas recover their tenants' homes and belongings with care and compassion. If you're a property manager and you're still reeling from a fire disaster, know that we're here to help you too.
At Atlas National Renovations, our expert project managers and technicians play key roles in complicated fire restoration projects. We specialize in restoring Class A, B, and C properties like apartment complexes, high-rise buildings, multifamily buildings, mixed-use developments, large commercial properties, and more.
If you're looking for a top-tier fire damage restoration company in Hurst, look no further than ANR. We're the top pick when it comes to large, detailed fire restoration projects because we:
Are a Trusted Partner in Restoration and Disaster Recovery
Adhere to OSHA Standards and State & Federal Regulations
Use the Latest Equipment & Remediation Techniques
Offer Innovative Solutions to Detailed Problems
Provide Seasoned Project Managers for Each Fire Restoration Project
Give Clients Clear and Consistent Communication
Work with Insurance Companies
Have a Knowledgeable & Courteous Leadership Team
Fire Damage Restoration for Apartment Buildings in Hurst, TX
Owners and managers of apartment complexes know that the safety of their tenants is a major responsibility. Unfortunately, nobody can completely control when apartment fires occur. Fires in apartments and multifamily buildings may start small, but they spread quickly, often destroying several living spaces. These frightening fires destroy prized heirlooms, important documents, and can even be fatal. However, the work is only beginning once the fire is put out and lives are saved.
In the aftermath of a disaster, figuring out the next steps is hard. During this difficult time, it's important to be prepared. As a property manager or owner, having a fire damage restoration company on your checklist of resources is crucial.
Unlike residential fires, apartment and multifamily building fires add several more layers of complexity and stress. In these situations, you deserve a restoration partner that you can trust without question, and that company is Atlas National Renovations.
With years of experience guiding our technicians and project managers, the ANS team responds quickly to your fire damage emergency. Using advanced protocols and state-of-the-art restoration equipment, we get to work quickly to repair and restore your commercial property to its pre-loss condition. While restoring your property, we always keep your tenant's care and comfort in mind.
Our fire restoration services in Hurst are comprehensive and include the following:
Rapid Mobilization and Response
Overall Catastrophe Management
Emergency Board-Up Services
Debris Removal and Disposal
Apartment Content Inventory and Cleaning
Soot and Smoke Removal Services
Water Extraction
Deodorization
HVAC Cleaning and Decontamination
Shoring Installment to Secure Buildings
Interior & Exterior Renovations
Our Fire Damage Restoration Process
It's imperative to have someone with knowledge and experience on your side during a fire crisis.
When you call ANS, our fire restoration experts can help walk you through the steps you need to take once a fire occurs. This allows us to quickly gain control of the restoration project on your behalf. Once we have inspected your property, we'll provide a detailed report and scope of work for your fire damage restoration project.
ANS repairs all property damage caused by soot, smoke, and fire. Our IICRC-certified fire restoration teams construct the best plan to quickly get your building back to its pre-loss condition.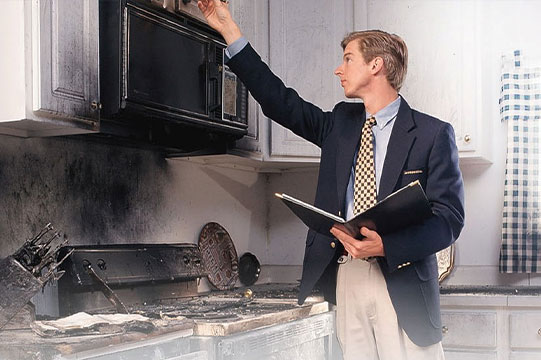 Because every property is different, each fire restoration project for apartment buildings is too. However, every fire disaster will have a similar process and will often include:
Contact ANS
Your fire restoration process begins when you call our headquarters. Our specialist will ask you a series of questions about the fire event that occurred. That way, we can arrive on-site with the proper resources and equipment.
Fire Damage Assessment
and Inspection
Our fire damage restoration team will carefully inspect the entirety of your apartment complex, from building to building and room to room. We do so to determine the extent of your apartment's fire, smoke, and soot damage. This step is crucial to developing a comprehensive restoration plan.
Board-Up Services
First responders like firefighters must break windows and cut holes in roofs to slow fire growth and save lives. Once the fire is out, our team can get to work, boarding up holes and constructing temporary fencing around the property.
Water Removal
If there is water damage associated with your apartment fire, we'll remove most of the water immediately. From there, we use air movers and dehumidifiers to help complete the drying process.
Smoke and Soot Removal
Within minutes of a fire, walls, electronics, and other surfaces are covered in soot. Smoke and ash continue to cause damage to every inch of your apartment building. That's why ANS uses specialized equipment to remediate smoke damage and remove odors. This process is often labor-intensive and can take time, especially for large fire damage restoration needs.
Cleaning and Sanitizing
Using a variety of restoration and cleaning techniques, our team will help clean restorable items and sanitize units for safety.
Restoration
Getting your apartment buildings to their pre-fire conditions is our ultimate goal. Depending on the size and scope of the fire restoration job, minor repairs like painting, drywall replacement, and new carpet installation might be needed. You might also need major structural renovations like re-siding, re-roofing, new window installation, floor replacement, and more.
Tips for Preventing Apartment Fires
If you're a property manager or own multifamily residential buildings, the thought of an apartment fire is terrifying. What starts as a small fire can quickly turn into a catastrophic event, with your entire complex up in flames. However, one of the best ways of preventing these fires is to know more about them.
Share these tips with tenants to help prevent deadly apartment fires:
Turn Off Heat Sources

Data shows that a large number of apartment fires begin with cooking. Often, these fires are caused by the ignition of common items like rags, curtains, wallpapers, and bags. Encourage tenants to keep their kitchens and cooking areas clear of combustibles. Never leave a stove unattended for long, and don't leave burners on by themselves. Unintentional mishaps like leaving heat sources on are common causes of fires that can be prevented with a little forethought.
Electrical Safety

Like heat sources, electrical malfunctions are also common causes of fires in apartment complexes. It's hard to prevent all electrical malfunctions, but you can tell tenants to avoid bad habits. Tips include never using extension cords as permanent solutions and never using a cable if the third prong is missing.
Appliance Safety
Appliances are a part of everyone's lives. They're also standard equipment in most apartment units. But if tenants don't take proper precautions, these useful tools can spark deadly fires.
Tips for Preventing Apartment Fires
No matter how large or small, fires are nightmare scenarios for entrepreneurs with commercial properties. Fire damage can completely ruin storefronts and offices, leaving charred remains and burned-up files before firefighters arrive. To make matters worse, soot and smoke damage ruin your businesses' furniture, HVAC system, carpet, walls, and windows.
To eliminate health hazards and restore your business to its pre-fire condition, you need to bring in a team of professionals with years of experience in fire damage remediation. At ANR, we use commercial-grade equipment and cutting-edge tools to clean up the aftermath of your fire and rebuild your property. That way, you can get back to running your business and providing for your family.
Share these tips with tenants to help prevent deadly apartment fires:
Remove Smoke and Fire Damage

One of the most common causes of large commercial loss stems from smoke and fire damage. Of course, these disasters cause injuries and fatalities. But they also generate tremendous amounts of damage, rot, mold, and harm to structures. Not to mention the devastation that fire damage has to the appearance and livability of the facility. Fire damage restoration companies restore - and also prevent - the root cause of the fire. Electrical outlets, wires, and other fire-prone items will all be addressed to prevent a subsequent disaster.
Highly Skilled
The best fire damage restoration professionals are highly-trained, exceptionally skilled, and properly equipped to deal with every aspect of a commercial fire. From handling major renovations to taking care of the lingering effects of smoke damage, pro fire restoration companies take care of it for you. Hiring ANR means you'll be working with technicians who have the knowledge, tools, and materials to get the job done right the first time.
Insurance Claims
When you start the claim process with your businesses' insurance company, they'll ask whether you've hired a fire damage restoration company. That's because companies like Atlas prevent further damage from occurring and calculate an estimate of your total loss. You can submit this estimate to your insurance company, which may then provide you with resources to complete your company's disaster recovery mt-md-1
Discover the
Atlas Difference
Fire damage restoration is a crucial, complex process that professionals must perform. With decades of expertise, unmatched restoration quality, and the scalability for any job, Atlas National Renovations is well-equipped to be your single source for commercial fire damage restoration in Hurst, TX. We are specially equipped to make difficult restoration projects easy for owners.
When a fire disaster strikes, you need a timely response from a trustworthy team of experts. Don't settle for a mediocre fire restoration partner. Choose ANR to get the job done right the first time. Contact our office today to learn more about our fire restoration services in the Dallas-Fort Worth metroplex.
214-814-4300
Latest News in Hurst, TX
The List: Where to Celebrate the 4th of July in and Around Fort Worth
This upcoming week marks the 247th year since our country's forefathers achieved independence from Great Britain following the Revolutionary War. Yet this date is really a misnomer, according to the Farmer's Almanac. This long running publication states that July 4 actually marks the date that the Declaration of Independence was announced, not signed. Archives indicate that this famous document was actually voted to be accepted by the colonies on July 2, 1776 and then subsequently signed on August 2 of that same year.
John Adams, who first proposed the idea of declaring independence from England, wrote a famous letter to his wife, Abigail, about how he believed July 2nd would be a day that was remembered and celebrated in America for years to come. Apparently, everyone else remembered otherwise… So, for whatever reason, July 4 stuck as the day we do the celebrating with over 200 years of tradition to back it up. That and it was made a federal holiday in 1941.
Yes, the 4th lands on a Tuesday this year, but that's probably not going to stop anyone from firing up their grills and cracking a cold one anyways. So, for all of you patriots and fans of freedom we've compiled a list of July 4th events taking place in and around the Fort Worth area.
July 4th: Fort Worth's Fourth at Panther Island Pavilion
Tarrant Regional Water District is proud to once again bring locals a Texas-sized firework show and festival for its 16th year. Celebrate Independence Day with the largest fireworks show in North Texas at the 16th Annual Fort Worth's Fourth. Find a spot along the banks of the Trinity River at Panther Island Pavilion and enjoy an evening of festival food, drinks, kid activities, live music, and a fireworks show. Admission is Free|5-10 p.m.| 395 Purcey Street.
June 29th – July 4th: Red, White, and Boots in Fort Worth Stockyards
Enjoy bull riding, $4 drafts, matinee broncs, live bands, and Saturday night bullfights, as the Fort Worth Stockyards celebrates America's birthday. This event may have begun this week, but this is Texas, the parties are also bigger here. For those who are interested, you can get your patriotic party on all the way up to next Tuesday. Costs vary| 131 E. Exchange Avenue, Fort Worth, TX 76164.
July 3rd: Light Up Arlington and 4th of July Parade (9am)
Residents will enjoy vendors, food trucks and live music across four different stages at this event. Concerts start at 6 p.m. outside the Arlington Music Hall and Grease Monkey, at 6:30 p.m. by City Tower at 101 S. Mesquite St. and 7 p.m. at the Levitt Pavilion Arlington. This family friendly event will also feature over a dozen food trucks and a bubble bus. The fireworks display, which will blast off from the roof of City Tower, lasts about 20 minutes and starts at 9:50 p.m. Free |6 p.m. – 10:30 p.m. |101 W. Abram St., Arlington.
The following morning on July 4, the annual Arlington Independence Day parade will take place through downtown Arlington at 9 a.m.
Starting near a University of Texas at Arlington parking lot off Doug Russell Road and South West Street, the parade route goes north on Spaniolo Drive, makes a circle near City Hall and returns back on South Center Street. Free| 9 a.m. |July 4 | Starts near the intersection of Doug Russell Road and South West Street.
July 4th: Spark in the Park July 4th Fireworks & Concert with Pat Green
One of Texas country's modern era founding fathers, Pat Green, is headlining the Spark in the Park on July 4th at the Heritage Park Amphitheater in Weatherford. The opening act will be East Texas native, Chris Colston with his "gritty Texas roots combined with a little blues and rock 'n' roll". Following these talented artists is our famous fireworks show. This massive show is one of the largest fireworks displays in North Texas and can be seen from miles away. Free| 6 p.m. to 10 p.m.| 503 Santa Fe Dr., Weatherford.
July 1st -4th: Granbury's 4th of July Hometown Celebration Granbury, Texas
Granbury's proud tradition of celebrating Independence Day returns to a multi-day event this year, presented by the Granbury Chamber of Commerce and several other sponsors. Festivities that are sure to stir patriotic spirits begin on Saturday, July 1st thru Tuesday July 4th. There will be vendors on the square all three days. The parade will be on Monday July 4th starting at 10:00. Attendance is free.
July 3rd: Hurst Stars & Stripes Fireworks Show Hurst, Texas
The Annual City of Hurst Stars & Stripes event is Monday, July 3, at Hurst Community Park. Patrons can enjoy live music, food trucks, and a beautiful firework show. Free shuttles are available from designated parking at North East Mall. Schedule: 6:00 p.m. Micky & the Motorcars|8:00 p.m. Emerald City| 9:30 p.m. Fireworks Show| Free|6 p.m. July 3|601 Precinct Line Rd., Hurst.
July 4th: Cleburne 4th of July Celebration & Fireworks Cleburne, Texas
Vendors and food trucks will be available at Lake Pat Cleburne for the Fireworks Watching Party at Cleburne Golf Links starting at 6:30 with Live music, Great food. No outside alcohol is allowed - Alcohol, food and drinks will be sold at the event - cash and credit cards accepted. Reservations are required for the Cleburne Golf Links| $25 Per Carload - Max 8 per car|6:30 p.m.| Lakeshore Dr. free parking|For more information and cost call 817-645-2455.
July 4th: Red White & BTX 4th of July Celebration and Firewoks (Burleson, TX)
Burleson will host Red, White & BTX on July 4. The event features live music, food trucks and fireworks. Blankets and lawn chairs are welcome, but alcohol and personal fireworks are not. Before the evening festivities, Burleson's Lion Club is hosting a parade through the city at 9 a.m.
Free | 5 p.m. July 4 | 500 Chisenhall Park Lane, Burleson.
July 3rd: Mansfield Rocks 4th of July and Fireworks
The Mansfield Rocks event will take place at Big League Dreams and Hawaiian Falls water park. Guests can bring lawn chairs and blankets, but no coolers, grills or pets are allowed. Fireworks are scheduled for 9 p.m. Tickets are $20 and can be purchased at the event | 6 p.m. | 500 Heritage Parkway, Mansfield.
Hurst Farm Supply sold to South Plains Implement after 67 years
LUBBOCK, Texas (KCBD) - After 67 years of supporting the farmers of West Texas, the Hurst family has sold their business.Joe Hurst's father started the business back in 1955 with two other partners. Since then the Hurst family has been a key part of the agriculture community."It's been quite a while," Hurst said. "But we really enjoyed it and we have lots of relationships that we've built over the years.During that time the Hurst family's business provided everything needed to so...
LUBBOCK, Texas (KCBD) - After 67 years of supporting the farmers of West Texas, the Hurst family has sold their business.
Joe Hurst's father started the business back in 1955 with two other partners. Since then the Hurst family has been a key part of the agriculture community.
"It's been quite a while," Hurst said. "But we really enjoyed it and we have lots of relationships that we've built over the years.
During that time the Hurst family's business provided everything needed to sow a seed and harvest a boll, but Hurst says he was helping grow more than crops.
"A lot of these guys we go to church with them," Hurst said. "Our kids go to school with them. They're our friends and these communities that are around we've tried to support them in every way we can."
After decades of serving the agriculture community, Hurst says it's time to turn the page.
"There's a time for everything," Hurst said. "Enthusiastic, there's a time for sales there's a time for change. There's a time for everything. We just have confidence that this is the time for us to move on."
South Plains Implements bought Hurst Farm Supply at the beginning of November.
"We understand what it means to be a part of these communities," part owner of South Plains Implement Scotty Johnson said. "We're proud of that, and we just want to continue that.
With millions of acres harvested across Texas and many of those here in the South Plains, new owner Scotty Johnson says he knows he has to support the farmers doing the work.
"Agriculture is huge for the economy around West Texas and we're just proud to be a part of it," Johnson said.
As for Joe, he's happy knowing he'll leave behind more than just a supply store.
"Everybody talks about a legacy," Hurst said. "Well, a legacy is not a building. A legacy's not how many stores you have. A legacy is what you've left in the hearts of the people that you've served all these years."
Copyright 2022 KCBD. All rights reserved.
'It's outstanding' | Hurst subscription service saves residents money on trips to hospital
"We wanted to eliminate some of the cost that citizens were incurring on bills that were not being paid by Medicare or private insurance companies," Craft said.HURST, Texas — A North Texas town has found a unique way to help out its residents when they need to take a trip to the hospital.The city of Hurst has an ambulance subscription service. The service started in 2004 with about 300 membe...
"We wanted to eliminate some of the cost that citizens were incurring on bills that were not being paid by Medicare or private insurance companies," Craft said.
HURST, Texas — A North Texas town has found a unique way to help out its residents when they need to take a trip to the hospital.
The city of Hurst has an ambulance subscription service. The service started in 2004 with about 300 members and is now up to about 1,000, according to Hurst Fire Department Assistant Fire Chief Brent Craft.
"We wanted to eliminate some of the cost that citizens were incurring on bills that were not being paid by Medicare or private insurance companies," Craft said. "Whatever is left over that the insurance company doesn't pay, we will write off."
And even if a citizen doesn't have health care insurance, the program covers emergency medical services delivered prior to hospital arrival. It costs $60 to join annually and enrollment for 2023 is happening now through the end of 2022.
Craft said when the city implemented this service back in 2004, it was mainly because citizens were bringing up the rising costs of health care, in general.
"We decided to try and help those families with those costs," Craft said.
Credit: Jay Wallis
Hurst firefighters check on some of the equipment inside one of the department's ambulances.
One of the Hurst citizens who takes advantage of this service is Jodi Mauldin. She has lived in Hurst for about 32 years. She recently had to go to the hospital because she was having heart problems and ended up having a stint put in.
She wasn't signed up for the service at the time and said she paid $1,000 for her ambulance ride.
Then she decided to sign up for the service. When she had to go to the hospital a second time a few years later, now being a member? She paid nothing.
"It's just a good feeling to know, 'Hey, I'm covered,'" Mauldin said. "I don't have to pay any money out of this. It's all taken care of."
Mauldin said it makes her proud of Hurst to know this service exists.
"It's outstanding," Mauldin said. "I think it's an awesome deal for anybody."
Craft said the ambulance program is revenue neutral, meaning the city ends each year about even.
"We don't typically make any money," Craft said. "Therefore it makes it easier for them as well."
Here is how the program works:
To learn more about Hurst's ambulance subscription service, you can click here.
JCPenney opened a new store with fitness classes, personal styling, and a barbershop, and it's unlike anything else we've seen from the brand
As JCPenney continues to fight its way to a turnaround, its recently opened concept store has become the embodiment of the struggling, 117-year-old retailer's reinvention strategy...
As JCPenney continues to fight its way to a turnaround, its recently opened concept store has become the embodiment of the struggling, 117-year-old retailer's reinvention strategy.
The store — which opened on November 1 in Hurst, Texas, just outside of Dallas — includes several new features informed directly by customer surveys and data collection conducted by JCPenney over the last year. On a call with investors on Friday, CEO Jill Soltau said the store is intended to function as a "lab" for the company, where it can test new business strategies and see what sticks.
"I want to be clear that the brand-defining store is an investment in the future. It is not a prototype to roll out across all our stores and it is not a flagship store," Soltau said on the call. "There are over 100 touchpoints that will inform future actions as part of our future strategy, all focused on putting the customer at the heart of what we do."
Though the success of the store remains to be seen, it's been a much-needed bright spot for the beleaguered brand, which has struggled significantly in recent years. The third quarter of 2019 was no exception, as comparable sales decreased by 9.3%, driven in part by the consolidation of inventory and elimination of low-performing categories.
However, JCPenney showed promise in its ability to cut back operating losses and ultimately boost its profit forecast. Though an operating deficit of $97 million is certainly not indicative of a thriving brand, it's a significant improvement over the $300 million loss the company reported in the same period last year
For JCPenney, the Texas concept store — with its personal styling services, on-site barbershop, and instructor-led fitness classes — may not be a prototype, but it could help JCPenney find the way to a more prosperous future.
Here's what it's like inside.
The JCPenney concept store opened on November 1 in Hurst, Texas.
"This store is more than a renovated location, it is the fullest articulation of our customer-centered strategy, an investment in our future and a lab to inform decisions to return JCPenney to sustainable, profitable growth," Soltau said in a statement after the opening.
It opened to significant fanfare, with a full band performance and a ribbon cutting ceremony.
Several JCPenney executives, including Soltau, came to christen the new store.
The store is noticeably different aesthetically from its traditional department store counterpart, with bright lighting, innovative architecture, and shiny displays.
The product assortment is also carefully curated to better meet the demands of shoppers.
"From the moment customers walk through the doors, they will discover the assortment is thoughtfully built and organized around how they live their lives and the many different occasions in their day, week and year," JCPenney said in a statement around the opening.
It also includes several modern design elements, like this geometric seating arrangement.
The concept store includes local flare like this sign near the register that declares it "the best pickup line in Texas." It also integrates a buy-online-pickup-in-store feature.
There's no shortage of Texas pride throughout the store. Cowboys cheerleaders even came to greet fans and shoppers at the grand opening.
JCPenney is using the store to test personal styling with the launch of "The Styling Rooms," a free service for shoppers to receive personalized, one-on-one consultations with staff experts.
The Styling Rooms also include "Style @ Your Service" technology to request a new size or color from sales associates directly from the dressing room.
Technology is a major theme throughout the concept store, and it includes several interactive features and high-definition screens.
In the activewear section, JCPenney debuted "The Movement Studio," where shoppers can participate in instructor-led fitness classes, much like brands such as Athleta and Lululemon do in their stores.
Kelly-Moore Paints Its Future in North Texas With HQ Relocation From California
North Texas chalked up another corporate headquarters move from California yesterday when Kelly-Moore Paints—a leading manufacturer and retailer of premium paints and coatings in the U.S.—announced that it will move its HQ from Northern California to Irving this year."We're excited to join the Irving-Las Colinas community and to offer our employees a great quality of life in a vibrant city," Kelly-Moore CEO Charles Gassenheimer said in a news release.Gassenheimer told Dallas Innova...
North Texas chalked up another corporate headquarters move from California yesterday when Kelly-Moore Paints—a leading manufacturer and retailer of premium paints and coatings in the U.S.—announced that it will move its HQ from Northern California to Irving this year.
"We're excited to join the Irving-Las Colinas community and to offer our employees a great quality of life in a vibrant city," Kelly-Moore CEO Charles Gassenheimer said in a news release.
Gassenheimer told Dallas Innovates that Kelly-Moore is moving 30 employees from California and from its manufacturing facility in the DFW suburb of Hurst to support the Irving HQ's operations. "We plan to grow the workforce in Las Colinas by an additional 40 people over the next two years," he added.
The HQ move, and Kelly-Moore's expanded focus, could lead to more activity at the plant in Hurst, the CEO says.
"We're expanding beyond the contractor channel, where we've always been strong, to focus on bringing our high quality products to other channels, like interior design and architecture," Gassenheimer said. "Through growing our footprint, we'll be able to increase the total gallons produced each year and therefore more fully utilize our Hurst manufacturing plant."
In our Q&A below, Gassenheimer talks about how his company has evolved in recent years, how it's reducing its environmental footprint, incorporating innovation into its product development, and more.
The headquarters relocation comes after the company moved its state-of-the-art manufacturing operations to Hurst in 2017. That facility produces technologically advanced paint products with an eye on conservation. Kelly-Moore was recognized in 2022 for reduction of wastewater pollution with the Governor's Texas Environmental Excellence Award for Pollution Prevention, presented by the Texas Commission on Environmental Quality.
"The Hurst Manufacturing facility is the engine of our company," Gassenheimer said in the statement. "Locating our corporate headquarters nearby enables even better production and innovation. The combination of our 157 retail stores in Northern California and the Southwest, aligned with excellence in manufacturing and distribution out of this centralized Texas base, is a formula for Kelly-Moore's ongoing national success."
In his comments, the CEO suggested that his company already feels at home in North Texas.
"Since centralizing our multiple manufacturing facilities in Hurst, Kelly-Moore has enjoyed all that the North Texas community offers, and we look forward to increasing our engagement with the local community," Gassenheimer added. "I want to express my gratitude to the City of Irving, to Koa Partners, and to the Greater Irving-Las Colinas Chamber for their support of our future in Irving-Las Colinas."
The move was supported Thursday night as the Irving City Council voted to approve $75,000 in economic incentives for the new headquarters that will occupy 15,000 square feet of Class A office space at 500 E. John Carpenter Freeway.
The Kelly-Moore office space will be leased from the building's owner, commercial real estate firm Koa Partners.
"We could not be happier about welcoming Kelly-Moore Paints to our building as we serve them alongside other growing companies like Neighborly and U.S. Oral Surgery Management," Koa Partners CEO Harry Lake said in a statement.
Lake told Dallas Innovates that Kelly-Moore's new HQ home in Las Colinas "benefits from significant investments in the amenities that our tenants have asked for, and we have provided, to make our building a truly high-performing building that supports their productivity at a tremendous value." He emphasized "the overall quality of life" in the region, which results in "a highly talented pool of people to engage with as these world class organizations grow their business and reinforce their respective culture for the long term."
"In addition to proving high-performing space at a great value, we have to provide them with additional support like anyone would when welcoming a neighbor to the community," Lake added, including "places to live, eat, entertain, play, shop, exercise, educate, heal…all these things have always mattered, but now they're highlighted as companies compete for the very best talent. Our job at Koa is to provide real estate solutions for them to compete effectively and efficiently."
Irving Mayor Rick Stopfer added his own welcome.
"On behalf of the Irving City Council and our entire community, we're proud to welcome the Kelly-Moore team to Irving-Las Colinas, and we appreciate their investment in our city," Stopfer said in the announcement. "We look forward to the economic growth opportunities that Kelly-Moore will bring to our community."
Mayor Stopfer told Dallas Innovates that the city is actively seeking to attract corporate headquarters that can take advantage of their pro-business policies, strong public-private partnerships, and excellent quality of life for employees.
"As the Headquarters of Headquarters, we are always focused on targeting corporate headquarters," he said. The mayor said Kelly-Moore's move is a nod to the city's "diverse economy, talented workforce, and excellent quality of life continue to benefit our community and the region."
The city works closely with its partners at the Greater Irving-Las Colinas Chamber to target specific industries such as finance, healthcare, life science, professional services, and industrial technology. This focus is reflected in their recent successes in attracting "headquarter wins" such as Caterpillar and CHRISTUS, he says.
"We continue to look to attract corporate headquarters who can benefit from our pro-business policies, strong partnerships between the public and private sectors and our outstanding quality of life for employees," he said.
"Kelly-Moore's decision to move its corporate headquarters to Irving-Las Colinas is a testament to our business-friendly community that also offers a high-quality lifestyle for all of its team members," Beth A. Bowman, president & CEO of the Greater Irving-Las Colinas Chamber and Irving Economic Development Partnership, said in a statement.
The Irving Economic Development Partnership has played a crucial role in supporting Kelly-Moore Paints throughout its relocation process, according to Bowman. The partnership works with businesses to navigate regulatory and incentive structures available from the City of Irving, the county, the state, and other local authorities to ensure a seamless transition.
Our job is to remove the red tape, roll out the red carpet and make sure companies and their teams feel welcome and at home in our community as seamlessly as possible," Bowman told us.
Bowman says the city of Irving is committed to supporting the manufacturing and distribution industry through ongoing initiatives and programs.
"We enjoy a close working relationship with Workforce Solutions Greater Dallas, Dallas College North Lake Campus, Dallas/Fort Worth International Airport, and Oncor," says Bowman. "These partnerships provide valuable resources for businesses looking to expand or relocate to the area."
Manufacturers and distributors like Kelly-Moore can also benefit from Irving's fast business permitting process, which typically takes only eight-to-ten days, she said. Additionally, the Greater Irving-Las Colinas Chamber and the Irving Economic Development Partnership work closely with officials at the Texas Commission on Environmental Quality to provide clarity on permitting issues that may affect manufacturers.
Kelly-Moore Paints was founded in 1946 and is one of the nation's largest independent paint companies, with over $340 million in annual revenues and over 1,200 employees.
The company sells 90% of its products to professional paint contractors and other trade professionals. Kelly-Moore said their end customers include residential homeowners, property developers, homeowners' associations, and other large organizations.
In October 2022, Kelly-Moore Paints was acquired by an affiliate of Flacks Group, a global investment firm based in the United States.
Q&A with Kelly-Moore CEO Charles Gassenheimer
Does Kelly-Moore Paints plan to expand its retail store presence in DFW, and if so, what is the projected timeline for this expansion? We're investing in a store refresh program in our 157 store footprint across Texas, Oklahoma, California and Nevada, we are also making huge investments in our independent dealer channel. In each case, we are creating Kelly-Moore 2.0 to better serve our customers delivering high quality paint with excellent service.
What types of community engagement and philanthropic initiatives does Kelly-Moore Paints plan to undertake in DFW? We have several community development programs. We recently launched a direct ground game initiative that allows each store manager to chose a local project and support that through either cash or paint donations. We also have several charities that we support. We're always open to new ideas in this area.
How does Kelly-Moore Paints incorporate innovation into its product development and manufacturing processes? And what new products or technologies can we expect to see from the company in the future? We have one of the finest innovation groups in the industry. For a mid-sized paint company to be able to have these types of resources allows us to "punch above our weight class." You can continue to see further expansion of our product portfolio and more focus on ecological ways to improve our carbon footprint. For example, we've made the decision to switch to plastic cans to deliver our products to market. This represents a significant cost savings, but also our can manufacturer uses 90% recycled plastics to make these paint cans. We view this as a double win!
Can you share more about Kelly-Moore Paints' award-winning wastewater reduction efforts at its Hurst manufacturing facility, and how the company plans to continue prioritizing environmental sustainability in its operations going forward? See answer above. We are keenly focused on ways to continue to reduce our environmental footprint while delivering the same quality and service that our customers have come to expect from Kelly-Moore.
How has the paint industry evolved in recent years, and how does the new Irving office position Kelly-Moore Paints to capitalize on these changes and continue to innovate within the industry? Innovation is key to the paint industry. We continue to spend a significant amount of time focused on ways to deliver value and quality to our customers. Putting our corporate HQ nearer to our Hurst manufacturing operations allows for better collaboration with the Innovation and manufacturing teams, thus allowing for a more nimble and faster decision-making process.
This story was updated with additional comments from Beth Bowman and Irving Mayor Rick Stopfer on April 24, 2023, at 8:30 p.m.
Get on the list. Dallas Innovates, every day.
Sign up to keep your eye on what's new and next in Dallas-Fort Worth, every day.
One quick signup, and you're done.
Disclaimer:
This website publishes news articles that contain copyrighted material whose use has not been specifically authorized by the copyright owner. The non-commercial use of these news articles for the purposes of local news reporting constitutes "Fair Use" of the copyrighted materials as provided for in Section 107 of the US Copyright Law.